Adventure Awaits: Embark on Epic Hikes Near Issaquah, WA
If you're searching for pretty and accessible year-round hikes, check out Issaquah, Washington. It's an excellent hiking destination!
The city is just 20 minutes from Seattle. It's sandwiched between Lake Sammamish State Park to the north and Cougar Mountain, Squak Mountain, and Tiger Mountain to the south. Issaquah is also close to some of the most popular hikes in the nearby Snoqualmie region.
Many of the best hikes near Issaquah, WA are just minutes from downtown. They're varied enough to keep things interesting too. Whether you're searching for a hike with good views, one that leads to waterfalls, or that'll help you work up a sweat, you'll find it here.
So without further ado, here are the 9 best hikes near Issaquah, WA.
9 Hikes Near Issaquah, WA
Poo Poo Point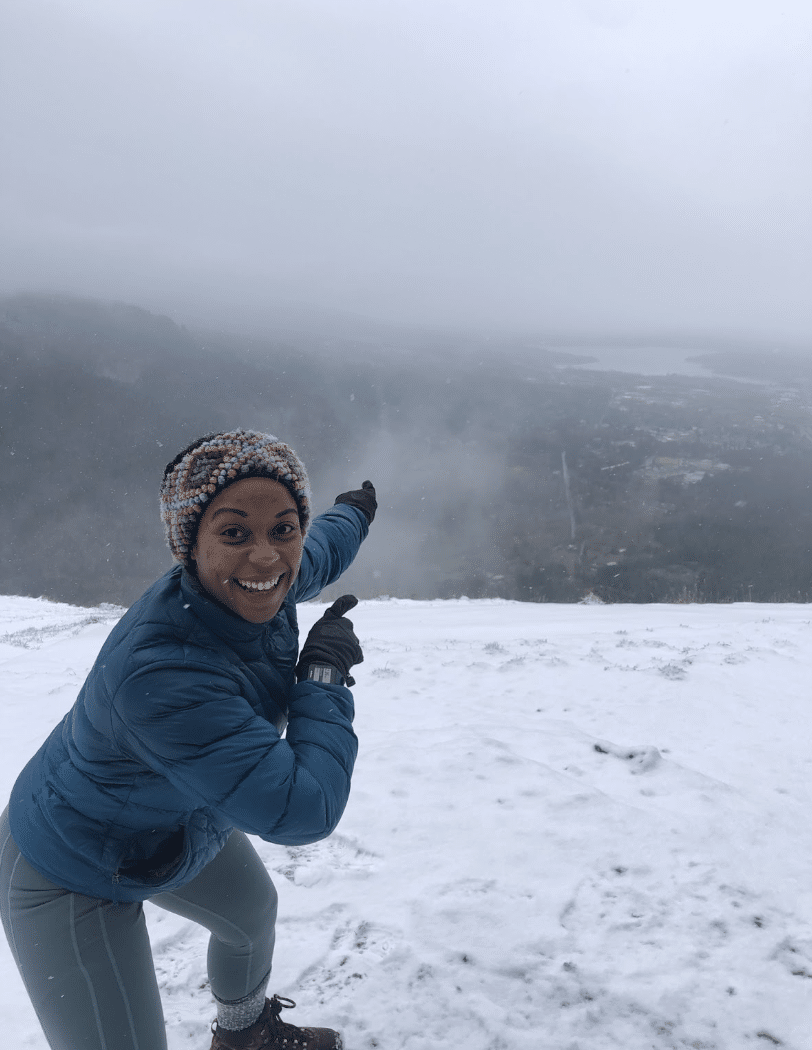 We got caught in the snow on an early December visit, but were glad it cleared enough to somewhat see the view!
Poo Poo Point is a hike near Issaquah that's a must-visit if you're searching for views! And yes, the silly name is another draw. The Poo Poo Point trailhead is at Tiger Mountain, just 5 minutes from downtown Issaquah.
The trail is considered moderate but may be a little easier or harder depending on your hiking experience. You'll go on a fairly steep climb through a shady forest until you reach a clearing. Here, you can watch paragliders launch off the mountain. If it's a really clear day, you'll see the city, Lake Sammamish, Mount Rainier, Mount Baker, and the surrounding forests and mountains.
Like all of the hikes on this list, you can do Poo Poo Point year-round. However, if you go in the rainy season, expect a muddy path, possible snow, and an obscured view. Despite these wintertime conditions, Poo Poo Point is still a fun wintertime hike to do if you'd like a nice workout.
Related: Hit the Trails: A Guide to Seattle's Best Day Hikes and Stunning Views
Coal Creek Falls
Looking for a waterfall hike near Issaquah, WA? Coal Creek Falls is a great one! The trail to Coal Creek Falls is about 2.5 miles roundtrip, and it's in the Cougar Mountain Regional Wildland Park.
If you decide to hike here, it's important to bring a map or printed instructions. Multiple routes lead to the falls. The Cougar Mountain hiking area has an extensive, and sometimes confusing, network of trails. I suggest following the trail notes from the Washington Trails Association to keep you from getting turned around.
Although Coal Creek Falls is the main destination, you'll get to see a few other waterfalls along the way. While it can be a long hike depending on your chosen route, it's pretty well-maintained. Enjoy a pretty stroll through the forest and stop to check out signage detailing the forest's mining history.
Go in the spring or winter for the best waterfall flow. In late summer and after long dry periods, the flow of the falls can dwindle.
Rattlesnake Ledge
The view from the top is really rewarding!
Rattlesnake Ledge is very popular, so you can almost always count on sharing the trail with others. It's one of the most crowded hikes on this list (especially in summer), so if you're searching for solitude, this may not be it. That said, the trail is popular for a reason. It was my first hike when I moved to the Pacific Northwest, and I think it's a great introductory one.
It's only 20 minutes from Issaquah, there are plenty of spots in the parking lot, and no pass is required. The path is wide and well-maintained since so many feet pass over it daily. It can be a bit steep at some points (you're going up a mountain, after all!), but it's easy to find spots to rest along the way.
At the top, you'll find a rocky ledge and expansive, breathtaking views. Take a moment to have a well-deserved snack and soak it all in. Make sure to watch kids at the top since the drop-off is unforgiving.
I highly recommend checking out Rattlesnake Ledge since it's one of the most popular hikes near Issaquah, WA.
Mount Si
Towering trees and peekaboo mountain views on the way up Mount Si
Mount Si is the perfect hike for people craving a good workout or training for harder hikes. It's a difficult, challenging climb about 8 miles out and back. It's one of the most difficult and long hikes near Issaquah, Washington.
Hike through an old-growth forest, navigating switchbacks up the mountain until you reach the top. Here, you'll find the Haystack, the true summit, that you can scramble atop if you're feeling adventurous. But even if you're not up for the rocky scramble, you'll still get a good view of the Snoqualmie Valley from the top. It makes the hike up feel more than worth the challenge.
Mount Si is another popular hike, so you won't necessarily be alone on the trail, but it's a fun challenge, especially when done with a friend. If you're not feeling up for Mount Si, check out the nearby Little Si. This is a similar hike, but a bit easier and shorter at around 4 miles round trip.
Lake Sammamish State Park
A view of the beach in Lake Sammamish State Park
If you're looking for a hike that's as easy as a stroll in the park, check out the trails in Lake Sammamish State Park. This hike is literally that!
Lake Sammamish State Park is just north of Issaquah. It's a popular park, especially in the summer. It has two beaches, multiple playgrounds, and lots of open space for picnics. Make sure you bring your Discover Pass when you visit. There's plenty of parking.
The hiking trails in Lake Sammamish State Park are flat and pleasant. They're great for all levels of hikers and popular with joggers, dog walkers, and birders. Walk through forested paths, along creeks, and down to the beach.
This is an easy, year-round hike near Issaquah. If it's a hot day out, dip your feet in the lake after your stroll.
Margaret's Way Trail to Debbie's View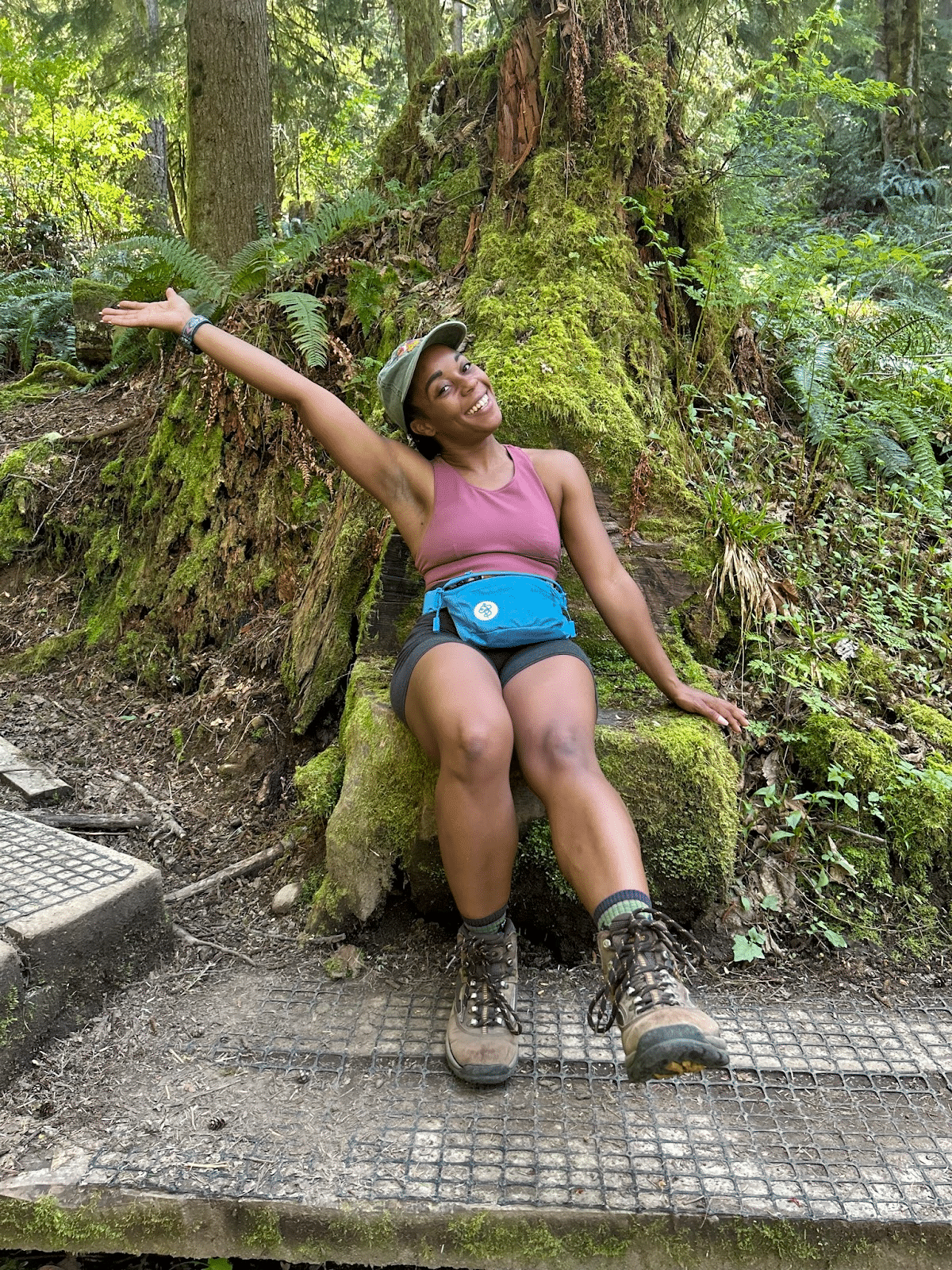 Me taking a moment to pose on a makeshift seat on the trail
The Margaret's Way Trail is located in Squak Mountain, just ten minutes from downtown Issaquah. This is an underrated and uncrowded trail. The hike is on the longer side with enough elevation gain that you'll work up a sweat, but it's not too difficult for beginners.
Best of all, the trail is gorgeous, with tons of moss-covered rocks, towering cedar and western hemlock trees, and ferns. In the spring and summer, look out for the occasional pretty flowers adding pops of color to the trail. There are multiple viewpoints you can stop at for breaks, and the trail is well-marked so you won't get lost.
The Margaret's Way Trail connects to other trails throughout Squak Mountain, but I suggest taking it to Debbie's View. On a clear day, you'll be able to see Mount Rainier from this viewpoint!
Pretzel Tree Interpretive Trail
Take little ones to the Pretzel Creek Interpretive Trail. It's a very short trail at just 0.25 miles, making it good for toddlers and kids that might get tired on longer hikes. Since this is geared toward kids, it's well-maintained and flat. And it's unique because it's a "story trail."
There are multiple illustrated placards with a story that unfolds bit by bit on the walk. Follow the adventures of a field mouse wandering through the woods. It meets other animals, and eventually ends the journey at the pretzel tree. The pretzel tree is just what it sounds like. You'll find two trees intertwined around one another like a pretzel.
The story is a good incentive to keep kids moving on the trail. There are also plenty of fungi, birds, and native plants to look at on this hike. The Pretzel Tree Interpretive trail connects to other trails in the area in case you'd like to extend the hike.
West Tiger #3
West Tiger #3 is a good workout trail. Trail runners, bring your shoes and some water, and you'll have a great time tackling this 5-mile out-and-back trail.
The well-maintained trail is wide and can accommodate many people. You'll gain a little over 2000 feet of elevation by the time you reach the summit, which means you can count on a pretty good, heart-pumping workout. If you're not quite ready for Mount Si, West Tiger #3 is a good alternative.
There are several offshoot trails you can take if you'd like to extend the hike and explore the mountain further. The top doesn't offer the best views compared to other spots on this list, but it's still a good spot to stop, rest, and have a snack before turning around.
Tradition Lake Loop
The Tradition Lake Loop trail is a hike that takes you around, you guessed it, a lake! The hike is just around 3 miles, and it's shady, flat, and well-maintained. I suggest following the directions from the WTA to navigate the loop and see all the most interesting sights.
Wander over bridges, admire interesting vegetation, and stop to check out the remains of an old bus that's starting to become one with the forest. Enjoy views of the lilypad-strewn Lake Tradition and listen and look out for birds and waterfowl.
This is another good trail for trail running or even forest bathing. If you're looking for a nice, peaceful hike near Issaquah, WA, try the Tradition Lake Loop.
Best Hikes in Issaquah, Washington
There are some great hikes near Issaquah, Washington. Whether you're searching for waterfalls, breathtaking views, or want some exercise, these Issaquah hikes have a lot to offer. Don't pass them up!
Chelsea Booker
Chelsea is a Seattle-based freelance writer with an adventurous spirit and a passion for all travel, whether it takes her across the globe or down the street. She enjoys writing about her trips, whipping up articles on health, wellness, and personal development, and working on her novel. When she's not traveling or writing, she's reading any fantasy book she can get her hands on, tending to her rapidly expanding houseplant collection, and honing her strategy skills so she can always beat her husband at board games.