The Ultimate Ghost Hunt: Haunted Hotels, Bars, and Attractions in Seattle
There are some super spooky haunted spots and shadowy figures around Seattle that will interest those who love dark history and the paranormal.
On the outside, Seattle is vibrant, gorgeous, and full of fun experiences. But, like all big cities, there's macabre history beneath the surface. If you're looking for a scare and ghost stories, that's exactly what you'll find.
Some of the places on this list are said to be haunted by harmless and pesky prankster ghosts. Others have a much darker history and apparitions that will frighten even the bravest ghost hunters.
Ready to test your bravery? Here are spooky hotels, bars, attractions, and other haunted places in Seattle that will give you that spine-tingling chill.
Best Haunted Places in Seattle
Haunted Hotels
Hotel Sorrento
Hotel Sorrento is one of Seattle's oldest hotels. It opened in the early 1900s (1909, to be exact) and has seen its share of unexplained activity from beyond. Hotel Sorrento's resident ghost is said to be Alice B. Toklas.
In life, Alice was a writer (partially known for including a recipe for pot brownies in her cookbook), as well as Gertrude Stein's lover. While her family had a home in Seattle during her childhood, Alice lived out her final days in Paris. It's uncertain why exactly her ghost haunts this Seattle area First Hill hotel, but if you're looking for a ghostly encounter with Alice, you'll want to book a room at the Sorrento Hotel.
Specifically, request room 408, which has the most haunted activity. People have reported seeing her ghostly form wandering down the hallway around the room. Flickering lights and mysteriously moving drinks in the hotel bar are also some of Alice's favorite ways to make herself known. If you hear the strange noises and sounds of a piano but see no pianist, you can deduce that Alice is near.
Hotel Sorrento is full of old-world charm and is quite cozy. Whether or not you have an encounter from beyond when you visit, you'll understand why Alice may be there.
Mayflower Park Hotel
Mayflower Park Hotel is another historic hotel in downtown Seattle. The hotel is home to two resident ghosts that guests and staff have reported causing quite a stir.
An old man who once lived on the 6th floor died in the hotel and apparently never left. People have reported seeing this ghost when they wake up in the middle of the night… only to find him floating above them, watching them sleep! If you're looking for the most haunted spots around Seattle, this is definitely a floor you'll want to visit!
Another ghost is a fan of the 11th floor. If you get to stay in room 1120, you'll want to watch out for this trickster ghost. He's a big fan of pranking the staff and likes to greet unsuspecting guests as a spooky surprise. More than one visitor has requested a different room after a visit from the 11th-floor ghost.
The ghosts at Mayflower Park Hotel are allegedly pretty harmless. If you want a ghostly experience that feels more spooky than bone-chilling, this may be the hotel to check out.
Artic Club
In 1936, Congressman Marion Zioncheck jumped to his death from the 5th floor of the Arctic Club Hotel in the city of Seattle, landing directly in front of his wife. While some believe he was mentally unwell, there was also speculation that he was pushed. Whether or not it was a suicide or homicide, this sordid tale explains why you may see Marion's ghostly apparition around the hotel.
It's said that sometimes the elevator in the hotel will stop on the 5th floor without any buttons being pushed. Here, you may feel cold spots, hear footsteps, or see floating orbs around the room that was once Marion's office.
Some people have reported seeing grisly visions of Marion's apparition jumping from the 5th-floor window. Others have seen the gruesome sight of his body on the ground before the vision fades from sight.
Of all the historic buildings in Seattle, this one is by far the creepiest one to investigate if you're searching for haunted spots around Seattle.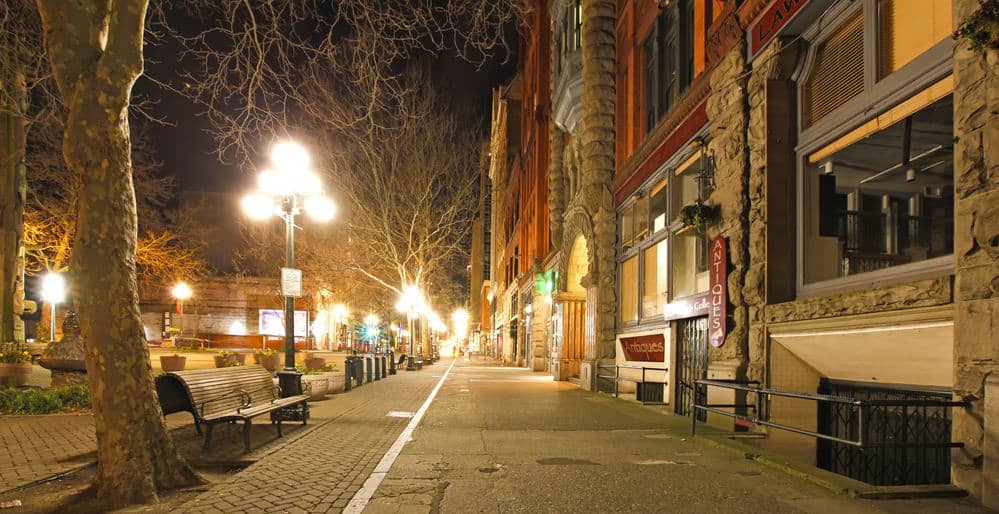 Haunted Bars + Restaurants
Kells Irish Restaurant and Bar
Kells Irish Restaurant and Bar is considered the single most haunted place in Seattle, and the most haunted bar. The building's dark history is in stark contrast with the lively place it is today.
Kells is located in the Butterworth Building in Pike Place Market. Long before it was Kells, it was Seattle's first mortuary. Talk about spooky places!
Butterworth and Son's Mortuary saw plenty of dead bodies pass through its doors and embalming room. It's rumored that not all of the mortuary's practices were completely honest. This shady history may be part of what's led to all the ghostly activity in the building today.
So what sort of haunts can you expect? One of the most common ghosts seen at Kells is a young girl in a scarlet dress who darts around the pub, startling visitors. Keep your eyes out for this little girl! You may also see a man named Charlie wearing a derby hat who often appears in mirrors. Both specters have a habit of fading away immediately after being spotted.
Luckily, neither of these ghosts tends to do more than spook visitors and staff. Broken mirrors, glasses, and mysteriously lit candles are also not uncommon at Kells. At this restaurant and bar, paranormal activity seems to be the norm.
Merchant's Cafe and Saloon
So many unexplained things have happened at Merchant's Cafe and Saloon in Pioneer Square that they keep a book to detail all the paranormal encounters. Needless to say, this is another great place to go whether you're looking for good food or ghosts.
Merchant's Cafe is one of the oldest buildings in Seattle and has had a not-so-pristine history. It once operated as a gambling house, brothel, and speakeasy. This may explain why so many spirits have hung around to share their stories of ghosts!
Two of the ghostly regulars reside in the building's basement. In 1938, two children perished in a fire in the building. Now the two hang around the bar, playing little pranks on unsuspecting employees and staff. If you're looking for a truly haunted spot in Seattle, this may be what you're searching for!
The downstairs restrooms also see their share of paranormal happenings. These include doors opening and closing mysteriously and disembodied whispers. In addition to this, the cafe has a haunted portrait. If you happen to see flashing lights around Merchant's Cafe… it's probably not just electrical issues.
Bartenders have reported more than a few run-ins with apparitions that linger between here and elsewhere. When you come to the cafe, make sure to ask the bartenders about their ghostly experiences.
Haunted Houses + Attractions
Georgetown Morgue Haunted House
The Georgetown Morgue Haunted House is one of the scariest haunted houses in the state. One of the most gruesome, unsolved murders in Seattle happened at The Georgetown Morgue.
The Georgetown Morgue has always been a place of death. It opened as a funeral home and then was turned into a crematorium and used as an animal carcass processing plant. Finally, it was turned into a morgue. Dead bodies haven't just come into the old morgue either.
In the 1940s, the body of a jazz singer was stolen from the crematorium, dismembered, and placed on the steps of his widow's home. In 1965 an earthquake caused one of the crematorium's towers to topple over, resulting in the death of owner Charles Broughton.
And in 1968, during an employee meeting, several people broke into the morgue and bound all 9 of the people who worked there. The entire staff was then forced into the crematorium chamber. There were no survivors, and the case was never solved.
The Georgetown Morgue is only open during the Halloween season, when it's transformed into a haunted house. However, it's safe to say that with all of this history of death, there's a good chance you'll encounter some real ghosts and ghouls on a visit here.
Pike Place Market
It may surprise you, but Seattle's top attraction is said to have a few ghosts wandering around. If you slow down and pay attention while visiting this bustling attraction, you just might spot one of the market's supernatural figures. The most common is Princess Angeline.
Princess Angeline was part of the Duwamish tribe and Chief Seattle's oldest daughter. While alive, she ignored the orders for Duwamish to move to reservations and stayed in her home near Seattle's waterfront. She lived out the remainder of her days in her home, eventually dying in her cabin. After her death, the market was constructed atop her cabin.
It seems not even death has separated Princess Angeline from her home. While wandering the market, pop down to the lower levels. Look out for an old woman with a red handkerchief in her hair and a shawl wrapped around her shoulders, shuffling along slowly. Just know, she's likely to disappear the moment you try to get a closer look.
Moore Theatre
If you've been to a show at the Moore Theater and felt like something was a little off, it could be because you encountered paranormal activity there. Moore Theater is known for having some haunts hanging around – after all, it was built atop a cemetery.
People have reported seeing the ghost of James A. Moore, the developer, as well as several actors who graced the stage there in the early days. An interrupted seance that was attempted in the 1970s likely only drew more haunts to the theater.
Most of the paranormal activity at Moore Theater happens in the basement. But if you happen to hear heavy breathing or footsteps, feel a drastic temperature change, or smell cigar smoke, you may be experiencing something from the beyond.
Haunted Places Outside of Seattle
The Oxford Saloon
Travel 45 minutes outside of Seattle proper to the city of Snohomish if you want to see another one of the most haunted places in the state.
Today, the Oxford Saloon is a popular place in downtown Snohomish. You can get sandwiches, burgers, beers, and other pub grub while enjoying an entertaining night of live music. However, its history is bleak.
It was once a gambling house, saloon, and brothel. Unfortunately, it saw its share of mysterious deaths and murders, and the ghosts from these incidents have stuck around to the present day.
One common ghost you might see at the Oxford Saloon is a policeman named Henry. While alive, he attempted to break up a fight in the saloon and ended up getting stabbed to death. Visitors say the ghost likes to hang out by the women's bathroom, going as far as to pinch ladies until he's confronted and fades away.
Two of the more gruesome deaths were of two women who worked in the brothel. One of these women, Kathleen, was allegedly found dead and decapitated in a bathtub, which is still upstairs in the saloon. If you see a ghostly apparition wandering the saloon in a purple dress, you've spotted Kathleen.
You may also see Amelia, who was found dead in a closet. It's unclear whether she was murdered or it was a suicide, but her ghost has stuck around to this day.
The Washington State Ghost Society has been to the Oxford Saloon and also did some investigations. They reported getting recordings of mysterious voices claiming "I am the one" and demanding they "get out."
So, are you brave enough to chance dinner with ghosts? If you think so, go to Oxford Saloon and get hunting.
Green River and Taylor Mountain
One of the darker facts about Washington state is that two well-known serial killers called it home in the 1970s and 1980s. These were Ted Bundy and Gary Ridgway.
Bundy was known for picking up his victims from the University of Washington and disposing of their bodies around Taylor Mountain in Issaquah. Ridgway evaded police for years and eventually confessed to murdering over 40 people. After he killed his victims, he would dump their bodies in and around the Green River and SeaTac, earning him the nickname Green River Killer.
Admittedly, there are no officially reported ghost sightings around these places. But as with many of the places on this list, when something grim or tragic happens, it's likely spirits stick around.
Haunted Tours and Experiences: Even More Haunted Places in Seattle
Curious about delving more into Seattle's haunted history? There are some amazing tours with fantastic storytellers. Book these to get an in-depth rundown of the Emerald City's spooky history. Here are a few of the best haunted Seattle tours to check out:
Spooked in Seattle Ghost Tour: This ghost tour agency in Seattle has several public tours that introduce visitors to Seattle's haunted history. They also have the city's only Death Museum.
Seattle Terror Tour: A walking tour that will take you through some of the most popular haunted places in Seattle, many of which are on this list.
Haunted History Ghost Tours of Seattle: The guides on this haunted ghost tour are actual Paranormal Investigators and Psychics passionate about sharing both the haunted and cultural history of Seattle with curious visitors and residents.
Step into the Shadows: 10 Haunted Places in Seattle
Seattle may be known for its beauty and fun experiences, but the city also has a macabre history that attracts those interested in the paranormal. From haunted hotels like Hotel Sorrento and Mayflower Park Hotel to haunted bars and restaurants like Kells Irish Restaurant and Bar and Merchant's Cafe and Saloon, there are plenty of spooky spots to explore. Whether you're seeking harmless ghosts or darker apparitions, these haunted places around Seattle are sure to give you a spine-tingling chill.
And there you have it! If you're looking for a haunted destination, Seattle is a great choice. Which haunted destination are you planning to explore?
Chelsea Booker
Chelsea is a Seattle-based freelance writer with an adventurous spirit and a passion for all travel, whether it takes her across the globe or down the street. She enjoys writing about her trips, whipping up articles on health, wellness, and personal development, and working on her novel. When she's not traveling or writing, she's reading any fantasy book she can get her hands on, tending to her rapidly expanding houseplant collection, and honing her strategy skills so she can always beat her husband at board games.