Exploring Spokane's Craft Beer Scene: 10 Must-Visit Unique Breweries in Spokane WA
Raise your pint glasses and get ready to embark on a hoppy adventure through the picturesque city of Spokane, Washington – a haven for beer enthusiasts and a landscape dotted with the finest breweries in the state.
Nestled within the embrace of the Pacific Northwest's stunning vistas, Spokane stands as a beacon of craftsmanship and flavor in the world of brewing. With a staggering 426 breweries scattered across the state of Washington, as reported by the authoritative source of all things beer-related – Washington Beer – this region has undoubtedly earned its reputation as a beer lover's paradise.
In this article, we'll dive headfirst into the frothy world of hops and malts, uncovering the absolute best breweries in Spokane, Washington. From time-honored favorites to hidden gems waiting to be unearthed, prepare to sip, savor, and celebrate the remarkable diversity and innovation that defines Spokane's vibrant brewing scene.
The Best Breweries around Spokane, Washington
No-Li Brewhouse
First on my list is No-Li Brewhouse, owned by John and Cindy Bryant. I got the opportunity to visit them, take a tour of the brewery, and learn all about the work they invest in their company and our community. Every penny that is made through No-Li is invested right back into the operation of the brewery and into funding a wide variety of community events, charities, and opportunities.
There wasn't a single thing I didn't like about No-Li Brewhouse. Their beer is delightful and refreshing, the food is wonderful, and the patio views of the river add a whole new kick to relaxation. I really enjoyed meeting with John and Cindy, and engaged in great conversation learning about the history of No-Li. Getting an inside look on how things operate was such a fun experience, and there are many highlights to this brewery such as their crafted IPA's , canned cocktails, and mission to give back through charitable work.
If you're looking for something fun to do on a Friday night, this brewery has it all. Play some skeeball, watch a game on the big screen, or veg out in front of their many fireplaces. Next time you take a trip to No-Li, be sure to try their Wrecking Ball stout, and their Big and Juicy IPA. You won't be disappointed!
Bellwether Brewing Co.
For being a little hole-in-the-wall brewery, this place sure does have so much to offer! Bellwether follows an old-world traditional style of brewing and flavors by using natural foraged herbs in their recipes instead of hops, and brewed in barrels instead of tanks. This also brings in an aesthetic that matches the concept of this brewery, yet they do not follow tradition for brewing beer. Bellwether does not fit in with the "norm" when it comes to types and flavors of beer and goes way off the beaten path of crafting. They made a leap to go their own direction, and man, did it pay off!
On my first visit, I decided that Skoll and Gogstad, both braggots, were my favorite top choices, especially if you are a fan of darker beers. The caramel and smoky flavors come from the aged barrels they are brewed in, making them stand out from any other beer. However, I returned and discovered my newest love for the Embers barley wine and every sour created here.
Dave, the owner, was so knowledgeable and helpful when it came to the creative process and pairings of each beer, and he really took time to talk with me about his favorite creations and flavor profiles. I can see his passion and dedication for Bellwether, and I am excited to keep returning for more.
If you are looking for some downright crazy beer flavors you won't find anywhere else in Spokane, Bellwether is the place to visit. While you're there, don't forget to ask about their popular Sweater Weather! You'll thank me later.
The Grain Shed Taproom
The Grain Shed Taproom is a newer brewery that recently opened in late 2022 and is an addition to The Grain Shed bakery, both located in downtown Spokane.
Zakk, one of the lead beertenders, is very knowledgeable and has the best personality. Not only did he inform us of what kinds of beer we were drinking, but also did some little science experiments for us that were really fun to be a part of. Getting to visualize the difference between regular pours and foam pours was really exciting and interesting. It really put our minds to work when it comes to thinking about the science and the smallest details that go into creating craft beer.
I was a big fan of their Birthday Buzz Pale, both for the name and the taste! The Grain Shed Taproom has a bright and warm feeling to it right when you walk in, and being in this brewery with such kind humans running the place makes for a level of comfort you don't seem to find at normal establishments these days.
Whether you're coming down to experience an event at The Grain Shed Taproom or just coming by to sip a beer and play some games, this is a great choice located in the heart of Spokane.
Badass Backyard Brewing
This was another great visit that truly deserves recognition and community love. Charlene, the owner of Badass Backyard Brewing, started this journey in 2015 by brewing home made beer in her backyard, and over the years her brewery has grown into what it is today. She is one of the very few woman-owned breweries in all of Washington state, and the only one in Spokane Valley.
Charlene has such a true genuine connection with her customers and because of that, each one makes it a mission to visit her weekly. Her distinctive and eccentric sours are out of this world and so incredibly creative, and she is always inventing new flavors while considering what her customers want to see her do next.
That's not the only thing that's unique about this place; Badass Backyard Brewing also has the most relaxed social vibe, with an all-inclusive and welcoming feel to the place. You walk in and all of your worries melt away. You no longer feel judged or out of place, and all of her guests are friendly and welcoming with each other. Not to mention, in the back is a large quiet chill room for the ultimate relaxation!
Grab a beer, grab some board games, and hang in the back with your friends, or just spend quiet time with your partner. Badass Backyard Brewing offers many great opportunities to the people visiting and other breweries by partnering for beer collabs and charity events. Go support women in beer, and check this place out next time you're in Spokane Valley!
Uprise Brewing Co.
One word. Smash burger. No, they really do have incredible, insanely good beers, like their Guava Gose sour and the Fast Forward IPA. THIS is the perfect place for food and the ultimate parties, social gatherings, or days spent on the patio in the heart of Kendall Yards.
In terms of food, I think the smash burger was astounding and booming with flavor, and the Nashville Hot Chicken Sandwich was probably the best chicken sandwich I've had in my entire life. If you're looking for a good vegan or vegetarian alternative, the cauliflower jerk "wings" are to die for.
With a wide menu catered to multiple preferences and a mix of sweet and savory, this menu is unique and different from your usual everyday restaurant menus. There's not a single thing I haven't liked on this menu!
While all their beers on tap are great, Uprise is widely popular for their hazy IPAs and lagers. Uprise has plenty of space and things to do, like a gaming area, patio, and cornhole. It's also dog friendly if you're looking for a patio to grab a light, crisp, and cool beer after a nice walk with your fur babies on the trails.
No Drought Brewing Co.
No Drought is a little hidden gem in the Spokane Valley right off 16th Avenue. A neighborhood favorite, this brewery specializes in locally crafted German beers. Damon and Magen, owners of No Drought, shared their passion for Germany and wanted to stand out with something unique and different from anywhere else. No Drought fits the criteria of the town's friendly neighborhood spot to hang out and enjoy a locally crafted beer.
With a fierce love for German authenticity, Damon aimed to bring authentic German beers here to Spokane and share them within our community. He actually monitors the water levels in Germany and mimics those same water levels here in Spokane to create the perfect beer that resembles different parts of the country.
From the variety of unique beer flavors to their Bier Stein Mug Club, No Drought has some exciting and fun offerings to its customers, such as trivia and game nights, and even supports other local businesses in the area by partnering on beer collaborations and participating in events around town.
I think what Magen and Damon are doing is truly inspiring, and they take pride in every beer they pour. I love this little local gem! Plus, they are always adding and improving to their beer collection, so be sure to go make a visit to one of Spokane Valley's favorites. Prost!
Daft Badger Brewing Co.
As always, we have to have the perfect recommendation outside of Spokane. I promise, it's a good one! My family and I have been visiting Daft Badger for the last two years and have always had a great experience!
But the best part about this place? One word to have you sold: BACON CUP. Yep, it's exactly what you think it is. A cup full of bacon smothered in a homemade huckleberry barbeque sauce. The mixture of savory and sweet is absolutely astounding.
Daft Badger has so much more than just this bacon cup, but so far, for me and my family, it's definitely been a major highlight to keep us coming back for more! They also have some impeccable house-made beers, such as their bourbon stout, and their popularly known blood orange IPA.
Daft Badger also is a partner with One Tree Cider if you're looking for some excellent cider choices on tap as well!
The food menu here is out of control, and if you're in the mood for some good pulled pork nachos during your travels in Coeur d'Alene, then you need to put Daft Badger on your list!
In addition, Daft Badger is another spot that is noteworthy for dog-friendly patios. The set up is really creative here, and the vibe is immaculate for spring and summer nights.
For the Love of God Brewing
For The Love of God Brewing has invented a homemade Neapolitan crusted pizza style that will leave you thinking about it until the next time you visit. Not only are their pizzas incredible, but their lineup of homemade beers is unbelievable.
Another brewery that takes full advantage of its creativity, For the Love of God Brewing is popularly known for its out-of-the-box sours and unique twists on stouts. Our favorites were the Dirty Chai stout, the Raspberry Cheesecake Sour, and the Heaven on Earth IPA. But really, you can't go wrong with anything on this menu.
Making this even better, at For the Love of God Brewing, there is a perfect beer pairing to every pizza served. We tried the Spicy Thai Pizza and the Pro Figgy Pizza; both were the best pizza experience I've ever had. The Spicy Thai is a flavor bomb of chicken, spicy peanut sauce, and veggies like cilantro and thinly sliced carrot. The Pro Figgy is a combination that will melt in your mouth. Made with roasted figs, prosciutto, feta, and a balsamic glaze. It is a pristine flavor combination but trust me, it works so well together. I have no better word to explain it other than perfect.
Steve, the owner of For The Love of God Brewing, invented a space that provides a warm and welcoming feeling when customers arrive, making it one of my favorite spots to visit on this list. The staff was friendly, inviting, and patient when answering our questions and explaining beer types. I saw families gathering and spending time together, enjoying their pizzas, beers, and each other's company, which is truly what breweries are all about.
Yaya Brewing Co.
I enjoyed the simplicity of YaYa Brewing, and how easy it felt being there. My favorite beer was their Sprinkle Sprinkle sour made with guava puree, real donuts, and their Dark Nova coconut chocolate milk stout. The Dark Nova is on my list of top 3 stouts I got to try over this period of brewery-hopping, and I am not normally a stout person. I generally gravitate towards the sweeter lighter beers, but this Dark Nova was so delicious that I will rave about it forever.
Another real treasure about YaYa is their time and service invested in the Spokane community. Through their program, Angel Wings, YaYa takes a percentage of their profits from their Angel IPA and donates it to a non-profit in Spokane.
I find this fascinating and encouraging when people come to visit this brewery. It's a reminder to love fiercely, and help bring the community together by doing something good for one another.
One more special thing about YaYa? This is going to sound weird, but one of the best parts about this gem is the bathroom art! Their bathrooms are lined with some of Spokane's funniest, best toilet art. All of the paintings are all bathroom scenes from famous movies such as The Big Lebowski, Dumb and Dumber, and Pulp Fiction. When it's time to take a bathroom break, be ready to crack up. Your entertainment level just went up a notch!
They also have a beautiful array of art pieces for sale and hung up all over the lounge area for you to purchase, as well as a little vintage game area! Really it's the perfect pit stop for your Saturday night out.
Golden Handle Brewing Co.
Golden Handle has so many great benefits to tap into being a brewery; it's hard to just pick one. Some highlights are their Oooranglicious Golden Ale and Heavy Lifting Pale Ale. Not to mention, they partner with several local businesses for rotating food options, such as Feast World Kitchen and Great Harvest sandwiches, that offer meals at a great affordable price. There is literally nothing more relaxing than enjoying a beef and cheddar sandwich paired with an ice cold beer!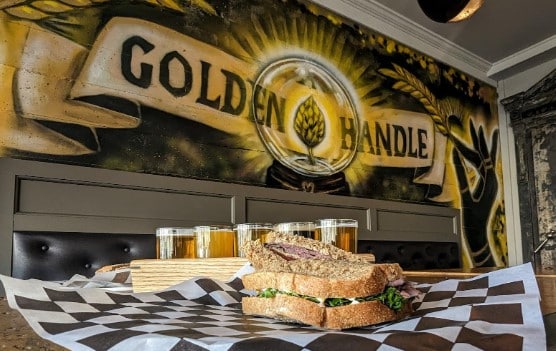 Golden Handle's brewing queen, Rachel, creates delicious beers that stand out from others and has a strong passion for supporting local Spokane nonprofits. Each month, Golden Handle picks an organization to support, and donates $1 of every pint to that organization for the entire month. What makes this brewery stand out is not only their artistic passion for crafting beer, but by investing into our local nonprofits and creating deep meaningful relationships around Spokane.
Located in the heart of downtown, Golden Handle is always up to something new and exciting. Be sure to keep tabs on their events page to follow along on what things are happening in the brewery!
On another small note, this is one of the only breweries that has mead If you're looking for another option besides beer. Because of its uniqueness, mead is hard to come by in bars and breweries, so seeing it on their menu was a delight!
In a region where the art of brewing meets a deep appreciation for community and creativity, Spokane, Washington, emerges as a shining star on the map of beer enthusiasts. With over 426 breweries scattered throughout the state, according to the well-respected Washington Beer, the Pacific Northwest has cemented its status as a haven for those who cherish the complexities of a well-crafted pint.
It's not just about the beer – it's about the stories, the people, and the passion that make each brewery a unique universe of its own. From supporting local nonprofits to sharing laughter and art, these breweries go beyond the beverage, offering spaces for connection, community, and exploration. Cheers!
Honorable Mentions for the Best Breweries in Spokane:
Bardic Brewing & Cider- also in our best cider in Spokane roundup!
LumberBeard Brewing
Whistle Punk Brewing
Perry Street Brewing
Brick West Brewing
Shaye Hubbard
Shaye is wrapping up her last year of college at SFCC with a degree in Digital Marketing, and is excited to start a new career in the world of social media. She has a passion for any and all artistic avenues and her goal is always to bring connection and creativity to the community, whether that be through food, art or journalism. Shaye is a full-time mom to her three kids, which is an adventure. In her free time, she enjoys a multitude of hobbies from cooking, to painting and loves adding new projects to her list.