Explore Tacoma in 48 Hours: Things to Do in Tacoma, Washington
As Washington's third-largest city, Tacoma offers a fun-filled adventure, no matter your interests. Cars, blown-glass art, and a special nature experience are just a few of the attractions awaiting you during 48 hours in Tacoma.
Tacoma is a beautiful city that offers a unique glimpse into Washington's history and culture. Tacoma was originally called "The City of Destiny" due to it's ties to railroads back in the day. It's home to major Washington cultural landmarks, such as the American Car Meseum, the Museum of Glass, and the Tacoma Dome.
Ready to plan the best 48 hours in Tacoma? Are you looking for a great Tacoma visitor's guide? Keep reading to see our favorite itinerary and find fun things to do in Tacoma, Washington.
Things to Do in Tacoma, Washington
LeMay-American Car Museum

The LeMay-America's Car Museum celebrates a century of automobile history. The museum – with its front grill-designed entrance – features more than 300 cars displayed by era or theme. Most of the museum's vehicles are part of a collection exceeding 3,000 that once belonged to Harold LeMay. Other vehicles on display are on loan from other collections. From Model-Ts to solar-powered cars, the LeMay museum provides a fun experience over four levels.

Museum of Glass

Watch artists create blown-glass art as part of your visit to the Museum of Glass. As the hometown to internationally-recognized artist Dale Chihuly, Tacoma's glass museum greets visitors with a reflection pool, whose white glass art installation illuminates at night, creating an amazing view of the downtown attraction. Inside, tour the facility, with special exhibits highlighting the talents of other blown-glass artists. Afterward, check out the blown-glass art on the pedestrian bridge next to the museum.
Dune Peninsula Park

An 11-acre park, named in honor of Dune author and Tacoma native Frank Herbert, Dune Peninsula Park offers a majestic view of Mt. Rainier as part of its trail loop.
With prairie grass and flowers growing along the trail, built at the former site of a lead and copper smelter plant, the park is considered a major accomplishment for the area's environment. With mounds for children to play and tables for picnics, Dune Peninsula is a great spot for family time.
As you walk along the trail, look for harbor seals lounging and frolicking on the rocks in Puget Sound. An art installation features sand worms, as depicted in the novel. Other artwork highlights the area's industrial past.

Washington State History Museum

Take a stroll through the state's history with interactive exhibits at the Washington State History Museum. From its earliest days, including Native American life through European settlement, the museum's displays include dioramas and special exhibits.
The Washington State History Museum also features a look at the state's diverse landscape, from mountains to prairies.
Point Defiance Park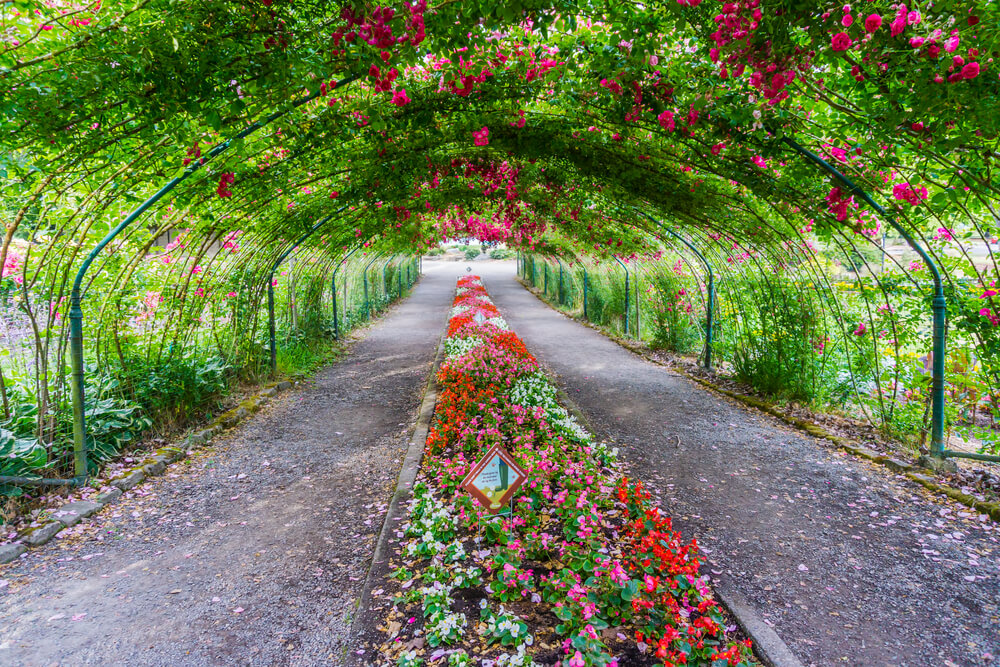 It's easy to spend a full day at Point Defiance Park, and still feel like you could use more time. With attractions including a large rose and flower garden, beach, zoo, historic trading post, and a five-mile drive, Point Defiance Park is a beautiful area in Tacoma.

Start your visit with a walk through the park's gardens. With nine gardens, you'll enjoy the beauty and fragrance of roses, dahlias, fuchsia, and iris flowers, as well as rhododendrons. An herb garden and Pacific Northwest garden offer additional looks at botanicals. The Japanese Garden features lanterns, as well as a small tea house, footbridge, and pine trees. It's a picturesque area for relaxing and creating a little zen.

Owen Beach is an excellent spot for sunbathing, walking along the rocky shore, and people watching. Children, and some adults, enjoy wading into the water for a short swim or a little splashing about. Bring a kayak and enjoy some water sports.

Point Defiance Zoo and Aquarium is home to a group of red wolves, once close to extinct. The zoo has worked over the past few decades to repopulate the wolves, so you'll see a few of them, including young ones if you're lucky, as well as placards explaining the wolves' history and what is being done to save them. The zoo also has a fun otter exhibit, as well as others showcasing elephants, penguins, and a number of additional animals. The zoo's aquarium includes a look at marine life native to the Pacific Northwest and the Pacific Ocean.

Five Mile Drive includes a drive along the park's woods, including pull-offs with impressive views of the Sound. Hiking trails are abundant in the woods, in case you feel like hoofing it for a while. You'll also see raccoons asking for food on the side of the road.

Fort Nisqually Living History Museum takes you back to the early 1800s, when the Hudson Bay Company established the post for trade among Indigenous tribes, as well as European fur trappers. With actors portraying residents of the fort, you'll see them doing work typical of the era, such as blacksmithing. Tour the buildings inside the fort for a realistic look at life during that time.
Northwest Trek Wildlife Park

With almost 725 acres, Northwest Trek Wildlife Park takes you on an adventure, offering up-close looks at animals native to the Pacific Northwest, including bobcats, black bears, moose, and even badgers.
A paved walking path leads visitors along a route with great views of animals and forests. For an even more personal experience, reserve a spot on a wildlife tour that takes your personal vehicle along a paved road inside the park's free roaming area, where you'll see elk and bison herds, as well as mountain goats.
Or, for true close-ups of the animals, hop aboard a jeep and take a ride on a Keeper's Adventure Tour, which takes you off-road over 90 minutes, where you can see animals where they live.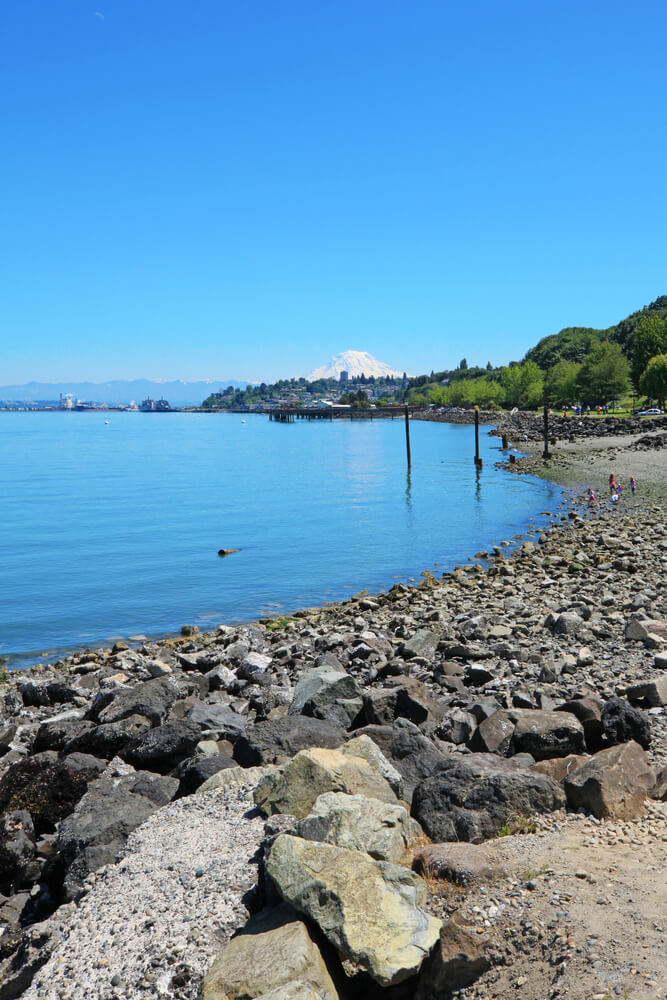 Tacoma Art Museum
Focusing on Pacific Northwest art, the Tacoma Art Museum's collection includes more than 5,300 pieces, ranging from the largest museum collection of Dale Chihuly work and Japanese woodblock prints to studio art jewelry.
The museum is also home to the Haub Family collection of western art, consisting of more than 300 pieces covering two centuries. Opened in 1935, the TAM moved to its current location in 2003.
The art museum is part of the city's Museum District, which also includes the Museum of Glass, State History Museum, Children's Museum, and Historic Union Station.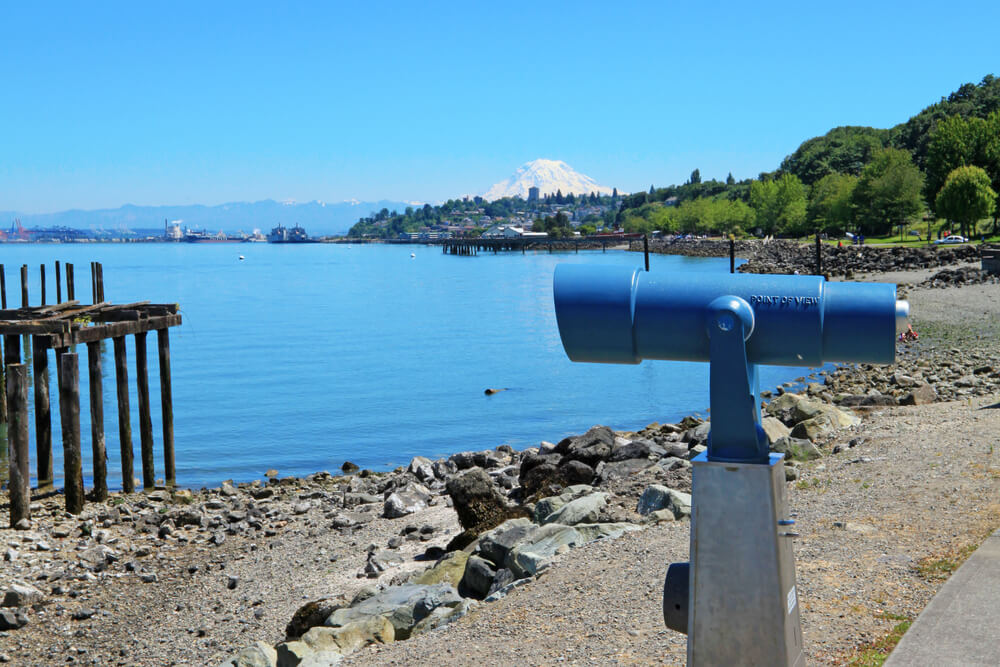 Other Attractions
Tacoma is home to great parks, such as Wright Park, which began as a 20-acre donation to help grow trees in the city's early days and has grown to about 30 acres with hundreds of trees, statues, and a pond among its attractions. The W.W. Seymour Conservatory includes a greenhouse that's home to flower and plant exbibits at Wright Park.
The Tacoma Chinese Reconciliation Park along the waterfront includes a Chinese Gate that invites visitors into the interactive exhibit recognizing Chinese people, who were forced out of the city in 1885 during a period of anti-Chinese hate. The day after forcing people out, Chinese-owned businesses were destroyed. The park was established in the early 1990s during a period of reconciliation, and takes visitors along a historical path of the period's events, ending with reconciliation.
Places to Eat Around Tacoma
Tacoma Washington is full of delicious restaurants and bars. Some of the best restaurants are in downtown Tacoma and near the waterfront. Here's our picks for breakfast, lunch and dinner in Tacoma:
Tacoma Breakfast: Waffle Stop
You'll find something for everyone in the family at Waffle Stop. This cute breakfast restaurant emanates classic diner vibes and serves up all your favorite breakfast items. Their Bacon Cookie Butter Waffle is the perfect mix of sweet and savory, with a Pearl Sugar Waffle, cookie butter, whipped cream, and crumbles of maple-glazed bacon.
And if you like mimosas, definitely check out their Elderflower Mimosa.
Find the Waffle Shop at 2710 N. Proctor St Tacoma, WA.
Lunch: Moshi Moshi Tacoma
Moshi Moshi is one of the coolest Ramen restaurants we've seen in a long time. With many of the traditional Ramen dishes and twists on the classics, Moshi Moshi is one of the best ramen bars in Tacoma. We recommend stopping by for lunch and cocktails from their massive menu.
Their Impossi-Bau is a great option for vegans. We also recommend their Coconut Green Curry and Toasted Miso Scallion. Moshi Moshi Tacoma also offers gluten-free ramen noodles on request.
Finding Moshi Moshi can be a little difficult because there's no sign out front. Find them at 110 Suite B N Tacoma Ave, Tacoma, WA.
The Lobster Shop in Tacoma is one of the best seafood restaurants in Tacoma. This award-winning restaurant is one of the premier locations to get fresh lobsters. The patio deck has views stretching across the horizon of Commencement Bay. Their menu includes more than lobster – but you definitely don't want to miss trying their decadent lobster dishes. Some of the other delicious items on their menu include Sweet Chili Prawns and Seared Ahi.
With great views and incredible food, Lobster Shop is one of the best Tacoma waterfront restaurants. Try them out at 4015 Ruston Way, Tacoma, WA.
Fun fact: El Tufo means "stink" in Spanish. Stink & El Tufo are a cheese shop and wine restaurant in Tacoma. They lovingly call Stink the "aroma of Tacoma" and offer family-friendly dining with small, flavorful portions. The extensive wine list at El Tufo feels like you're exploring Europe.
Smell the aroma at 628 St. Helens Ave.
Where to Stay
Tacoma has several great hotels, bed and breakfasts, and guest houses to stay in. Here are our favorite hotels in Tacoma, including budget-friendly places, the best chain hotels, and luxury hotels in Tacoma.
Looking for a budget-friendly place to rest your head, take a shower, and get back out into the beautiful evergreens? There are many cheap hotels in Tacoma WA where you can get some rest for the night. The La Quinta Inn & Suites by Wyndham is a great option for the budget-conscious traveler who wants clean and modern accommodations. The La Quinta Inn & Suites in Tacoma also offers a complimentary breakfast.
The La Quinta Inn is family-friendly and close enough to major streets that it makes traveling to all the best things to do in Tacoma is a breeze. Stay in the La Quinta at 1425 E 27th St.
If you're visiting Tacoma Washington, you'll likely want to spend the night in one of the many reliable chain hotels in Tacoma. The Courtyard by Marriot Downtown Tacoma is a great choice.
This modern contemporary hotel is in the middle of the financial and theater districts, making this a perfect homebase for travelers that want to see a show while they explore the city. The Courtyard by Marriott in downtown Tacoma is close to many Tacoma tourist attractions, including the Tacoma Convention Center and museums. It's also close to the Tacoma light rail for easy and inexpensive travel.
Each of the rooms are upscale with a contemporary style. Each of the large windows gives you a beautiful view of the Tacoma skyline. Find the Courtyard by Marriott Downtown Tacoma at 1515 Commerce Street.
There aren't many luxury hotels in Tacoma but this one is one of our favorites! The Silver Cloud Inn Tacoma is the ideal home base for the traveler that wants to experience the best of Tacoma while enjoying pristine views of the waterfront. The Silver Cloud Hotel is close to staple Tacoma attractions, including the Museum of Glass.
At The Silver Cloud Hotel Tacoma, you'll find 4-star accommodations with modern amenities, beautiful views, and premier rooms. Plus it's one of the most gorgeous hotels on the Tacoma waterfront.
The Silver Cloud Hotel at Point Ruston Waterfront is also close to many Tacoma waterfront restaurants. Check in to the Silver Cloud Hotel at 2317 North Ruston Way.
Plan Your Visit to Tacoma Today!
Tacoma has a lot to offer and do, so plan your two-day visit accordingly to pack in as much as you can. While the idea is to explore the city in 48 hours, perhaps you'll want to add another day to your trip. Or, better yet, plan your next visit.
Christine Burns
Christine Burns is a local entrepreneur, public speaker, content creator, model, and writer from Spokane, WA. She's an expert in marketing and owns Posted Consulting LLC, an award-winning PR firm. Born and raised in the Inland Northwest, Christine loves to support and advocate for local businesses and artists, and even hosts the annual Spokane Small Business Convention in the spring.