Granting Wishes for Local Families with Cindy Guthrie
by Alina Warner
Meet Cindy Guthrie, the Director of Community Partnerships and Development for the Wishing Star Foundation! Wishing Star Foundation was started about 35 years ago by Karen Karowski who was a first grade teacher who had a student in her class who passed from cancer. She felt helpless to help improve his quality of life in his final days, so when she retired she cashed in her 401k and went door-to-door trying to find resources to start this foundation.
Wishing Star is located in Eastern Washington and services children from 3-21 battling a life threatening or terminal illness as far as Tri-Cities and Northern Idaho. Currently there are over 40 children waiting on their wishes to be granted, and hundreds who have received life-changing experiences thanks to the generosity of the community.
How do children become wish kids?
Referrals can come from doctors, but they can also come from family and friends as well. So if you know someone who could benefit from their services, you can always nominate them. Once they receive referrals, Wishing Star will send paperwork on to the doctors caring for the candidates to be completed and will begin working their magic. They have granted over 1,400 wishes and service over 6,000 families over the years! You can refer a child who has a life-threatening illness for a wish here.
The Popular Fundraiser – Send a Friend a Goat
Have you ever wanted to snuggle a baby animal for a great cause? The Wishing Star Foundation has its annual Send a Friend A Goat fundraiser coming to the Inland Northwest starting in the in the Tri-Cities from April 10-14th & then in Spokane/Coeur d'Alene from May 8-12th 2023 adorable baby goats will be making appearances across Tri-Cities, Spokane & Coeur d'Alene for our 18th annual year. These goats bring laughter and smiles to everyone they visit. With the help of our sponsors, this unique fundraiser has raised more than $700,000 over the years and continues to bring laughter and fun to all those we reach. Now is your chance to join this one-of-a-kind fundraising event to support our Wish Kids!
THANK YOU for supporting the Wishing Star Foundation!
Watch the full episode with Cindy Guthrie of the Wishing Star Foundation here: Episode 21: Granting Wishes for Local Families with Cindy Guthrie
Beyond the Wish
What sets Wishing Star Foundation apart from other wish granting organizations? The Wishing Star Foundation has a motto "once a wish family, always a wish family." They do not just pass on the children and families after the wishes are met. There are actually 3 different programs within the Wishing Star Foundation: the Wish Granting, Beyond The Wish, and After the Wish. Beyond the Wish brings the siblings and families into the picture with sporting and event tickets, concert tickets, Northern Quest, Spokane Indians, and days at the park to create a community of kids who are overcoming some of life's toughest obstacles.
Donations
Every dollar makes a huge impact. 83 cents of every dollar donated goes directly to make the dreams of children with life threatening illnesses come true right here in our community. These funds go towards granting wishes, putting on the Beyond the Wish events, as well as providing special moments and experiences for families after a child passes away. The After the Wish program helps provide financially for funeral arrangements, grief counseling, and a trip for mom and dad at the 6 month mark after the child's death to help them begin the healing process.

How can you and/or your business help? The goal for The Wishing Star Foundation is to get 80% of in-kind donations for wish granting to make their dollars stretch even further. This allows businesses to donate services for children whose wishes may be a room makeover, or maybe a pool/spa service, etc. The best part is that the company gets to be directly involved in the wish and the reveal experience, which is pure magic. There is nothing quite like seeing the faces of families, especially the wish kids themselves, as they get to experience their wish for the first time.
People can also donate airline miles and hotel rewards if they may not be able to afford to directly donate cash. You can learn more about how you can help with in-kind donations here!
How it Started for Cindy
Cindy was scrolling on Facebook and saw a little girl named Dria in a black and white dress with a bow in her hair. Dria's wish was for a sterile backyard, and Cindy's husband (fiancé at the time) is a landscape architect. He designed the new backyard for her that she could be safe and play in, so Cindy became a Wish Conductor and the rest is history (this is something that you can do too). After that, she was hooked and began working for the Wishing Star Foundation full-time!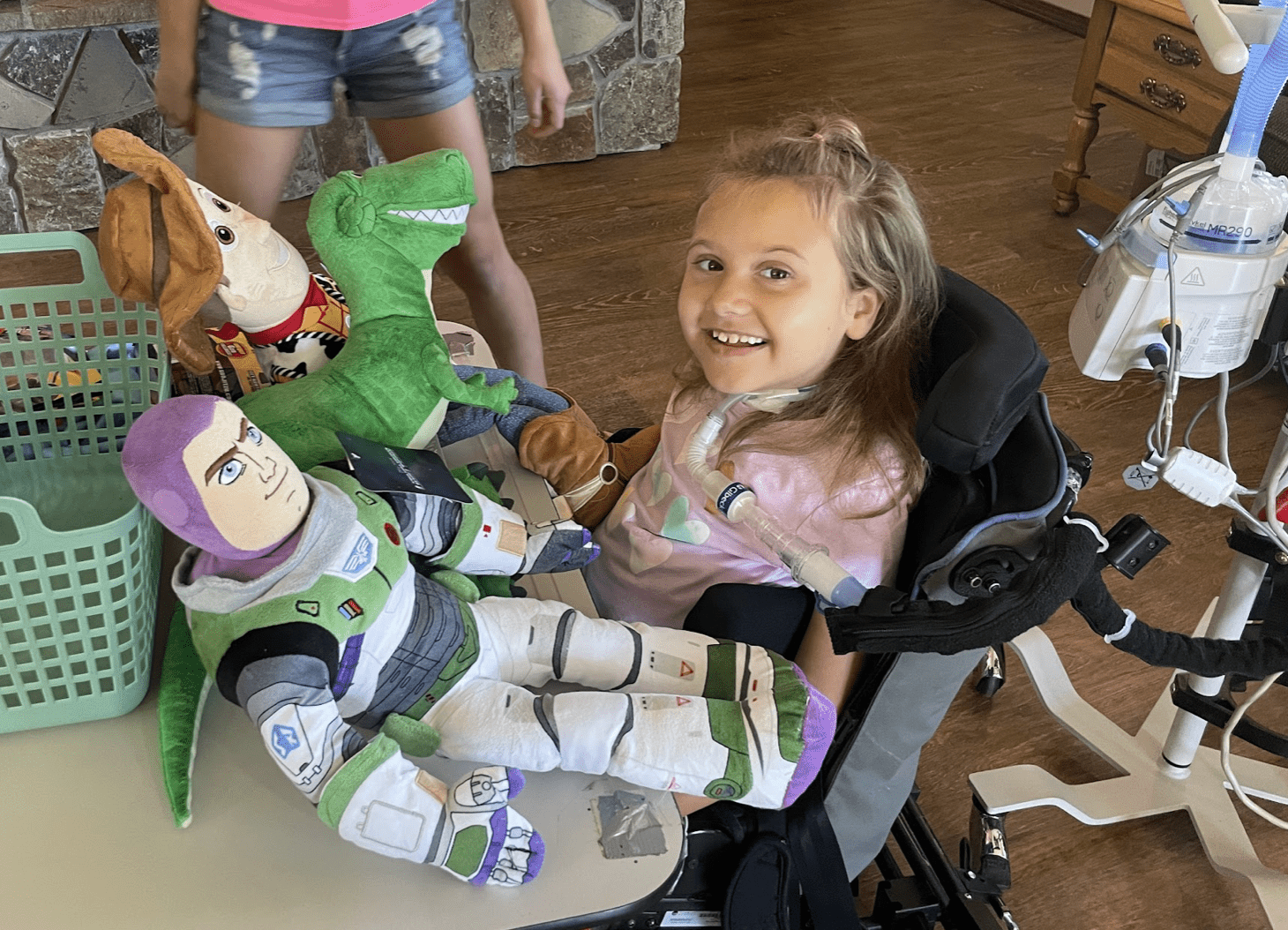 Community Partners
One of Cindy's main jobs is to connect with local businesses who can help grant wishes not just for the wish kids, but also to connect with their families. A few outstanding organizations that have partnered with Wishing Star Foundation include: Vanity Makeup and Spa who provides free facials and spa services for the moms of wish kids, Paul Mitchell in the Tri-Cities, who offers extra services like pedicures, manicures, and hair services, City Thrift which picks up, cleans and sell the items to donate back to the Wishing Star Foundation, and so many others.
How To Get Involved!
Listen to the whole podcast wherever you stream your favorites and learn (and laugh) even more with Erin and Melissa.