(Dis)Arming America – Glimpses of Hope in a Numb Nation
Like you, my heart shattered knowing the lifetime of grief ahead for families. Imagining tense parents waiting for hours to hear the fate of their child inevitably brought back 1998 memories.
It was 6 a.m. when friends arrived at our door on May 20 with the soul-searing news of our 25-year-old daughter Krista's death. She and her husband Aaron were volunteering in Bolivia nearly 7000 miles away. We learned that in one terrifying midnight moment, a speeding bus driver plunged over a mountain cliff causing a violent death to four and injuring 31 others. However, it wasn't birthed in an evil intent like in Uvalde. But information was sparse, and we needed to wait for hours to receive any more news.
When listening to Uvalde parents describe their beloved children, I think of the sheer physicality of missing a child who brought years of hugs, bedtime cuddles, laughter, energy, play, and daily conversations into family life. I lament over the reality of forever loss ahead for parents, grandparents, and brothers and sisters.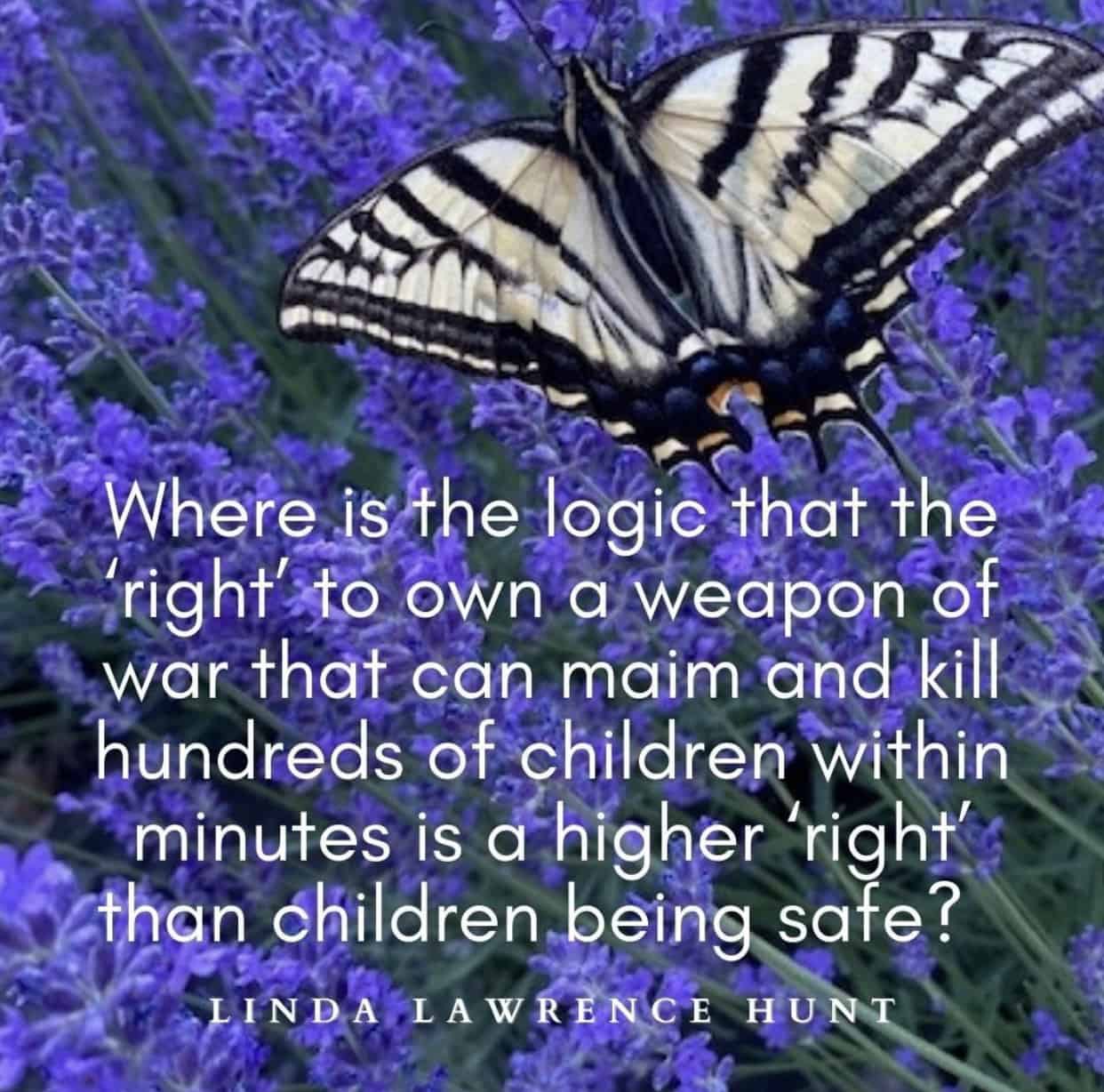 The killer's use of an AR-15 assault style military weapon, legally bought on his 18th birthday, caused such brutal destruction to these little children's human flesh and organs that parents needed to provide DNA samples for identification of their bodies. I simply couldn't comprehend mothers and fathers bearing this additional pain. However, the choice to do DNA identification was meant to avoid parents having the last sight of their child forever haunted through a gruesome photograph. This "21st century kindness" was understandable.
For Uvalde parents, the shock and lack of essential physical closure will inevitably accentuate the forever grief in their empty arms and hearts.
Where is the logic that the 'right' to own a weapon of war that can maim and kill hundreds of children or adults within minutes is a higher 'right' than citizen's being safe?
In talking with other heartbroken friends, I'm reminded of how physical grief can be. Some have mentioned headaches, insomnia or "feeling sick to my stomach all day." Others spoke of dropping off their kids at school and then weeping in their cars. One grandmother, an energetic activist in our city, commented on Facebook while watching the news, "He shot his grandmother before going to school and shooting the children? I need to go lie down a bit."
The physical effect of grief and shock seemed evident to the family of the slain teacher Irma Garcia whose husband died the following day of a heart attack. "His heart just broke," they believe. Now four children are bereft forever of a mom and dad who looked forward to celebrating their 25th wedding anniversary.
Feeling such sorrow, knowing what lies ahead forever for grieving families, I lost all ability to sit by my computer and focus on May's Soul Space Stories. Instead I retreated to the garden and planted sunflower seeds and geraniums, plus took walks with my husband, and baked comfort foods.
I've been wondering if there are ways you might physically be responding to such carnage, sorrow and America's failures? How do you care for your own soul at times such as these?
Then my sorrow turned to an intensity of outrage I've rarely felt. Disbelief that our nation's elected leaders consistently resist ANY reasonable gun restrictions that the vast majority of citizens want, citizens from both political parties. Awareness that America's experienced over 948 school shootings since the slaughter of innocents at Sandy Hook Elementary School. Recognition that this is a uniquely American problem.
Other nations have citizens with mental health issues and bullying in schools, but it is our access to guns that is America's distinction. Not just guns, but over 8 million weapons of war, the military assault rifle. Anger that someone shot a car full of Tacoma, Washington teenagers one afternoon recently who had to be hospitalized. Yet, that hardly drew a ripple of news coverage.
As Golden State Warrior's coach Steve Kerr's thundered in an impassioned plea during a news conference, "We can't get numb to this! When are we going to do something?" If you haven't seen his anguished demand for action, click here for a brief compelling video.
I listened in disbelief at the proposed solutions from those who refuse to want ANY restriction on gun access. Their most common approach involved the need for MORE guns, the further arming of America. They advocate: Arm our teachers; have armed security officers at every door.
Recently, I ran into Jesse, a neighbor and kindergartner teacher who described a conversation with one of her anxious little children. Jesse exudes a spirit of kindness and love for students and enthusiasm for teaching that every parent might hope for their 5-year-old's introduction to learning.
In discussing proposals to arm teachers she said, "I would take a bullet for any child in my classroom, but I simply could NEVER shoot someone else." Teacher Unions, parents, students and administrators all have expressed strong opposition to this solution asking teachers to become skilled shooters and adding one more of society's burdens placed on their shoulders.
We know there is a mental health epidemic, especially among adolescents. Yet other nations also have citizens with mental health concerns, experiences in bullying, and the effects of marginalization and poverty. The primary difference is their restrictions on gun access, and our prolific easy access such as the laws in Texas. Only America had 212 school shootings just this year; Mexico had 8.
Research shows that the vast majority of persons with mental health problems are not prone to violence. All holistic approaches to reducing gun violence recognize early intervention and help for violently prone teens.
What really concerns me is that our nation has finally encouraged more forthrightness and understanding when persons struggle with mental health, especially adolescents. Yet now we reinsert the stigma of the assumption of potential violent behavior if they share their story. Won't this discourage young people from wanting to acknowledge their needs and seek help?
There are small signs that maybe our nation will turn a corner and address such madness. Many are hopeful the universality of all parents wanting to protect their children might offer a bridge for greater unity in our nation. A bi-partisan committee recently met to see if there could be any agreement on legislation. But with a 10-day recess, will energy dwindle?
Students are expressing their own fears and anger with walkouts, even Lewis and Clark High School students in our town of Spokane. Maturing students from earlier mass shootings have established their own non-profits such as Students Demand Action. Perhaps they will receive far more support now. There are many ongoing mental health initiatives to help students before they resort to violence.
Public information and activism emerging in the professional sport's world reaches all sectors of American society. In the midst of a game between the New York Yankees and the Tampa Bay Rays they dropped game coverage and collaborated to use their social media sites to highlight the intolerable degree of gun violence affecting America. Though some viewers were angered, they received over 70,000 appreciative comments, far more than usual.
In the midst of a game, Miami Heat put announcements and phone numbers up encouraging fans to contact their state Senators to urge votes for safer gun laws. If this movement grows and sustains, it could break through our numbness.
When I look at how to eliminate invasive weeds in our gardens, I recognize it's essential to get at the "root" of the plant to eliminate its harm. I do hope citizen activism will address more restrictive gun laws. But I am also grateful for the scope of established organizations listed below that are approaching the root issues in our country.
Some Steps for Action
Would one of these organizations be a place you might want to volunteer or support financially?
Everytown: www.everytown.org
Over 8 million members creating a chapter in every state to build a movement to register voters, elect candidates who will govern with gun safety in mind, hold elected officials accountable and trying to change how America thinks about gun violence.
Gifford Law Center: www.Gifford.org
Their focus has been fighting to draft, enact and defend the laws, policies and programs proven to save lives from gun violence.
Moms Demand Action: www.momsdemandaction.org
A grassroots movement of Americans fighting for public safety measures than can protect people from gun violence.
Prevention Institute: www.preventioninstitute.org
A holistic approach for preventing gun violence. Public health approach for sensible gun laws and a culture of safety.
Sandy Hook Promise: www.sandyhookpromise.org
They are asking for signatures on a petition to Congress aiming to Stop Assault Weapon Sales Now. Since the lifting of the ban in 2004 when there were 400,000 assault rifles in America, there are now over 8 million! These are war weapons, not hunting rifles or handguns.
Mayors, moms, teachers, survivors, gun owners, students and everyday Americans are coming together to make their own communities safer. If we don't succumb to hopelessness, these national discussions and ways to hold politicians accountable may finally lead to some incremental change.
Linda Lawrence Hunt
Linda Lawrence Hunt is an award-winning author of three books including "Soul Space", "Bold Spirit", and "Pilgrimage Through Loss". A former director of Whitworth University's Writing Program (and lifelong teacher and learner), Linda is a three-time cancer survivor, and the co-founder of the Krista Foundation for Global Citizenship and a passionate gardener. Read more of her work at lindalawrencehunt.com and follow her on Instagram at @soulspacestories.