Simple Nasturtium Pesto from your Edible Garden
Hello Friends! Welcome back to Whatcheescooking, a monthly culinary klatch where I share the tips, products, and tricks to make restaurant quality meals at home for your family and friends.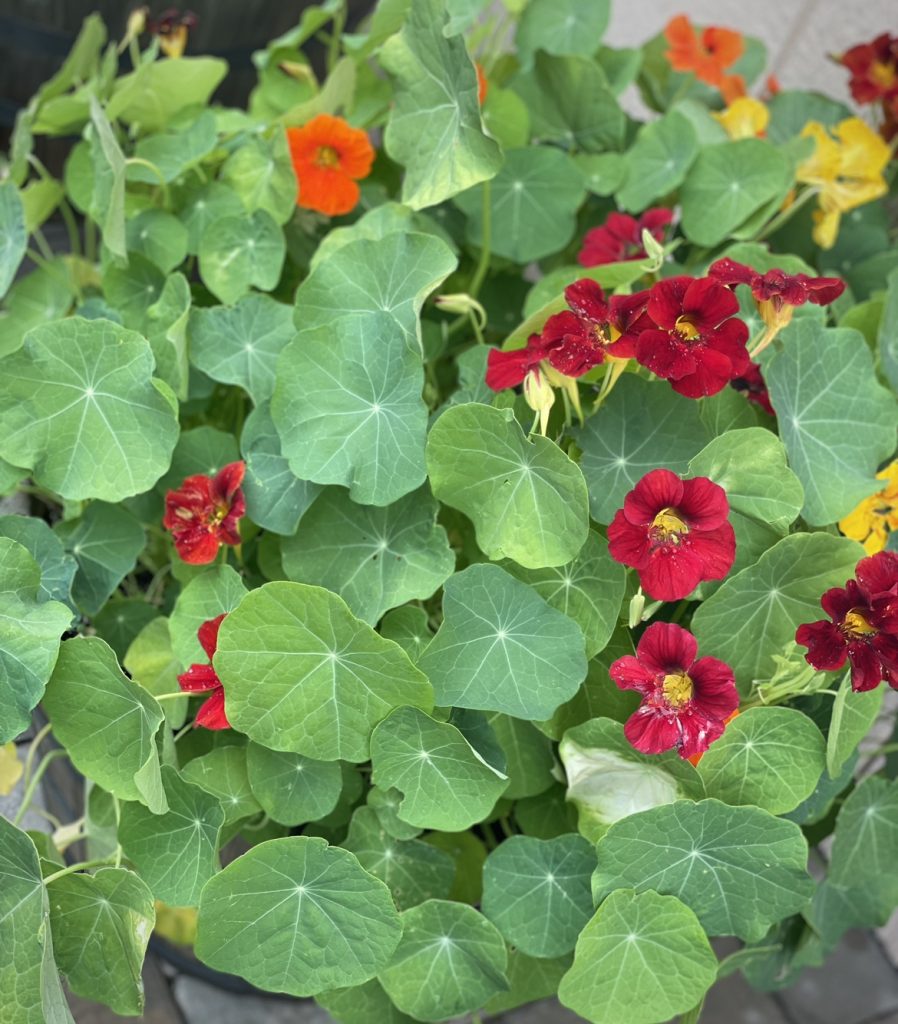 As a wife, small business owner, and mom, life can get really crazy REALLY fast! When dealing with curveball after curveball, it is all too easy to forget to care for yourself when you're busy checking off boxes on the to-do list of life. Cooking is something that can be intimidating and WAY stressful after a long day, however, for me it is soothing to my soul. A form of self care that I routinely practice. I throw on a podcast and zone OUT on the world and IN on whatever it is I am preparing. It totally makes the yucks of the outside world just melt away.
The same can be said of spending time in my garden. There is a sense of productive calm that comes over me when I'm tending to my plant babies, especially during stressful days (weeks…months). This year in my garden, I wanted to enjoy beautiful flowers that also had purpose aside from bringing my heart joy—I also wanted my tummy to feel the garden joy. So naturally, I combined two of my favorite self care activities resulting in our first edible flower and tea garden!
Marigolds, Zinnias, Lemon Balm, various Mints, Pineapple Sage, Chamomile, Pansies, Bee Balm, Mullein, and the humble Nasturtium. Not only is it a gorgeous view out of my back window that brings my heart SO much happiness, these plants are drought resistant, and it is also a WONDERFUL addition for the pollinators. These plants will also provide us with quality tea blends throughout the winter. Food and flowers are medicine, lest we forget, and these tea blends will also help to keep my family warmed and healthy through the germ-filled drudgery of Spokane winter. Bonus!
For this month's recipe, I am using the Nasturtium from my edible flower garden to create an earthy, peppery, slightly sweet pesto. My Grandma Peggy was an extremely talented gardener, and every time I work in my beds I think of her and feel as though she is with me. I often wonder what she would think of my garden, and how I utilize the things I grow. I'd like to think she would be happy with the joy gardening brings me. She grew Nasturtium in her garden, as one of my aunties recently shared with me, although she didn't use it culinarily. I've found many of these edible flowers have a peppery flavor similar to that of Arugula, therefore some balance is required as far as tasting and adjusting seasoning. I have included a little honey in mine to bring some balance to that peppery quality.
Simple Nasturtium Pesto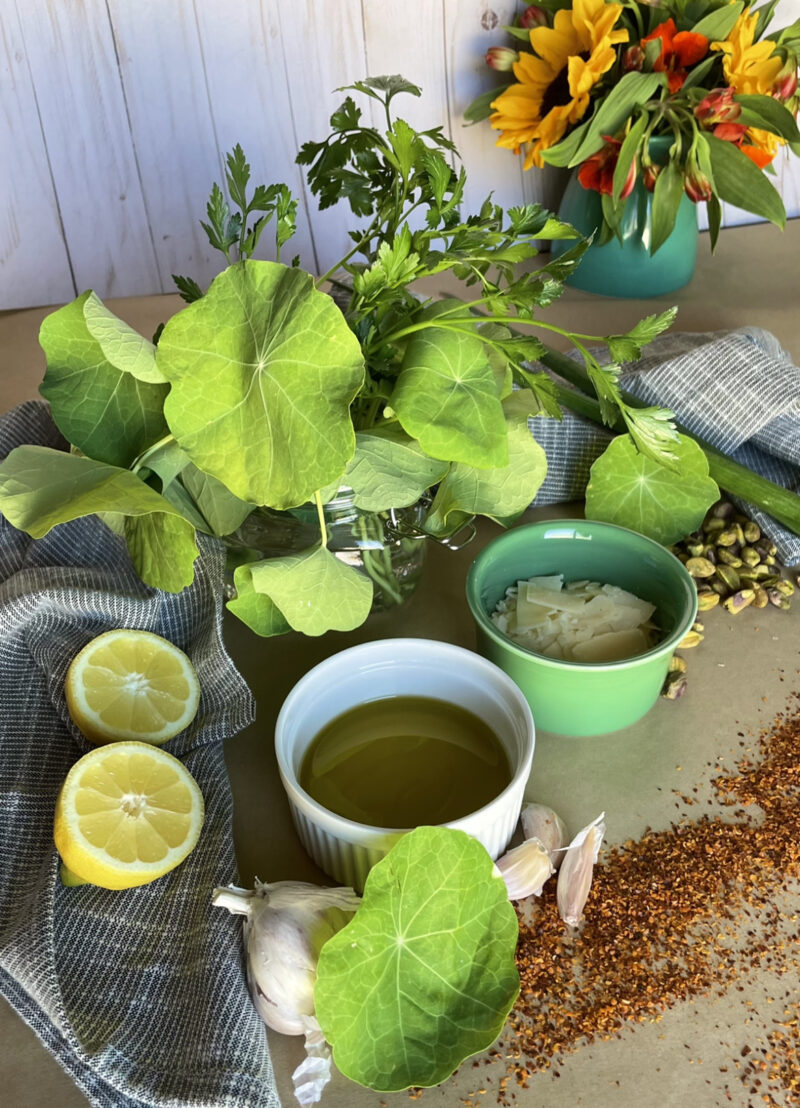 How to Make Your Easy Nasturtium Pesto

Step 1: Wash the nasturtium leaves and shake them dry (they can be slightly wet).
Step 2: Toast the nuts (it intensifies their flavor, which I love!) by putting them in a dry pan over medium heat, stirring every 30 seconds or so. Cook them until they begin to smell tasty. (It's super important to keep your eye on them, because once they burn they are bitter and you've got to start again.) Take them off the heat, as they burn in the blink of an eye!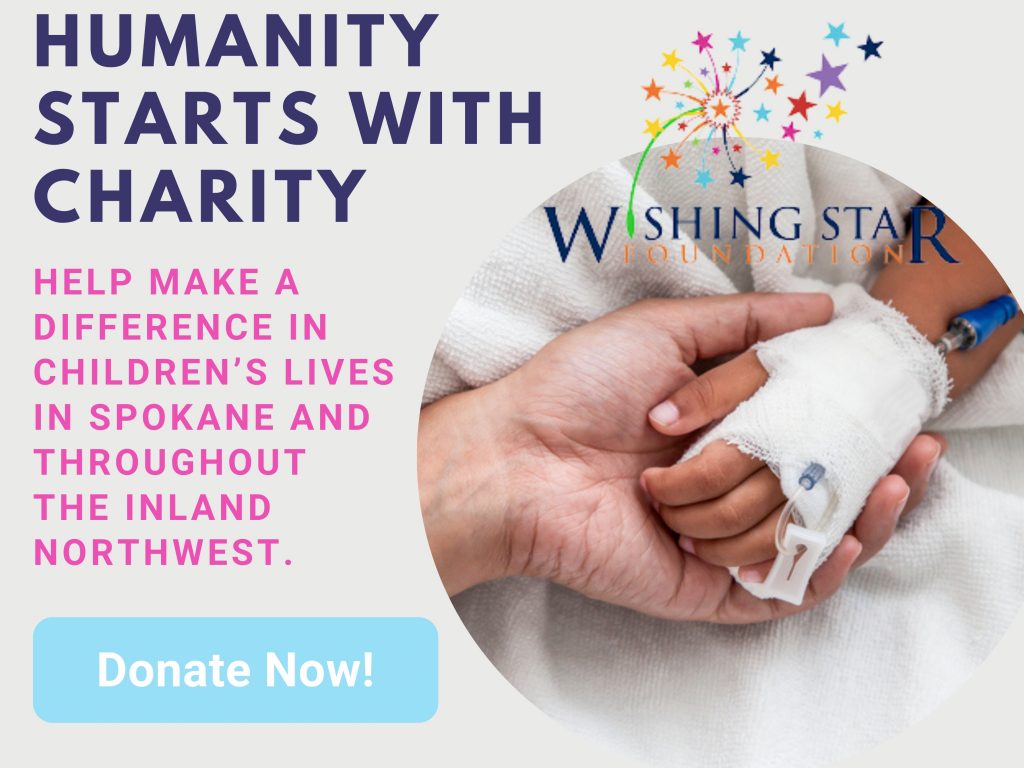 Step 3: Fill your food processor with Nasturtium greens, lemon juice, parsley, and scallion. Make sure to not pack the food processor too tightly, and blend until they are chopped.
Step 4: Add the toasted pistachios, Parmesan, garlic, honey, red pepper, ice cubes, and half the oil. Blend and continue to add oil until you reach the desired consistency.
Step 5: Add salt and pepper, taste and adjust seasoning based on how you like it. I tend to have a more seasoned palate than the average bear, so my salt addition may not look the same as yours. Remember that taste is a subjective experience!
This pesto usually goes on EVERYTHING until it's gone, but for this particular batch it's ALL about the ravioli! It's delicious with any protein (including eggs!), schmeared on toast, and of course it SHINES on fresh pasta.
This recipe made me so grateful for the ability to garden and to be able to honor the plants I lovingly tend and grow. To be able to create a nourishing, purposeful, and enriching meal for my family. To be able to spend some time caring for myself.
Cooking is my jam for quiet reflection. What is your favorite form of self care?
Kim Lehr
Kim Lehr is a bar/restaurant industry veteran who owns The Accompaniment Co. and is obsessed with all things pickled. Most importantly? She's a wife and mom who wants to feed her family more healthful, wholesome, flavorful, and creative meals. Join her to share some of those meals and her small batch, local products with your family's table.