Prepare Cod en Papiote for an Elevated, Effortless Weeknight Dinner
Whatcheescooking
by kim lehr
Hello, new friends and welcome to Whatcheescooking! My name is Kim Lehr…the gal behind Whatcheescooking on Instagram, owner of The Accompaniment Co., wife, and mom—who still has to feed her family at the end of the day.
I'm excited to share my love of cooking great food for my family with your families. Expect to catch the latest product news and recipes using The Accompaniment Co.'s delicious pickles, pickled vegetables, salsas, and spreads.
This month we have a quick, easy, and delicious recipe that will make eating well on a busy weeknight beyond easy–especially if you have the time to prep the bundles ahead of time. We will be making Cod en Papiote, with fresh veggies, and a fresh, herby Chimi Salsa Verde from The Accompaniment Co.
Now, "en Papiote" simply means in paper. It sounds ridiculously fancy and complicated, but in reality, it's simple. We're creating packets of parchment paper, building delicious bundles of yum, then sealing them up and cooking them in the oven. What could be easier?
Cod en Papiote
Recipe serves 2
Ingredients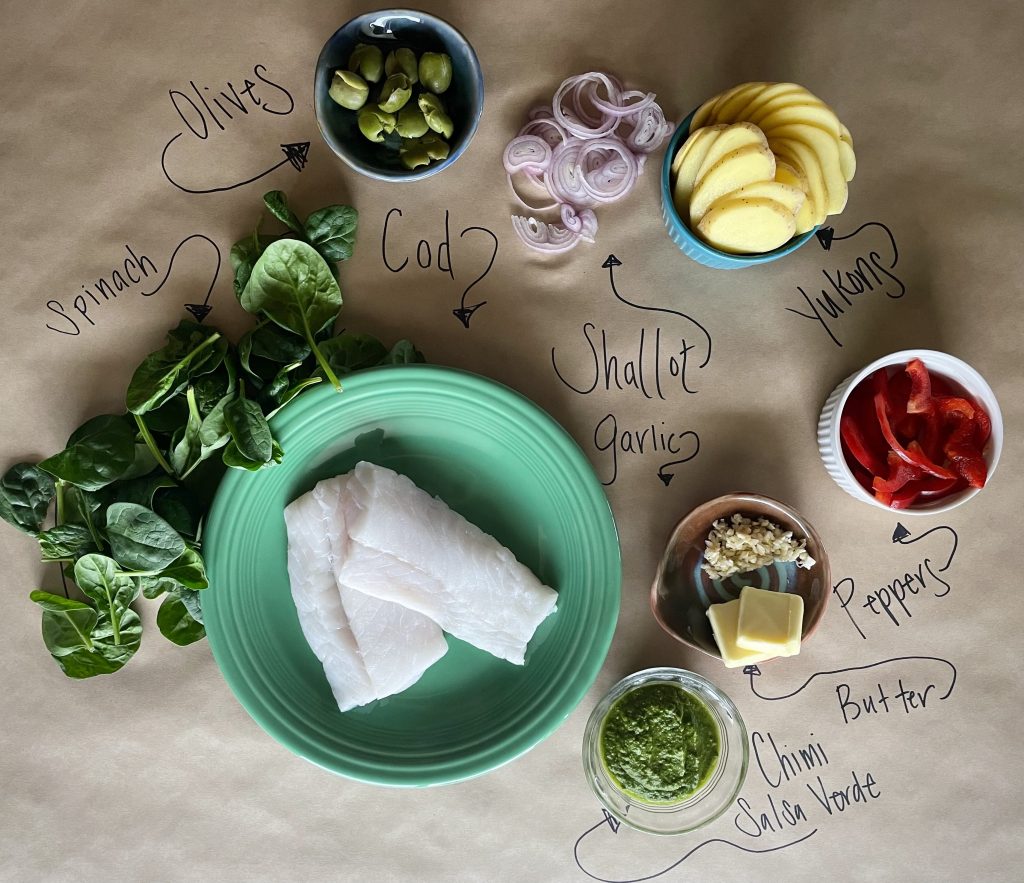 2- 8 oz Cod or Halibut Fillets
2 Yukon Gold potatoes, sliced thinly
1 small Shallot, sliced thinly
½ Red Bell Pepper, thinly sliced into rings
2 c. Spinach
⅓ c. Castelvetrano Olives, pitted and smashed
¼ c. The Accompaniment Co. Chimi Salsa Verde
2 tbsp Butter
2 cloves Garlic, minced
Juice of 1 Lemon
Pantry
Kosher Salt
Fresh Ground Black Pepper
Parchment Paper (2 sheets 13" x 15")
Sheet Pan
Step by Step
Step 1: Assemble your ingredients, and preheat your oven to 400°.
Step 2: On each of your parchment sheets, begin building your layers of ingredients in the following order JUST off midline of your parchment:
Yukons
Shallot
Peppers
Spinach
Olives
Cod
Butter
Garlic
Step 3: Fold Parchment in half over the top of ingredients, and beginning at one end, fold end of seam over itself and press to crease and close. Continue until you reach the other side and pinch it tight to seal. (At this point I usually take a can of beans out of the pantry and press the edges to ensure they're REALLY creased.)
Step 4: Transfer the parchment packets to the sheet pan, and place into your preheated oven for twelve to fifteen minutes. I've found you can press lightly on the Cod through the packet to test its firmness/doneness.
Step 5: Once finished cooking, allow to cool briefly so that you don't burn yourself opening these baddies….steam is a great way to cook, but it can burn the heck out of you!
Transfer to plates and cut open your packets…I always add more Chimi verde because I love it, and just a sprinkle of salt to taste. This method of cooking is one of our favorite methods for flavorful, light, and easy summertime meals. Make sure to follow the link on our Instagram or Facebook to find our Chimi Verde and other products.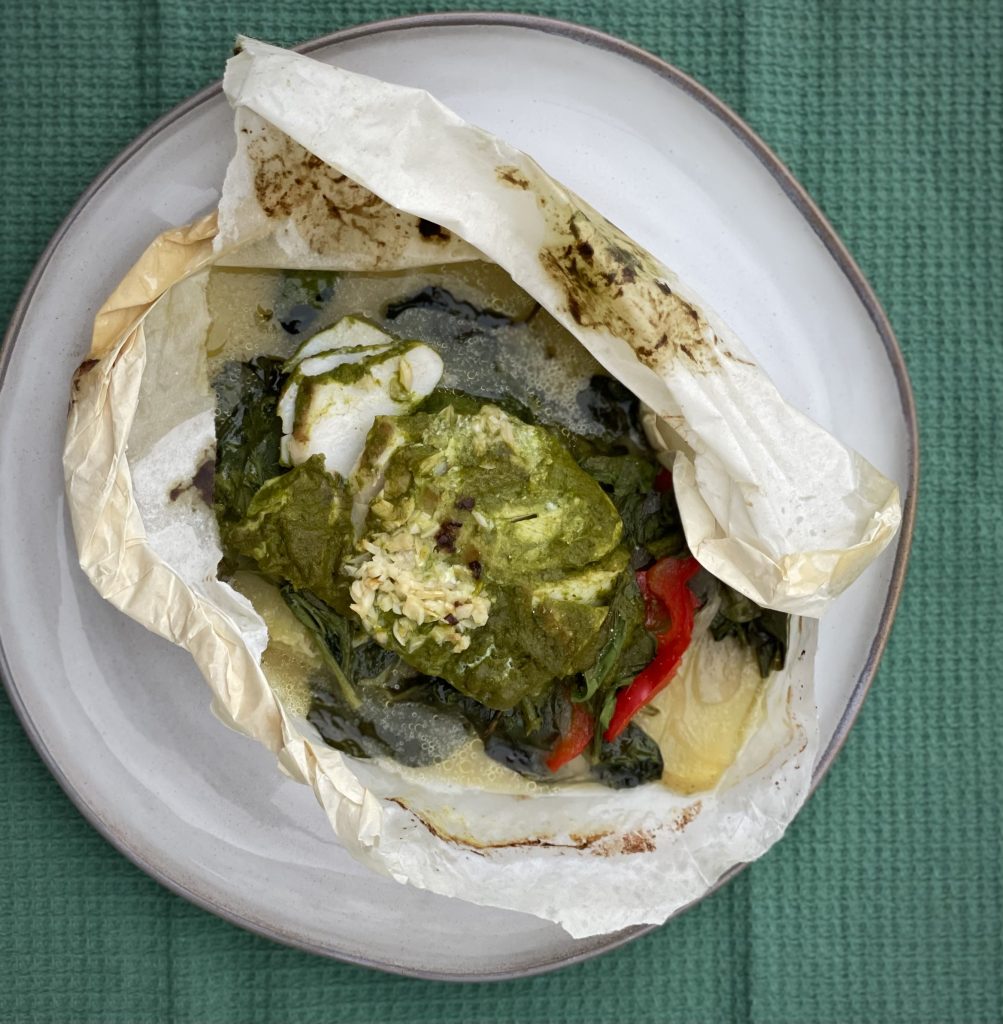 Have you ever made cod en papiote? Let us know in the comments below!
Kim Lehr
Kim Lehr is a bar/restaurant industry veteran who owns The Accompaniment Co. and is obsessed with all things pickled. Most importantly? She's a wife and mom who wants to feed her family more healthful, wholesome, flavorful, and creative meals. Join her to share some of those meals and her small batch, local products with your family's table.