How to Decorate with Vintage Home Decor
Whether you are a minimalist or a maximalist, it takes time and care to make your house a home you love. One of the easiest ways to create a space that will feel more like a home is purchasing vintage decor and accessories, which are a popular trend right now – experts don't see it going away anytime soon!
For those looking to decorate their homes, it's easy to get into the mindset that new is always better. However, there's a treasure trove of unique, high-quality home decor hidden in the world of vintage shopping. Vintage items allow you to create a truly one-of-a-kind home, with pieces that have a history and character that simply can't be replicated by contemporary pieces.
By shopping vintage, you not only have the chance to support small businesses and learn about different periods of design, but also make your home stand out with distinctive finds that fit your personal style. So why not take a step back in time and discover the beauty of vintage home decor?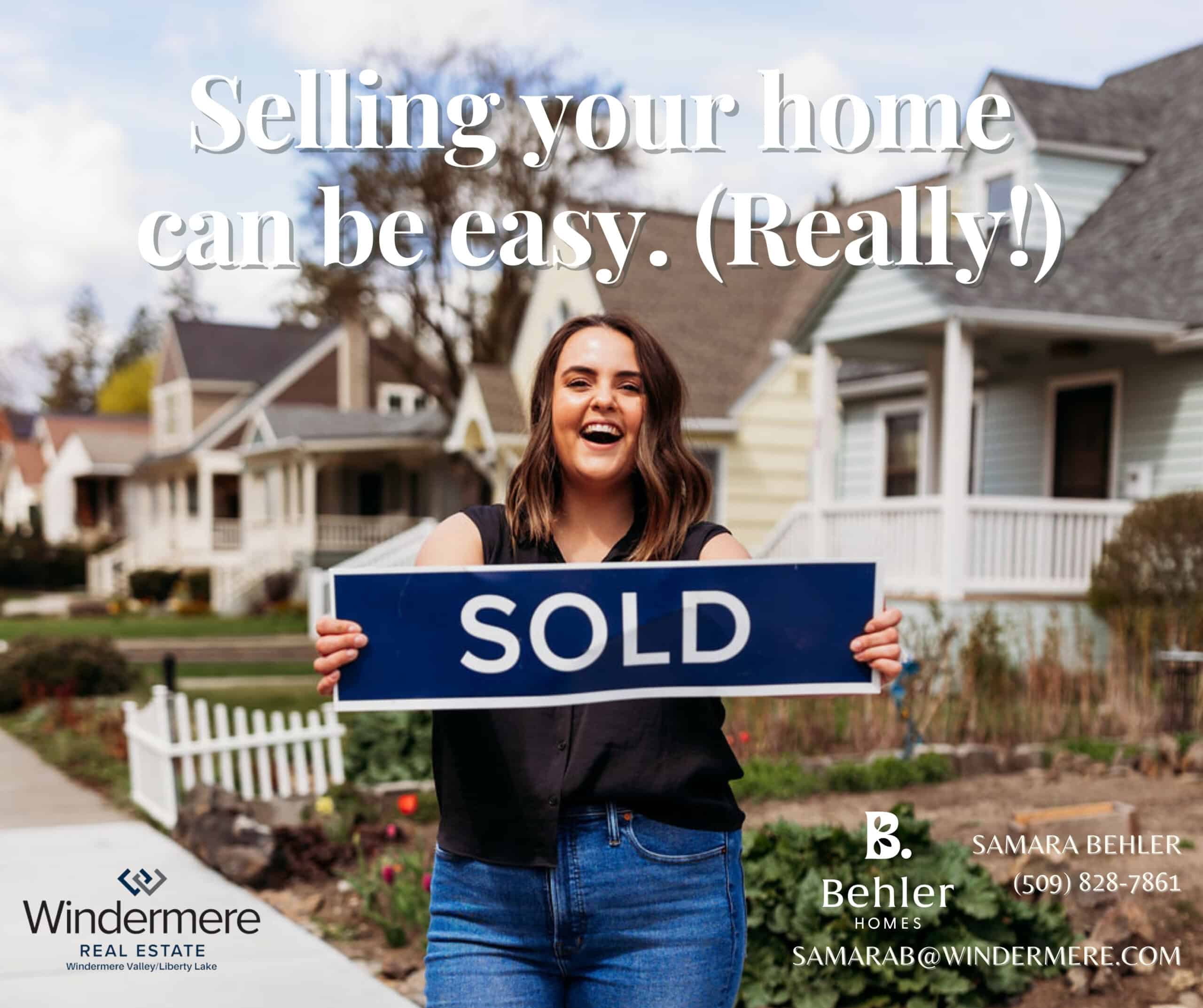 Saving the World One Thrifted and Vintage Item at a Time
In my last article on fast fashion vs vintage, I wrote about buying vintage clothing and the impacts that has on the environment — this also pertains to vintage decor. When we think about helping the planet, one may imagine recycling plastic or paper and donating used items.
To have an even bigger impact on your carbon footprint, remember that the purchase of vintage/antique/thrifted decor and accessories requires no new resources. It's important to consider the little choices we make every day and how they impact the globe – that includes buying newly manufactured items instead of sourcing previously-loved goods near where we live.
When we buy vintage, we are not only supporting a small business but also helping with the efforts to be kinder to our planet.
I've adopted this sensibility in my personal style, and with a really beautiful effect. Each room in my house encompasses a different side to my personality and artistic flair. My living room is a hodgepodge of mid-century with an eclectic vibe and gallery wall that includes paintings from local artists in the area. I'm drawn to art of any type that can help me provide an ambience of calmness and warmth. Alternately, my bedroom is dark, moody and has a distinct Victorian/gothic vibe with a touch of art nouveau.
The love for vintage accessories can also give you a nostalgic feeling. It's something that reminds me of my grandparents' house. I have fond memories in my grandma's kitchen – watching her make homemade bread and strudels, and helping to can pickles. They filled their home with high-quality mid-century pieces, and they gifted me their mid-century bar cart that I now treasure. That's what will bring a smile to your face whenever you walk into a room.
How to Incorporate Vintage Home Decor Into Your Home
Are you intrigued by how to incorporate vintage style into your home, too? I can help.
There are some timeless pieces that you can invest in to elevate your vintage style at home:
Mid-century modern pieces
Neutral textiles and accessories
Kitchenware
Decorative books
Ceramics
Original art
Vintage baskets
As a society, I feel we have changed our attitude towards vintage and repurposed items and are ready to integrate unique items into our homes that reflect our personal style regardless of the era. It's nice to attain harmony to your home in the design sense, but when you shop for accessories – find things that make you happy. Take your time and find pieces with a purpose that you can get practical use out of daily.
Where can you find all these amazing vintage home decor pieces and accessories in your area? Local is always my first choice, and the easiest way. Shipping can cost a fortune, and you risk damaging precious goods that can't be readily replaced. Go on a hunt and find some treasures in vintage shops, thrift stores, flea markets, garage sales and estate sales near your home or when you travel. You'd be shocked what you'll discover!
What's Trending Now in Vintage Home Decor
I spoke to a couple of my favorite vintage store owners who have a unique insight into what is wildly popular right now and that they can't seem to keep on the shelves. Keep your eyes peeled for these special touches to add a fresh perspective in your design scheme.
Boulevard Mercantile; Spokane, WA
The owners of Boulevard Mercantile said the first vintage trend is Japandi, which is a mixture of Japan and Scandinavian design. Japandi is about minimalism, neutral tones with texture and natural materials. It brings minimalism-meets-comfort and an unmistakable feeling of coziness.
Wabi-Sabi design is very similar, but it embraces the imperfections of your home and furniture versus Japandi, which is more about perfection. The neutral tones and simplicity give a distinctive sense of peace.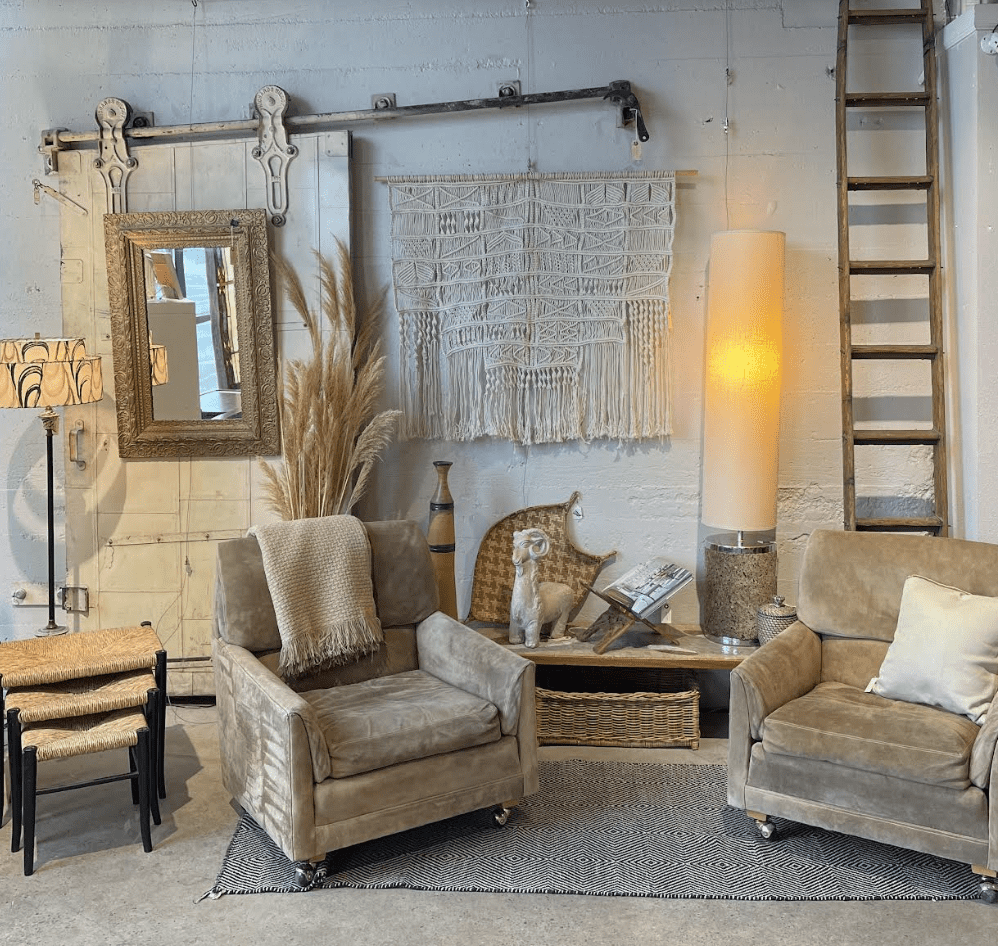 Midtown Market; Coeur d'Alene, ID
At Midtown Market, vintage and antique books are always popular. The gorgeous fonts and embossed titles, beautifully worn bindings, aged pages and distinctive smell give them a timeless appeal. Books are perfect for display on your coffee table, shelf, mantle or even to add height to something such as a plant.
It's also a great place to find special items that can break up a gallery wall or space like figurines, small mirrors, pottery and fun decor pieces. A good rule of thumb for something you'll love having in your home is when you walk by it, you stop and immediately smile. That's my cue to check the price tag and see if it fits in my budget.
Studio pottery is another item I love to pick up here, as it can give any space a sense of balance and add an interesting element to its surroundings. My favorite is East Germany pottery, as it's very vibrant, textured and stunning.
I asked the owners of Midtown Market what the most sought-after vintage accessories in the Idaho area were vintage books, barware, wicker and rattan, brass candlesticks and figurines, typewriters, paintings, antique crates and locker baskets. If you see any of these that you love, be sure to get them quickly before they disappear!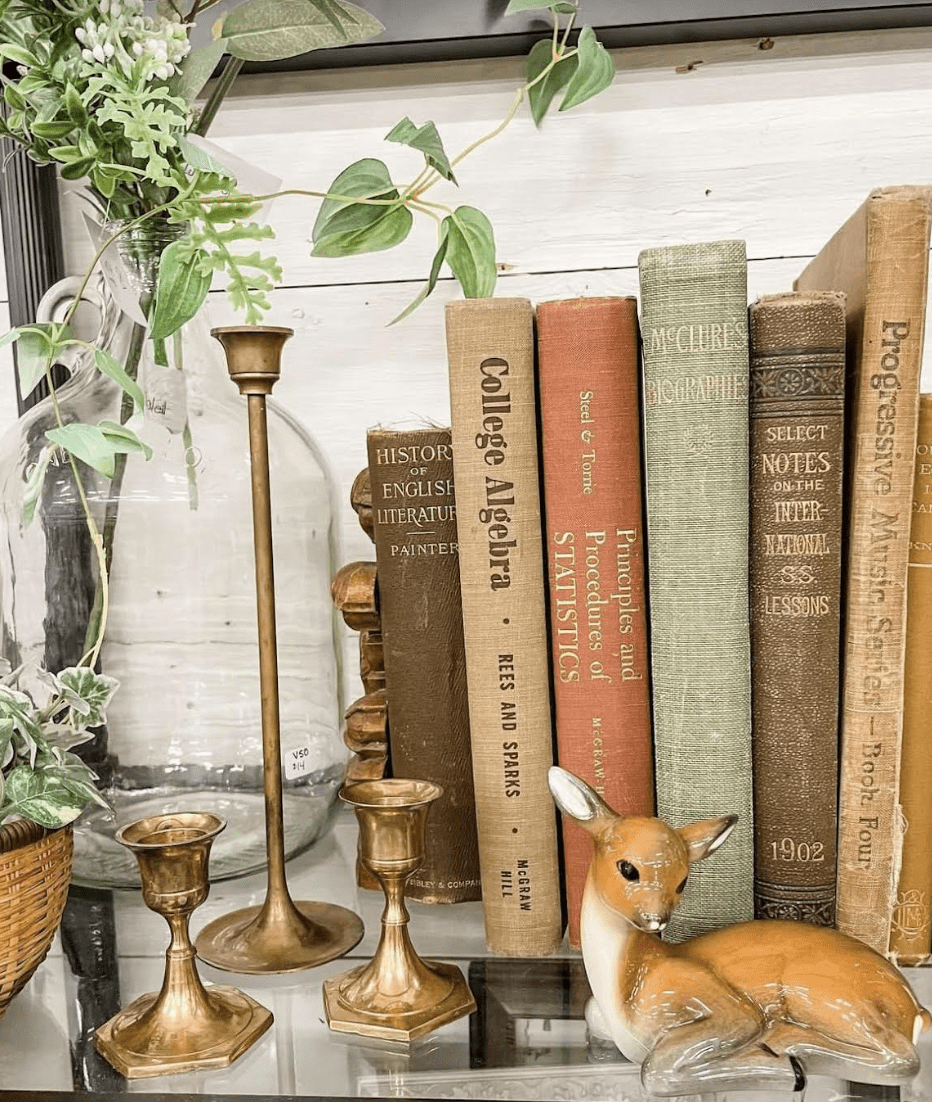 A Complete Design For Inspiration
I incorporate as many vintage and antique items into my living space as I can. Here is an example of what these pieces can look like when arranged together in my living room, where I have my vintage accessories displayed.
The painting and console were sourced locally from Boulevard Mercantile; the MCM plant stand I found at an estate sale; the blue radio was found locally at a vintage store; the wicker plant holder was thrifted; the brass piece in the back was something I actually traded with another vintage lover – it's called trench art; the two blue vases are pretty swung glass; 1950's tv, and vintage lamp.
I also enjoy simple, neutral-tone vintage bud vases. Sometimes the perfect piece can make a collection of decor look complete. The only thing I bought new in my living room are my plants, which is a great way to complement any space.
If you're stuck on what kind of space you want to create and need some ideas, Pinterest can be an exceptional source, along with visiting curated vintage stores that can help stimulate creative ideas.
Incorporating vintage home decor into your space can add a unique and timeless charm. From vintage books to studio pottery, there are countless ways to decorate with vintage pieces.
When it comes to decorating with vintage home decor, the possibilities are endless. One of the best things about incorporating vintage pieces into your space is that they can add a unique and timeless charm. Whether you're looking for something to break up a gallery wall or want to find a special item to display on your coffee table, vintage stores can offer a wide variety of options.
Fay Ripley
Hi everyone my name is Fay and I own Red Leaf Vintage. I have been buying and selling vintage clothing for seven years and have three locations in Spokane and Coeur d' Alene where I sell. I love vintage clothing and learning about sustainable fashion, so I hope you will join my journey in learning new things and getting excited about vintage fashion!