Yellowstone Brings Authenticity to the West
The Silver Lining: What I Watch When I'm Not Making TV
by mandi price
Making television for a living is a fifteen-hour-a-day job, and I spend all day, every day, thinking about it. And though I love TV, I don't always get the chance to watch anything outside of the show I'm producing (currently, Daisy Jones & the Six). When I do find a moment to watch something else, nothing less than excellence will do. If I'm not invested by the first episode, I'm out. But when I do find something I enjoy… I shout it from the rooftops.
My definition of excellent television doesn't always mean it's award winning. To me, it means the storytelling is original and compelling. The look of the show is impressive and unique. The acting and directing is special. The editing is daring and the music/score must emotionally take me on a journey to a world in which I would love to escape to. The show has something undefinable that makes me wish I'd made it, but the silver lining is that I get to simply enjoy it.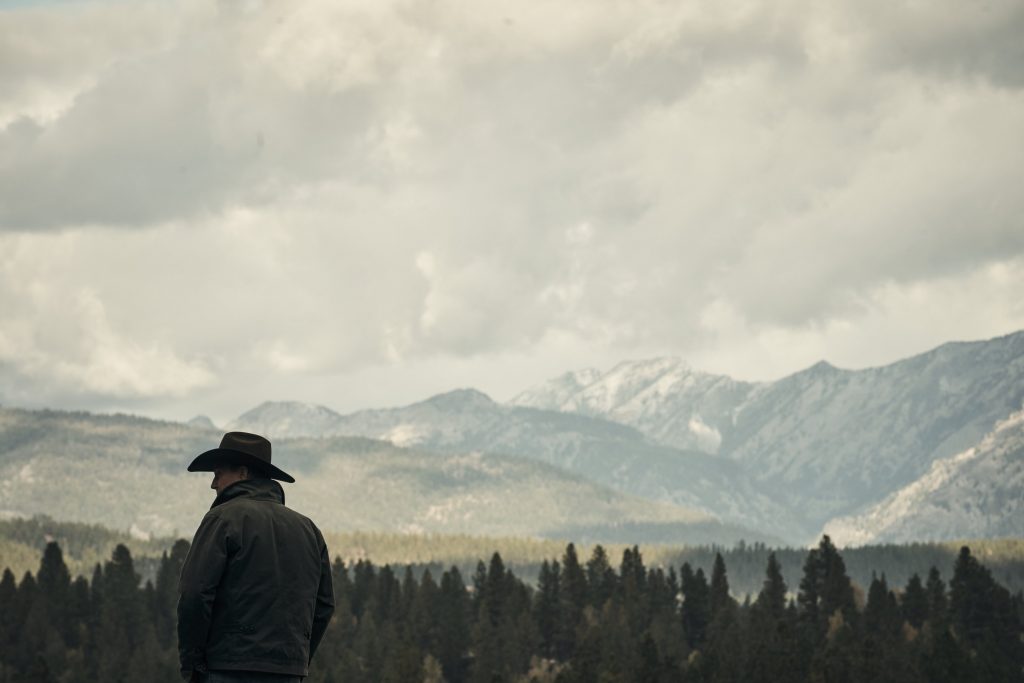 My current obsession is Yellowstone (Paramount+). And I mean obsession. I have Yellowstone socks, jackets, and I even bought the same custom hat Beth Dutton wears in one of the episodes. Like I said, obsession. Kevin Costner plays John Dutton, the patriarch to the Dutton family and, by proxy, all of Montana. He owns The Yellowstone Dutton Ranch, the largest ranch in the United States, located somewhere between Bozeman and Livingston. The ranch has been in the family for seven generations, and as you can imagine, the Dutton Family is a force to be reckoned with. Thinking about doing anything to their five thousand acres is essentially a death wish.
Right now, you get four seasons of How the West was won! with twists & turns in nearly every episode, some small town corruption, exceptional country music, fantastic cinematography that showcases Montana and Utah's landscape, and, of course, cowboys!
I love the authenticity Yellowstone brings to the screen. You can tell by watching that the show creators have done extensive research to bring to life this fictional world. Native American culture, spirituality, and history is intertwined and present like nothing I've seen from scripted TV–aside from Reservation Dogs. The show doesn't just offer a touch of history, the white version of history. Yellowstone provides the truth, while celebrating the joys and ceremonies of it as well. Nuanced history from all sides is an essential character in Yellowstone. It's rare a TV show can pull that off. Yellowstone does.
From a technical aspect, it's near perfect editing. The acting is exceptional. I can barely tell the stunt doubles and the lead actors apart. Showrunner/creator Taylor Sheridan makes several appearances. (I love a good easter egg). The production design is magical and… holy cow, Beth Dutton is my hero! She's a force and I love everything about her. I can only imagine how fun it is to write dialogue for a character as fierce as Beth Dutton.
Speaking of writing, it's rumored that Taylor is a one draft wonder; the script he writes is the script that's filmed, which is unheard of in Hollywood. Typically, there are at least four versions or edits to the original production draft before it begins filming. Nope, not with Yellowstone.
Fun Fact: You can stay at the ranch where the show takes place. It's called Chief Joseph Ranch in Darby, Montana. You'll have to wait for production to wrap on Season 5, but yes… you too can enjoy a cowboy/cowgirl adventure on The Yellowstone Dutton Ranch.
Honorable Mentions
Moon Knight (Disney+): Marvel does it again. Great watch.
Good Sam (CBS): My best friend created this show. You should watch it. Plus, Jason Isaacs stars in it for all of my Potterheads!
The After Party (Apple+): It's funny! Bonus: I worked with Sam Richardson on a Pilot (WOKE) and it was a joy working with him. Friends support friends.
Parks & Rec (Peacock): If you haven't seen this show, we can't be friends. I'm always watching it. I have the entire series on my iPad so that I never fly without it. Yes, It's been off the air for years now, but it makes me happy beyond belief. Amy Poehler rules the world. Li'l Sebastian, you are five thousand candles in the wind.
My Life is Murder (Acorn): Quirky, fun, murder mystery. Sometimes you just need a show that you can watch while scrolling through your socials and your grandparents can watch too. This is that show.
The Great British Bake Off (Netflix): I survived the pandemic because of this show.
Making It (NBC): I never cry while watching TV. Pretty sure I cry every episode of this show. It's just so wholesome. Also: Amy Poehler and Nick Offerman. (refer back to Honorable Mention #4).