From Fields to Fork: Uncover Idaho's Best Farmers Markets for Fresh Produce and More
Farmers markets in Idaho allow shoppers to see, taste, and learn about the variety of Idaho's farm-fresh produce from local farmers. While the produce stalls are undoubtedly the main draw, these markets are worth a visit for the wide array of baked goods, crafts, flowers, and handcrafted goods.
While there are outstanding markets all over the state, here's a hand-picked selection to add to your list (organized from north to south).
Your Guide to Farmers Markets in Idaho
Bonner's Ferry Farmer's Market | April – October
Hours: 8:00 a.m. – 1:00 p.m.
One of Idaho's oldest farmers' markets, the Bonners Ferry Market, has expanded steadily since it began in 1980. Area farmers showcase local lamb, chicken, and other pasture-grazed meats. Growers sell organic fruits and vegetables, including sweet corn, herbs, and Idaho potatoes, and there are plenty of crafts, baked goods, and pottery.
The market runs the last Saturday in April through the first Saturday in October every year, and it's located next to Highway 95 and the Visitors Center in downtown Bonner's Ferry.
Farmer's Market at Sandpoint | April 29 – October 14, 2023
Hours: Wednesdays: 3:00 p.m. – 5:30 p.m.; Saturdays: 9:00 a.m. – 1:00 p.m.
Nestled among the trees in Farmin Park in downtown Sandpoint, this market has connected local farmers, artisans, and craftspeople with North Idaho for 35 years. Producers offer fresh-cut flowers, local pork, raw dairy, cheese, butter, and cream, plant starts, seasonal vegetables, and fruit. You can also find specialties like herbal tea blends, homemade jams and jellies, and plenty of baked goods. Artisans offer goods like hand-painted fibers, jewelry, and clothing.
The market runs on Wednesdays and Saturdays for 24 weeks, and it's located in Farmin Park, one block off Oak Street in downtown Sandpoint. Its one of several farmers markets in Idaho located in the north part of the state.
Kootenai County Farmers' Markets | May – October
Hours: Wednesdays: 4:00 p.m. – 7:00 p.m.; Saturdays: 9:00 a.m. – 1:30 p.m.
The Kootenai County Farmers' Markets are a destination for North Idaho's best seasonal vegetables, honey, bison, beef, lamb, and cheeses. This is one of the best farmers markets in Idaho, as shoppers can also find pottery, woodcrafts, quilts, and baked goods. The market takes place in two locations weekly, and markets feature local musical artists.
The Saturday market is located in Hayden and the Northeast corner of Highway 95 and Prarie Avenue, in a beautifully wooded lot with great shade, and the Wednesday market is located on Main Street in the Riverstone shopping center near the Spokane River. The last day for the Wednesday market is September 27, and the last day for the Saturday market is October 21.
Moscow Farmers Market | May 6 – October 28
Hours: Saturdays: 8:00 a.m. – 1:00 p.m.
Moscow Farmers Market has been around since 1976, and it has tripled in size in both vendor participation and attendance, with more than 150 vendors and 7,500 visitors a week. Nestled in the heart of the Palouse region, the market reflects the commitment to the city's farm-to-fork culture and has been consistently ranked as one of the Top 25 Markets in the U.S. by the America's Farmers Market Celebration. It's truly a top market, and one you must check out if you like farmers markets in Idaho!
Featuring fresh produce and meat, homemade baked goods, wine, cheese, and nursery plants, the market is a vibrant community hub. It operates every Saturday in May through October in Downtown Moscow at Main Street and Friendship Square.
Photo courtesy of Moscow Farmers Market
Latah Farmers Market | June – October
Hours: Wednesdays: 4:00 p.m. – 7:00 p.m.; Saturdays: 9:00 a.m. – 1:00 p.m.
The Latah Farmers Market is a lively producer market showcasing the best of Idaho. You can find seasonal produce, meat, eggs, art and crafts, and fresh baked goods. While you're shopping, you can grab a bite from one of the many food vendors while listening to family-friendly live entertainment.
The Saturday market runs for 19 weeks, beginning June 3 on Saturdays at Troy City Park in Troy, and the Wednesday market runs for 15 weeks, from June 21 through September 27 at the WI&M Depot in Potlach.
Donnelly Farmers Market | June – September
Hours: Wednesdays: 3:00 p.m. to 6:00 p.m.
The Donnely Farmers Market was created in 2018 by two local residents to provide improved access to fresh fruits, vegetables, and other whole foods for the Donnelly and Cascade areas. Deemed a food desert (an area where residents must travel 10 or more miles for a grocery store or farmers market), the market's mission is to provide healthy and nutritious food for the surrounding areas. They also provide food to local pantries.
Located at the park in the city of Donnelly, the market has more than 30 vendors, live music, and a playground for kids. It's open on Wednesdays from mid-June through mid-September.
Wood River Farmers Markets | June – October
Hours: Ketchum: Wednesdays, 12:00 p.m. – 4:00 p.m.; Hailey: Saturdays, 9:00 a.m. – 1:00 p.m.
The Wood River Farmers Markets offer two weekly markets with more than 40 vendors that offer locally grown fruits, vegetables, flowers, and seasonably available honey, cheese, eggs, meats, and prepared foods. There's also a plethora of baked goods, artisan bread, pies, and other desserts, jams, jellies, sauces, and dressings.
The Wednesday market runs June 14 through October 11 in Ketchum at the Forest Service Park from 12:00 p.m. to 4:00 p.m., and the Saturday market runs June 10 through October 21 from 9:00 a.m. to 1:00 p.m. in Hailey in front of Roberta McKercher Park.
Boise Farmers Markets | April – October
Hours: 9:00 a.m. – 1:00 p.m.
The Boise Farmers Market is an agriculturally based market, meaning 95% of the more than 40 vendors are food and agricultural products, with only 5% dedicated to non-food items. This walk-thru market showcases Wagyu beef, bison, lamb, ostrich, poultry, cheeses, unpasteurized dairy products, organically grown fruits and vegetables, flowers, local honey, and even seafood.
The market runs from April 1 to October 28 at 1500 Shoreline Drive. There is also a Winter Market that runs from November through the last Saturday before Christmas. The BFM is unique in that they also offer a Drive-Thru market, where shoppers can order online Tuesdays and Wednesdays for Saturday pickup.
There is also a mobile market, which generally runs June through September and goes into Boise neighborhoods and food deserts, making fresh produce more readily available and accessible.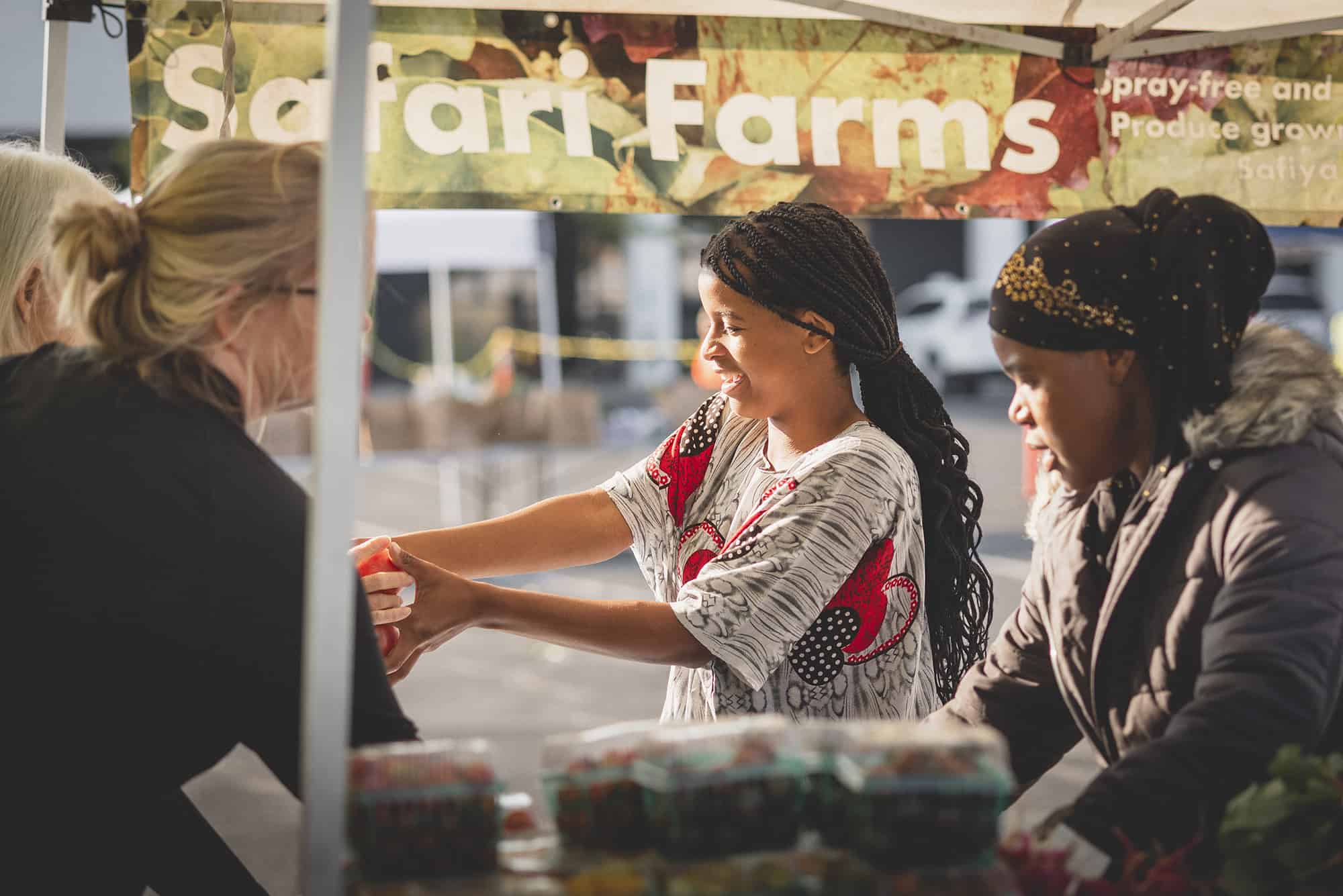 Photo credit: Boise Famers Market, Guy Hand
Nampa Farmers Markets | April – October
Hours: 9:00 a.m. – 1:00 p.m.
In 2022, the Nampa Farmers Market was voted one of the best farmer's markets in the United States by the Farmers Market Coalition and placed first in Idaho that same year. It has been a part of the community since 1989, when it launched with just three vendors. Now boasting an average of 80 to 110 vendors each week, the market features locally grazed meats, pasture-raised poultry, eggs, fudge, jams, baked goods, handcrafted wreaths, and native and heirloom plant starts.
While you're shopping, local entertainers provide music and dance, enriching the market experience. The market runs every Saturday, April through October, in Lloyd Square Park between Front and 1st Streets.
Meridian Main Street Market | April 15 – October 14
Hours: 9:00 a.m. – 1:00 p.m.
Every Saturday, local shoppers flock to Meridian City Hall on Broadway to the Meridian Main Street Market to enjoy live music and peruse for spices, pasture-raised poultry, gourmet and medicinal mushrooms, locally produced wine, fresh honey, and fruits and vegetables. The market also has a selection of chocolate treats, handmade jewelry, and wood crafts.
Main Street Market is relatively new, starting in 2015 as a youth farmer's market. In 2017 local business owner CheRee Eveland took over the market and expanded it, with 150 vendors on the roster. However, Meridian Market has kept the youth component, with seasoned vendors offering mentorship to the youth entrepreneurs.
Portneuf Valley Farmer's Market | May 6 – October 28
Hours: Wednesdays: 5:00 p.m. – 8:00 p.m.; Saturdays: 9:00 a.m. to 1:00 p.m.
Located in historic downtown Pocatello in southeastern Idaho, the Portneuf Valley Farmer's Market is in its 33rd season. Rain or shine, the market features nearly 100 farmers and artisans who produce organically grown plants, handmade glassware, flowers, fresh produce, dairy products, locally grown fruit, honey, and beeswax.
The primary market runs from the first Saturday in May through the last Saturday in October, featuring 26 weeks of live music. The Wednesday market starts in early June and runs through October at the corner of Center and Garfield.
Related: Savoring Sun Valley: 5 Iconic Dishes You Can't Miss
Eagle Saturday Market | May 6 – October 7
Hours: Saturdays: 9:00 a.m. to 2:00 p.m.
You'll find an array of produce, baked goods, seasonings, meats, quilts, garden art, and more at the Eagle Saturday Market. Nestled in the heart of downtown at Heritage Park, the market offers local produce, herbs, flowers, specialty food items, woodwork, and arts and crafts. Shoppers also enjoy the melodious sounds of musicians performing in the Gazebo.
Established in 2002, the City of Eagle Parks and Recreation manages the Eagle Saturday Market to support local producers. It runs from early May until early October.
Jerome Farmers Market | June 3 – October 7
Hours: Saturdays: 9:00 a.m. to 1:00 p.m.
Located at the historic Mountain View Barn off Highway 93, the Jerome Farmers Market was started in 2014 and showcases talented local artisans and agriculturists and sells everything from honey, lavender, pies, and other baked goods, quilts, gemstones, and every vegetable you can think of. You can also find homemade tamales, herbs, and wood products like turned bowls and cutting boards.
The market is open Saturdays from June through early October.
Caldwell Farm to Fork Farmers' Market | May 16 – September 26
Hours: Tuesdays: 5:00 p.m. to 9:00 p.m.
Caldwell is home to Idaho's most diverse crop base, producing award-winning fruits, vegetables, grains, and spices. The Caldwell Farm to Fork Farmers' Market is part of Tuesdays on the Creek at Indian Creek Plaza in downtown Caldwell, and it runs in conjunction with the Summer Concert Series every Tuesday from May until September. It's a great place to grab a bite to eat, sip some drinks, and shop for fresh produce or find the perfect gift from local craftsmen. It runs for 20 weeks, from mid-May to late September.
Lemhi County Farmers Market | June 3 – September 30
Hours: Saturdays: 9:00 a.m. to 1:00 p.m.
Rain or shine, the Lemhi County Farmers Market celebrates the local Salmon Valley farmers and talented artisans who bring their fresh seasonal vegetables and fruit, local honey, jams, and sauces to shoppers each week. The market also features teas, handspun yarn, handcrafted knives, and more.
Located at The Veterans Memorial Park on the corner of Main and Water Streets, the family-friendly market happens every Saturday from the first Saturday in June through the last Saturday in September.
Rexburg Farmers Market | May 12 – October 6
Hours: Fridays: 4:00 p.m. to 8:00 p.m.
This vendor-run market features fresh, local produce, crafts, and plenty of prepared foods.
Visitors to the market can snack on gourmet caramel apples, tacos, or soft serve ice cream while shopping for sourdough bread, fresh local honey, jams and jellies, pastured chicken and turkey eggs, as well as local and naturally grown vegetables, cut flower, herbs, salves, and ointments.
Located at the Madison County Fairgrounds on Friday nights, the Rexburg Farmers Market runs from mid-May through early October.
Idaho Falls Farmers' Market | May 6 – October 28
Hours: Saturdays: 9:00 a.m. to 1:00 p.m.
Now in its 30th year, the Idaho Falls Farmers' Market runs through three seasons, and it features locally grown fresh fruits and vegetables, freshly baked bread, pastries, beef, lamb, pork, flowers, honey, coffee, eggs, cheese, and milk, along with handmade crafts, specialty foods, and fine art. Located along the river walkway of Idaho Falls on Memorial Drive, the market has over 100 vendors on its list, so there is something for everyone. The market runs from early May through the end of October.
Idaho's Farmers Markets: Where Freshness Meets Community Spirit
Idaho's farmers markets offer a delightful experience for shoppers to immerse themselves in the abundance of farm-fresh produce and local goods. While the focus is on the diverse selection of fruits and vegetables from local farmers, these markets have much more to offer. Visitors can indulge in freshly baked goods, explore handcrafted arts and crafts, and even enjoy live entertainment.
Whether you're in the northern regions of Bonner's Ferry, Sandpoint, or Moscow, or further south in Boise, Nampa, or Idaho Falls, there are exceptional farmers markets in Idaho waiting to be discovered. These markets not only provide access to high-quality produce but also foster a sense of community and support local businesses. So, grab your shopping bags and embark on a journey through Idaho's farmers' markets to savor the region's flavors and embrace the vibrant agricultural culture that thrives throughout the state.
Maureen Farrar
Maureen is a Coeur d'Alene, Idaho-based freelance writer with a passion for eating and drinking. She has more than 20 years of experience in digital and print media — primarily in the health and fitness space. In her free time, she hikes with her two Samoyeds and spends as much time as she can kayaking and paddleboarding.