Discover the Best Mindfulness Resources in Spokane and Coeur d'Alene
Over 275 million people practice meditation worldwide. The US is home to the second largest number of meditators–second only to India. That means that almost 38 million people in our beautiful country regularly get quiet, hold space for themselves, and foster the mind-body connection.
In the years post-pandemic, our dire need to support our mental health has become clear. If we take any good from that tumultuous year, I hope we take the memories of what it felt like to slow down, be alone, feel helpless. I hope we stay focused on mental health. I hope we continue to stay home when we're sick.
I hope we never forget what it's like to be with our thoughts. I hope we continue to develop healthy coping skills. I hope we prioritize mindfulness and find small ways to ground ourselves. I hope we continue to set an example for the rest of the world and become a nation of resters, pausers, and meditators.
I've said it a million times, but it's worth writing. Our sweet community of Spokane, Coeur d'Alene, and the surrounding towns is drastically underrated. We have all of the benefits of big cities (culture, diversity, a thriving art scene, a growing restaurant scene) and all of the charm and safety of a small town. With that, comes some amazing mindfulness resources. I've searched, visited, and tried and compiled a list of my favorites.
I tried out each studio and asked each the same questions to allow you to understand the heart behind each one before choosing one (or a few) to try! They are listed below in alphabetical order, because choosing from them would be like choosing a favorite pair of shoes (I'd say child, but I have none… and I have a lot of shoes).
ALIGN YOGA STUDIO
(The following answers were provided by Amy Hobson, owner of Align Yoga Studio)
If you are interested in contacting the Align Yoga Team, their contact information is below.
2605 N 4th Street Unit 102
Coeur d'Alene, ID 83815
Email: [email protected]
Phone: (208) 691-7409
Instagram: @align_yoga_cda
Can you tell me a bit about the variety of classes Align Yoga offers?
At Align Yoga Studio we aim to offer a lot of variety to our students. We offer Anusara, Flow, Restorative, Baby and Me, Yoga Pilates Fusion, EmPOWER Flow, Yoga Strength Fusion and Kids Yoga. We also offer a Beginners Series, monthly sound baths and workshops for other forms of practice like meditation and pranayama. I enjoy moving things around and polling our students for what they would like to see and what works for their schedules. While I know we cannot perfectly meet everyone's schedule needs, I do want people to have a variety of classes that will fit into their weekly routine.
What is your most popular class?
It is hard to say what our most popular class is! All of our classes are well attended and it seems students like to attend a wide selection of classes. I think students like to choose a class based on what they need for a given day and what fits their schedule for that day. I love seeing our students try all the class varieties . We offer 60, 75 and 90 minute classes and offer classes 7 days a week.
What sets your facility apart?
I believe there are a few things that sets Align Yoga Studio apart. First, myself and all the teachers at AYS have a strong foundation and background in Anusara yoga. I feel it provides continuity across our classes and a sense of unity in our vision, mission and core values. With that being said, many of AYS' teachers have experience in other yoga methodologies and that creates a dynamic group of inspired yoga teachers that pull from years of experience.
AYS is also a small and intimate space with a very warm and welcoming community of students. This allows the opportunity to quickly learn the names of your fellow students – I have seen many friendships bloom in the studio! It makes me really happy when students thank me for creating the space and offering an environment and opportunity to practice in a studio that feels so comfortable. Yoga has been my passion for the past 30 years and I have poured all that love and commitment into the studio. I know that shines through and students feel it as soon as they come through the door. That was my aim! All of us at AYS are passionate about continued learning and consider ourselves lifetime students of the practice we are so grateful to teach. We know that teaching yoga is a true honor and each and every one of us at AYS truly loves what we do!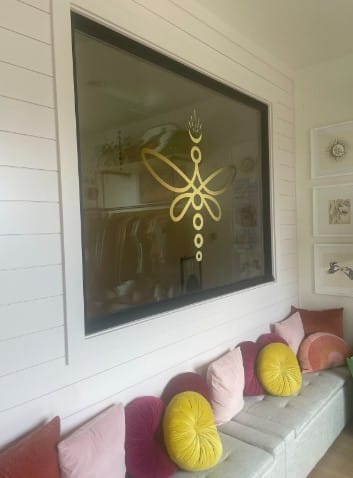 What drives you and the Align Yoga team?
Our students are the major drive of our studio! Every single student that comes to class drives us to be better teachers. It is inspiring to watch students surprise themselves when they improve and succeed at something that they thought they could not do. By trusting us as teachers, they learn to trust themselves. We get to see huge transformations and witness our students move through the difficult parts of life – when they tell us that it is because of the work put forth on their mats and an inspiring message from class – we are thrilled! In addition to our students, for me, the practice of yoga itself drives me. It has shaped my life and continues to reveal magic and transform me into a higher version of myself. Having the honor and opportunity to offer this to my community continues to drive me as well. Each day when I walk into the studio I feel such a rush of gratitude.
What is your favorite way to foster mindfulness and get in touch with your body, mind, and spirit daily?
My favorite way to foster mindfulness is yoga! Lots & lots of yoga. Another way is my morning routine. I begin early morning with a cup of coffee and quiet time. I then move into a more formal meditation practice that begins with breath practice (pranayama) and at least 30 minutes of meditation, followed by a workout. In addition to teaching yoga and running a business, I am also a wife and mom (& dog mom) and life gets busy as life does! It is very important that I have time for myself as I know it keeps my body, mind and spirit in alignment. I also really enjoy getting outside – I believe fresh air is so good for the soul! My dogs are a great motivator to walk every day! Walking/hiking and being outdoors and in nature helps to clear my head and the fresh air always lifts my spirits!
How does Align Yoga facilitate mindfulness and connection to one's body, mind, and spirit for those it serves?
Our classes at Align Yoga Studio help students facilitate mindfulness and connection to their body, mind and spirit. Anusara is a heart-centered practice, taught with an inspiration theme woven throughout. Anusara strongly emphasizes alignment and uses intelligent breath-based flow to encourage the students further to practice mindful awareness. The highest intention of Anusara yoga is to align with the Divine and to discover the bliss of being. The practice of yoga (including asana, meditation, mantra, pranayama, philosophy, etc) help guide us home to our true nature – from this place we can find joy, bliss, freedom, and beauty. Yoga practice helps us experience the remembrance and bring us home to the light at our deep heart center – the very essence of who we are.
What advice do you have for those who are new to yoga/meditation practices?
My advice to anyone new to yoga and meditation is to BEGIN. Find a studio that you feel inspired by and get on your mat and begin. The journey will unfold from there.
My Hot Take: This sweet studio opened just over a year ago and is nestled in the dream plaza between a flower shop and a bridal boutique in Midtown Coeur d'Alene. I appreciate the variety of teaching styles and perspectives the staff brings, and that Amy, the owner who is the kind of stunning who might be intimidating if she didn't ooze warmth, love, and peace, has curated classes that strike just the right balance between the spiritual and physical strength. I love the full moon
ANAM CARA HEALING CENTER
(The following answers were provided by Hannah Talbot)
If you are interested in contacting the Anam Cara Team, their contact information is below.
7 S Howard St Suite 210
Spokane, WA 99201
Email: [email protected]
Instagram: @anamcarahealingcenter
Can you tell me a bit about the variety of classes/services Anam Cara offers?
Anam Cara is a mindfulness and healing center in the heart of downtown Spokane. Between our daily meditation classes, workshops, and trainings, one-on-one energy healing and coaching sessions, group and team coaching, and curated retreats from 3 hours to 3 days, we help you live a life you are on fire for.
We are a membership-based studio with daily classes that are just 30 minutes and designed to help drop you into your center. Everything we do is virtual and in-person, with an easy to use App to access live and recorded classes.
What is your most popular class/service?
Our most popular class right now is Manifest. Our students' results are incredible and nothing short of life-changing. No matter what your goal or calling is, this class will help you shift your life in the direction you want to be. It is like a North Star, a compass.
Each morning at 7 am and 9 am, you can set your intentions for the day and actualize the life you want to live. Each day you receive a new tool or tip on how to consciously set goals, break habits that don't serve you, and move through things keeping you held in place. Then we do guided journaling with research-backed questions to help you rewire your neural pathways. We set an actionable goal for the day. Then do a guided visualization meditation to deepen the commitment to the goal. We finish by sharing our goal for the day and creating a community of gentle, supportive accountability and an energy of momentum. It's incredible to watch students take control of their life and see what they can create for themselves.
What sets your facility apart?
We like to say we are the calmest place in Spokane. Everything, from the moment you walk in, puts you at ease and makes you feel like the space was built just for you. Because it was. I have been dreaming of this space into being for over eight years. We were so lucky to find our home in the historic Symons Building.
Anam Cara is perched on the second floor, in a corner suite with wall-to-wall windows overlooking the most gorgeous view of downtown. I chose to be downtown because I feel like it is the heart of Spokane, and everything flows into it. My designer Natali Alexander helped me to elevate all my ideas and bring in aspects I would have never thought of. The end result is a space that feels seeped in earth elements, bringing you instant grounding and calm.
What drives you and the Anam Cara team?
Every day, multiple times a day, we get told that Anam Cara has changed someone's life. Every day someone tells us because of this space and these practices, they finally feel in control and connected to their life. That is the why. To make you feel nourished and ignited. Mind, body, and spirit. We want to drop you deep into the center of your heart. We help you remember and know how precious your life is and that you get to live it in a way that lights you up! We believe that using mindfulness in all aspects of our life opens us up to the awe and wonder of this world. Leaving us with feelings of awareness, connectedness, gratitude and joy.
What is your favorite way to foster mindfulness and get in touch with your body, mind, and spirit daily?
Breathe, number one all day every day. Most of us spend the day breathing at about a 1-2 second inhale and 1-2 second exhale. Just by lengthening that by a few seconds, you can stimulate your Vagus Nerve, activating the relaxation response in your body. When your body feels calm, it is much easier to feel connected to your mind, body and spirit.
One of my other favorite tools is to do daily visualization of how I want my day to play out. I take several deep breaths, close my eyes, and just tap into my intention for the day and how I want to feel, how I want to show up that day. Become an expert in visualizing the life you want to have.
How does Anam Cara facilitate mindfulness and connection to one's body, mind, and spirit for those it serves?
Anam Cara is designed to bring mindfulness into all aspects of your life. We believe that in order to feel whole you need to feel connected to the physical body, our intellectual and creative side, our emotional self, have a sense of community, direction in purpose/career, and your connection to spirituality, whatever that means for you. By tending to each of these areas in your life through our daily classes, workshops and one-on-one sessions, you are able to feel like your most embodied, whole self.
What advice do you have for those who are new to yoga/meditation practices?
My number one advice when it comes to starting a meditation practice is to lose the idea that it is about having no thoughts. Let go of the idea that you are not good at meditating because you have such a busy mind. We all do. Our minds are designed to be constantly scanning, processing, filing and organizing. One of my favorite teachers says, asking your mind to stop thinking is like asking your heart to stop beating. Impossible. What you are trying to do is just have some control over where your thoughts are going. Breathe and just notice. Let go of having no thoughts or that you are not doing it right. It is called a practice for a reason.
My Hot Take: Every time I walk through the beautiful doors of Anam Cara, I feel loved. Hannah, the owner, exudes peace as well. I love Hannah's reiki sessions. They are part-energy work, part embodiment, part-self care, part-hype sesh with your favorite girlfriend. I highly recommend them!
BEYOUTIFUL HOT YOGA
BeYoutiful Hot Yoga offers locations in two spots in Spokane, one in the Valley, and one in Coeur d'Alene. Check out their schedule online here.
Can you tell me a bit about the variety of classes Beyoutiful Hot Yoga offers?
We offer 5 core classes: Hot Hatha, Hot Power, Hot Vinyasa, Yin and Inferno Hot Pilates
What is your most popular class?
Hot Hatha and Inferno Hot Pilates
What sets your facility apart?
We are an exclusively hot studio.
What drives you and the Beyoutiful Hot Yoga team?
Our desire to serve and impact the community in a positive way by alleviating people's physical pain, mental distress, and spiritual longing.
What is your favorite way to foster mindfulness and get in touch with your body, mind, and spirit daily?
Practicing Yoga in our heated rooms is the best way for me to experience the depth of the connections between mind, body, and spirit.
How does Beyoutiful Hot Yoga facilitate mindfulness and connection to one's body, mind, and spirit for those it serves?
In the classes we offer our clients experience the fullest connection to their body, mind, and spirit, especially in the end of our classes where we leave the clients in Savasana to explore the depth of stillness in contrast to the active practice they've just completed.
What advice do you have for those who are new to yoga/meditation practices?
Yoga is great for everybody! Everything can be modified or amplified for your body. And we have found that the progression towards the postures, not the perfection of them, that has the most notable benefits.
My Hot Take: BeYoutiful Hot Yoga has locations in Coeur d'Alene, Idaho, North Spokane, Washington, and Spokane's South Hill. Each time I visit, I am warmly greeted and feel genuinely welcomed to practice in my own way. The studio is fully equipped; I love that I can rent everything I need and even buy an electrolyte packet and cute yoga garb on my way out.
BeYoutiful Hot Yoga is the kind of studio where you see all ages and types coming together. I almost always run into someone I know, and can't wait to return to this sweet community.
THE BODY ALCHEMIST, WHITNEY BUCK
(The following answers were provided by Whitney Buck)
If you are interested in contacting Whitney, her contact information is below.
1624 E Seltice Way
Post Falls, ID 83854
Phone: (208) 654-3885
Instagram: @the.body.alchemist
Can you tell me a bit about the variety of services/classes you offer?
I specialize in helping people process their trauma and move beyond what is limiting them physically, emotionally, and mentally so that they can create from a place of power and potency! I do this through teaching embodiment practices and hands-on facilitation! I do have people that live in Las Vegas, California, and North Dakota, so for them, we do most of the facilitation at a distance!
The three different services that I offer are:
A SingleSession of Bodywork + facilitation. I call this the embodiment session. These are about getting you out of your head and into your body. Oftentimes people will find that function in fight or flight, or are living in a repeated cycle. These sessions help them create something different and begin to live in the present moment! These sessions include hands-on bodywork like cupping and massage, energetic processes that I use to move the blocks out of the physical body, guided meditations, singing bowls, and coaching!
My Mastermind. In my opinion, this is the coolest place to be for those ready to live a more intentional and embodied life! It is a group of women that meet digitally a couple of times a month, and I do group coaching via Zoom, and daily coaching in a private group chat! The women in there are so badass and continuously blow me away with their ability to lead themselves through the triggers and trauma. The mastermind also includes a 1:1 session with me every month so you still get that 1:1 touch, as well as all my programs, and digital events! My mastermind is my favorite space because of the magic that happens, the collaboration, and the sisterhood! You get the transformation while doing it with a community that holds you, sees you, and supports you. Which is oftentimes the hardest part of growth, is feeling alone and like you no longer fit where you used to.
Long-Term 1:1. This is my ride-or-die container for those wanting to dive deep and do it together. We do anywhere from 2-4 sessions a month, you get access to the group mastermind chat, and all of my programs as well. The things we navigate can be big, and it doesn't feel safe to do it in a group setting.. this is the space for that.
What is your most popular class/service?
My most popular service is likely the embodiment session, but my favorite is the mastermind space! As for class, the top two that I have heard the most feedback from are "Next Level You," where we dive into creating the best year of your life or "TRIGGERED," which is a masterclass on navigating your triggers and overcoming repeating cycles!
My work is completely different than anyone I have seen. It utilizes so many different modalities, from meditation, to bodywork, to mindset work. It is about creating safety in the body and building a foundation to expand at quantum speed. I teach in the foundational work as well as the quantum field to create massive change and hyper speed. It's a process that evolves with the person working with me. A lot of the clients I have are long-term, and by that, I mean we have been working together for years because the change and healing are so massive. Once you get a taste of what's possible, you can never untaste it.
What drives me the most is that I wish I had this resource years ago when I was navigating all of this healing on my own. To have someone to go to when I was needing to process something, while also allowing them to hold me in my bigness and power. What I mean by this is having someone who can hold you in a space of neutrality while you are freaking out, and then hold you to the capacity you actually have to shift and move beyond that hiccup, trigger, or situation. It is invaluable. I do this because I love being that person, I love this work. It doesn't even feel like work. It's an extension of who I am.
What is your favorite way to foster mindfulness and get in touch with your body, mind, and spirit daily?
My favorite way to foster mindfulness daily is through breathwork and meditation. These two activities hold the power to shift anything and everything in our body. When we raise our vibration through these activities we begin to become a match for something greater than before. I choose to be intentional with what I create by focusing on who I am because who you BE is what you are a match for. When being intentional and utilizing the tools you have available to you becomes a normal thing for you, what you begin to experience is that you are creating consciously instead of creating from a space of fear or conditioning. This gives you the power to create something so far beyond what you have previously created. I find this in breathwork and meditation!
How do you facilitate mindfulness and connection to one's body, mind, and spirit for those you serve?
I help people facilitate this by taking them through the practices in our 1:1 or mastermind calls, as well as in the classes I teach. It is incredible how much can change for a person when they learn to breathe correctly. Most of society is breathing backward! When you pair that with meditation and becoming a conscious creator, you can truly have, do, or be anything or anyone. This is about shifting your identity to become that which is a match for consciousness through being mindful and aware. I also find that through this work, people find that they are much more aware than they ever allowed themselves to be.
What advice do you have for those who are new to meditation/mindfulness practices?
My advice for those starting would be 5 minutes of conscious and intentional breathing IS meditation. Meditation is a practice, and it doesn't need to be perfect, but rather it is an unraveling of everything you have bought you have to be. This is a space where you are free to be free! When the mind starts chattering in your meditation, bring yourself back to your breath. Listen to music that lights your body up, that you can feel in your skin. You can even do a guided meditation with me or online! Sometimes having something to do with your mind, helps you detach from it and come into the body. It is about the meditative state, not how you get there. Take it one step at a time and when you reach that space, it will all make sense!
My Hot Take: Whitney Buck is the definition of a modern matriarch. Her energy work and classes have been vital in my healing journey. I can't recommend her enough. She helped me to draw connections I had been working to make with traditional talk therapy.
HARMONY YOGA
(The following answers were provided by Isaac Grambo)
If you are interested in contacting The Harmony Yoga Team, their contact information is below.
1717 W. 6th Ave
Spokane, WA 99204
www.harmonyspokane.com
Phone: (509) 856-8946
Email: [email protected]
Instagram: @harmonyyogaspokane
Can you tell me a bit about the variety of classes Harmony offers?
Harmony offers a wide variety of classes in different styles. Most are "flow" based, which means postures are connected with breath and movement. We also offer quite a number of specialty classes that serve particular demographics, such as prenatal and postnatal yoga, Yoga for 50+, or chair yoga.
When I'm looking at the schedule, to the best of my ability, I want to make sure that we are prioritizing accessibility–which means offering classes throughout the day from 6 am to 8 pm, and making sure there is at least one Zoom class each day. I also want to make sure it's balanced. If we are going to offer prenatal, for example, I don't want it to be just one prenatal class–I want to make sure our pregnant clients know they can come throughout the week and not feel like they have to hop around to find classes throughout the week.
What is your most popular class?
That fluctuates! We have a lot of long-time students who have been at Harmony for years and have stayed with their favorite instructor(s), and we're also experiencing a lot of new growth right now (my husband and I bought it Dec. 31st). Yoga for 50+ is consistently popular, as is Gentle Yoga. We have a group who are very dedicated to their Pilates classes. Mornings are just getting going, as early classes are a relatively new addition to the schedule, and we've had a lot of demand for more evening classes to serve the afterwork crowd.
What sets your facility apart?
Within reason, all of our classes are friendly for all levels. There are some classes, such as Yoga Basics, that might be a good place for a new student to start, but all of our teachers have so much experience that they can make each class welcoming and accessible. The studio is also fully equipped with props–blocks, blankets, bolsters, straps, chairs, and high-quality mats–so that students can have the tools to practice comfortably. We don't charge for rentals. Ideally, a brand new student could walk in and have everything they need to have a great class, and not feel like they are having to invest a lot to try it out.
Although all of our instructors approach things in the way that is best suited to them, each class gives the opportunity for healthy movement and that mind-body-spirit awareness. You'll find some instructors that do more chanting or are more explicit in their discussions of philosophy, and others who weave it in in their own way. But regardless, in each class students will have the opportunity for more than "just" fitness–although I feel strongly that any amount of yoga done for any reason is beneficial, and I want to make sure that those people who come for the movement aspect also feel that the can get what they want and need–strength, balance, flexibility–from their classes.
What drives you and the Harmony Yoga team?
All of our instructors have a genuine desire to share something that has been beneficial, or even life-changing, for them–and that is really the common thread among each of us. For myself, both as a teacher and a studio owner, I really want students to feel welcome, empowered, and respected. I especially want each student to know that yoga is a lot of things, but it should always be a conversation with yourself–I strive to give students the information they need and the space to make good choices for themselves and their bodies, whether that's choosing a more robust practice that day, or listening to their body and searching for the ease. If I can foster a space where people can find community, movement, and joy, I'll feel pretty good about it.
What is your favorite way to foster mindfulness and get in touch with your body, mind, and spirit daily?
Breathwork is probably my most consistent practice–but the longer I'm in not just the yoga industry, but in the fitness industry (I was a coach for many years), the more strongly I believe that there are lots of paths to that mindfulness piece. Therapy is an important piece for me, and so is yoga. But it's also taking a walk, sitting outside in silence for 5 minutes (my kids are young, loud, and busy), working in my garden, or reading something beautiful. It could also be running, hiking, or getting on the rowing machine. When we get too attached to the dogma of any particular practice, I think, we start to lose sight of where the practice might take us.
How does Harmony Yoga facilitate mindfulness and connection to one's body, mind, and spirit for those it serves?
Classes always begin and end with breathing, which is a key piece. Allowing students time to come into the room and themselves before moving into postures is really important for helping people find the "moving meditation" aspect of yoga. Many of our classes are longer, specifically to allow teachers to spend time with breathing, gentle meditation techniques, and savasana.
But primarily, all of our classes really are focused on the complete practice–it's never *just* postures, breath, or meditation, or chanting, each class might have lots of little points of access to help students find their way into that mindfulness piece. We aren't particularly trendy, I don't think, but it's a *comfortable* studio–come as you are. Sweatpants. Yoga pants. Who cares? And I hope that helps, too. Knowing that you just need to walk in the door (or log on), and just be.
What advice do you have for those who are new to yoga/meditation practices?
Yoga is for every person, and every body. It's an industry where it's easy to feel like there's some sort of mysterious prerequisites–do you have to be flexible? Strong? Do you have to wear spandex? Do you have to stand on your head? The answer to all of these is no.
Every teacher and every class isn't the right fit for everyone. You might take a style you don't like, or have class with a teacher who isn't the right vibe for you–and that's fine–but it doesn't mean the whole thing is a wash.
As far as meditation goes, the advice is the same–there are no prerequisites, and there are LOTS of different ways to go about it. And just like anything else, some things will come more easily than others and everyone's experience will be different. Which is really sort of lovely!
My Hot Take: I discovered Harmony Yoga through my sister, who frequents their prenatal classes. They offer classes specifically curated for the pre- and post-natal body. I took their Sunday morning class and found it to be a welcoming, relaxing, beautifully flowing class.
HAYDEN YOGA
(The following answers were provided by Sarah Digre)
If you are interested in contacting The Hayden Yoga Team, their contact information is below.
9751 N Government Way #4
Hayden, ID 83835
Email: [email protected]
Instagram: @haydenyoga
Can you tell me a bit about the variety of classes Hayden Yoga offers?
The classes offered at Hayden Yoga & Massage are mostly hatha based, including traditional Hatha, Anusara, Ashtanga, Yin and Iyengar.
What sets your facility apart?
The studio is here for the community with the intention of providing space teachers can teach authentically based on their experience and heart. The space has a variety of teachers and styles to hold space, nurture and push beginners to experienced yogis. It is intentionally small without any mirrors so students can search within their own bodies and minds during practice.
What drives you and the Hayden Yoga team?
The teachers and staff are working towards a balanced work/life/wellness practice. That translates into an authentic space where students can show up as they are. We all see each other in a dynamic journey.
What is your favorite way to foster mindfulness and get in touch with your body, mind, and spirit daily?
Yoga! Yoga isn't being able to do something perfectly or look a certain way. It is just about showing up and showing up again.
How does Hayden Yoga facilitate mindfulness and connection to one's body, mind, and spirit for those it serves?
One way the studio helps teachers have a work-life balance is to have a large team. So teachers are providing offerings as much as it feels good for them to be present. Some teachers have regular weekly classes and some teachers have a depth of knowledge but only have space to teach intermittently. Our studio holds space for these experienced practitioners to provide workshops and more dynamic offerings as well as regular practices. Most of our teachers are trauma-informed teachers.
One of the studio owners, Sarah Digre has been a student of the mind and body for over 20 years. She is a massage therapist and did her yoga teacher training in Rishikesh, India where she studied yoga, meditation, mindfulness and ayurvedic medicine. Her main goal with classes is to help students understand, have a relationship with their body and learn how to move safely with acceptance where they are at. As one of the least experienced teachers in the space she knows enough to understand how important it is to have yoga in the community and to seek help and advice from others. Especially those with more experience. This is why the space is set up for each teacher to teach what they know. Yoga rates are set at an average. If anyone feels finances are their main limitation to attending classes, yoga scholarships are available for anyone who would like to apply.
What advice do you have for those who are new to yoga/meditation practices?
If you would like to start a yoga or meditation practice we suggest just showing up. Show up in your living room with a 10 min youtube video, show up for yourself while taking an intentional walk in nature, or of course, show up to one of our classes provided every day of the week with a variety of classes, teachers and accessible styles.
My Hot Take: I believe that massage is a huge part of mindfulness and grounding, and Hayden Yoga has a superb team of experienced massage therapists. I highly recommend them!
RARE WELLNESS
(The following answers were provided by Nathalia Levterova)
If you are interested in contacting The Rare Wellness Team, their contact information is below.
3124 S. Regal Street
Spokane, WA 99223
Email: [email protected]
Phone: 509-846-7838
Instagram: @rarewellness
Can you tell me a bit about the variety of classes Rare Wellness offers?
We offer RARE Barre, RARE Hot 26 & 2, RARE Power, RARE Restorative Yin with Sound Healing RARE Slow Flow , RARE Vinyasa , RARE Yoga Sculpt, RARE Somatic Yoga, RARE Fusion, RARE Tai Chi.
Our classes offer therapeutic emphasis, hands-on adjustment, and individualized attention! All towels, mats, water, weights, and equipment included.
What is your most popular class?
Our early morning 5:30am and 6am Power and Vinyasa classes are always full and often have waiting lists! They are so energizing for your morning. But all of our classes really are rejuvenating.

What sets your facility apart?
One thing that sets us apart is our personalized attention to individuals. We are not a mass/herd fitness studio. We really believe in the therapeutic emphasis of yoga/movement and wellness as a whole and we approach everything we do from that understanding. We cap our classes at 6-9 people and have hands-on adjustment as well as education for mind, body, and soul. Ultimately, we believe every individual has innate value and want to get people to believe that and feel at home in their bodies and minds.
What drives you and the Rare Wellness team?
What drives us is our mission to create a sanctuary where people can come and connect back within themselves. In a world that is always telling you that you need more, to do more and be more, we believe you are already enough. To let people feel that security and safety and love within themselves again, THAT is what drives us.

What is your favorite way to foster mindfulness and get in touch with your body, mind, and spirit daily?
Our favorite way to do that daily is our yoga classes, which have a huge emphasis on mind and body connection. Living with intention, cultivating presence and gratitude, love and groundedness through the somatic experience of movement and meditation is our daily bread for getting in tune with ourselves.
Otherwise, we love therapeutic customizable massage as a treat each week to release the tension stored in the body and recalibrate to our natural highest self!
How does Rare Wellness facilitate mindfulness and connection to one's body, mind, and spirit for those it serves?
Every staff member and service provider work here because their personal mission aligns with that of Rares, to make this space a place where everyone who walks in is seen, loved, and healed. We exist to connect people back to themselves and use our wellness mediums as the tools to do so! but that mission is deeply ingrained in all of our work and offerings here.
What advice do you have for those who are new to yoga/meditation practices?
Do not wait until you "feel" ready to start your journey. Start small, do not try to jump into 100 classes your first week, or do an hour of meditation on day one. Baby steps that build gradual sustainable change in your life is better than extremely short-lived and stressful changes. Release all of your self judgment, and don't be scared! Yoga is not actually about your body or making these perfect poses. It is a medium to feel at home within yourself and heal the things that are unaligned in your mind! Start small, have courage, and just show up. Be proud of yourself. Trust that your body will do the work and trust the process. It is so worth having peace in your mind and joy in your heart.
My Hot Take: I tried the Rare Yin class, which is offered in a pleasantly warm room. It was my first experience with Yin, and I found the instructor, the other class participants, and the front desk staff to be exceedingly comforting and accommodating. Not to mention, the attention to detail (they offer a different loose-leaf brewed tea at the front desk each day) and the stunning facilities that make you feel like you've escaped real life and entered an Eden. I also tried the hydrafacial with Valentina, who treated me like a princess! At Rare, the hydrafacial is a three-step process. She started with a cleanse/peel, followed by extractions and hydration, and finished with serums to fuse and protect. She also incorporated both red and blue light therapy. I highly recommend the yoga and mindfulness resources, as well as the self-care services!
SEVEN SISTERS RETREATS
(The following answers were provided by Holli Andrews)
If you are interested in contacting The Seven Sisters Team, their contact information is below. www.thesevensistersretreats.com
601 E. Lakeside Ave
Coeur d'Alene, ID 83814
Instagram: @sevensistersretreats
Can you tell me a bit about the variety of services Seven Sisters Retreats offers?
Guided Meditations, Massage Therapy, Customized Healing Facials, Sound baths, One on One Intuitive Psychic/Medium Reading, Restorative Yoga, Breath-work Facilitation, Quantum Light Therapy, Reflexology Foot Bath, Reiki Session, Grounding In Creativity, RedLight Therapy with Vibration Plate.
What is your most popular service?
It is difficult to say what our most popular service is; every client we serve has different preferences and needs.
All our therapies offered are complementary to one another & with over 9 different practitioners, therapies are always changing.
We customize our treatments to every participant so each healing service is tailored for that particular person.
For example, someone may attend who has just lost a loved one, with that in mind, we may begin with a session with our psychic medium/ 'Messages from Heaven' to connect them with a loved one that had passed over. A divinely guided message like this is such a treasure and offers such comfort. The rest of the practitioners can hold space and utilize their gifts to help with processing this message.
Or, an individual may have an energetic block in their physical body, as we hold emotions/traUma in our bodies, so a session with a healer can be beneficial to release the energy & restore balance. This healing can take place in the form of breath-work, reiki, guided meditation or quantum light therapy, etc.
All the therapies offered to support you being fully present & with present moment awareness so you are able to release.
We also have guests who simply attend for nothing particularly heavy just to experience spirituality, relaxation, or tap into their curiosity. In this case, the services offered would support grounding & enhance the flow of their experience.
What sets your facility apart?
Our practitioners are leaders in their field, each bringing unique talents and gifts.
Our goal is to provide an intimate setting with the highest integrity that supports each attendee in the most nurturing way. This allows vulnerability and comfortability to happen within themselves in our shared space. Self-care takes courage and it's important to be provided a safe space to facilitate that.
What drives you and the Seven Sisters Retreats team?
Every one of us has a soul inside. Each of us has a spiritual connection to that soul – our simplest REASON/PURPOSE is to offer support in helping you find that inner connection. The most sacred part of our mission is returning to Love, Our Creator, God, The Divine, Gaia, Peace.
When we are tapped into that space we experience the ease, grace, and magic happening inside of us & in the world around us.
What is your favorite way to foster mindfulness and get in touch with your body, mind, and spirit daily?
We collectively answered this question. Setting aside the time to be alone with ourselves is the most valuable advice. Gentle stretching, meditation, being present & enjoying the smell of our morning coffee/tea, watching the sunrise, journaling, snuggling our furry animals…. Simply having small moments of gratitude.
Also, taking time to go outdoors to get natural sunlight & fresh air during the day.
How does Seven Sisters Retreats facilitate mindfulness and connection to one's body, mind, and spirit for those it serves?
Our retreats are centered around awareness & advocate self-awareness. Our goal is to not only serve you at The Seven Sisters Retreats but to give you life application tools that will support you on your healing path.
Our mission is to empower one another and remember that when we are searching for answers the answers are never outside of ourselves.
What advice do you have for those who are new to yoga/meditation practices?
You can begin incorporating mindfulness with any time you have to spare. If you only have 5 minutes to spare, that is a wonderful place to start. It can often be easiest if you start early in the morning. If you make it a priority first thing in the morning, you will be more successful with adapting to a routine that will not intrude on your daily schedule. If you can engage in mindfulness in the same place and around the same time it can ensure a lasting habit. So, find an area & claim it for your meditation/practice.
When starting out in meditation, sometimes finding a guided meditation is best.
Don't get discouraged. It's a good mindset to realize that sometimes we feel discomfort. Embrace the discomfort, and have patience for yourself as you release and breathe.
Also, starting out, it can be easier if you find a buddy. A partner that is also looking to develop their practice is a great opportunity for accountability and connection.
My Hot Take: I have been greatly helped by the ladies of the Seven Sisters. From insightful insight to grounding sound baths and meditations, they each are truly experts in their fields. I even hosted my birthday party at their facility last year!
SHALA LIVING YOGA
(The following answers were provided by Ara Lyman)
If you're interested in contacting the Shala Team, their contact information is below.
412 W Boone Ave, Spokane WA 99201
(509) 919-9940
Can you tell me a bit about the variety of classes Shala Living Yoga offers?
I think we are well known for our variety of classes, and that is intentional. I have observed in myself and many others over the years that our bodies need a variety of activities to stay healthy and happy. The traditional system of yoga recommends a daily, dedicated practice -a Sadhana, to help create Self-connection and Self-realization.
However, I have found that it's very rare for someone to stick with one type of physical or meditative action for very long. Often people quit because of a repetitive motion injury or boredom. Injuries can be modified of course and they are often a great way to learn about yourself and advance your practice. Often though, the body stops making gains doing the same thing every day and boredom can set in.
A Sadhana is something that should bring you joy and you should feel inspired to do it. I encourage students to commit to one style for 40 days at first in order to reap the benefits of a particular practice. They can stay with it longer or try something else for a while. Again, I have found a variety of different types of movement is most beneficial for the physical body. Hence, I do several types of physical yoga a week that I personally love. Then my consistent Sadhana is usually a type of mantra meditation that I do for 40-120 days or even longer if I am really learning a lot from it.
I wanted to provide this same option for others at my studio so we have a huge variety of classes from hot to gentle and some different options for meditation as well. We have a little of something here for everyone but we really shine with our far infrared hot classes, so we encourage everyone who comes to try them out. They are so wonderful for detoxification and overall great health and well-being.
What is your most popular class?
We have a few, our Saturday morning Kundalini at 9:30am and directly afterward the 11:30 hot power flow are very popular. Our Sunday 10am Hot 26+2 (Bikram yoga) is popular and our evening Hot Flow classes are always favorites.
What sets your facility apart?
The variety of classes. Our teachers are all incredible!!! The fact that we have meditation and a lot of yoga studios don't. Meditation is a part of yoga. Our far infrared heat is very desirable. Our central location boasts a beautiful and well-equipped space with flower art installations, our locker rooms are great for getting ready for work or play after class, wonderful well-stocked retail, and our two yoga rooms have hand-painted murals, they are super cozy with antibacterial zebra floors and of course far infrared heat in the large room. It's super clean and our ventilation system keeps the air clear. 🙂
What drives you and the Shala Living Yoga team?
To provide a wide variety of high-quality yoga experiences and teacher trainings and to offer a peaceful community sanctuary to relax, release stress and heal from all of the craziness of life.
What is your favorite way to foster mindfulness and get in touch with your body, mind, and spirit daily?
Make your self-care a non-negotiable PRIORITY. Make a schedule that works and stick with it. Consistency is where you get the true benefits of Self-connection.
How does Shala Living Yoga facilitate mindfulness and connection to one's body, mind, and spirit for those it serves?
Again, we provide a variety of options and many classes for almost all people's schedules. This helps people to really choose what makes them feel good. We also provide teacher training and continuing education for those wanting to deepen their practice, their knowledge and possibly create a fulfilling career for themselves. We teach that self-love and acceptance of our bodies in the moment is what yoga is all about. It's not about a fitness goal or achieving a certain aesthetic. It's about being in the moment and seeing how amazing we are no matter what size or shape. We are all beautiful.
What advice do you have for those who are new to yoga/meditation practices?
It can be very common to feel intimidated because we have these social media images of yogis doing extreme poses with thin, bendy bodies and designer clothing, and most of us aren't that way. I encourage everyone to come and take classes because they will see that most of the people practicing are just like them and we wear whatever we can afford and is comfortable. We are all just doing our best and we love coming because the yoga helps us to FEEL GOOD!
The classes can be hard at first because you haven't built up endurance yet, so it's okay to rest a lot. We encourage it! The key is to come as much as you can, 4-5 times a week at first is amazing and a great way to learn. Think, come a lot, but just really take it easy. All or something, not all or nothing. We don't care about perfection. With consistency, you will start to gain strength and endurance. You can gain some flexibility too but please dispel the notion that you have to be flexible to do yoga or that you have to have a perfect body too. While yoga can be great for fitness, it really shines for stress relief and it helps you to just love and accept your body the way it is. Yoga teaches self acceptance and love and through that, you discover that your body is beautiful and perfect just the way it is.
My Hot Take: I tried out the Hot 26 & 2 class and the Shala Meditate class immediately preceding it. I walked into the enchanting space and was immediately greeted by name and made to feel loved and welcomed. The instructors both explained the protocols to a novice yogi like me without being condescending, and I left feeling centered, challenged, and comfortable.
Conclusion
I hope that this guide serves you in starting, furthering, or simply mixing up your meditation and mindfulness practice! I'd love to hear your feedback on these studios and any others you recommend.
xoxo Your Favorite Late Bloomer
Bailey Bowerman
Bailey is a self-proclaimed recovering attorney and late bloomer. She loves words, rest, and hyping entrepreneurs and creatives. She lives in Idaho with her husband and is decidedly and unapologetically NOT outdoorsy.