3 Nutritious & Creative Family Lunch Box Recipes
-Co-authored by Monika Jacobson, RDN and Rosie Mayfield, Dietetic Intern-Bastyr University
We all know how difficult it can be to take time for yourself when juggling work, kids and any other demands of daily life, let alone come up with healthy family lunch box recipes!
It may be tempting to skip lunch or grab something quick that's less healthy when you're busy because, well, that's easy.
But fueling with nutritious food midday is important to support your energy levels and overall well-being.
Skipping meals causes your blood sugar to drop and your metabolism to slow down, which can lead to headaches, feeling weak, and can cause you to make unhealthy choices later due to intense hunger.
It's All About Balance: Creating Healthy Family Lunch Box Recipes
Finding new dishes or meal prepping can be intimidating, but making a balanced, healthy lunch can actually be quick and easy.
The main components of a balanced lunch are protein, healthy fat, fiber-rich carbs and vegetables.
There are ideas listed below for each category, so when you're stumped on what to make, just pick one from each and you'll have a balanced meal!
Protein
Meat (chicken, turkey)
Fish
Eggs
Tofu
Lentils
Beans
Dairy (cheese, yogurt)
Healthy Fat
Avocado
Tahini
Olive oil
Nuts
Flaxseed
Chia seeds
Fiber-Rich Carbs
Whole grains

Quinoa
Brown rice
Farro
Millet
Oats

Whole wheat
Fruit and berries
Starchy veggies

Potatoes
Yams
Hard Winter squashes
Vegetables
Any and all non-starchy veggies-dark leafy greens

Kale, arugula, collard greens, bok choy
Tomatoes, peppers, broccoli, cauliflower
Sweet potato, carrots, Brussel sprouts
Also, make sure you stay hydrated throughout the day with water or other unsweetened beverages like tea.
Food/Meal Prep
A little food preparation can go a long way!
If you know you have a busy week ahead, make a batch of food that you can keep in your refrigerator or freezer. Perhaps this is a pot of soup or a whole grain salad. This way, all you have to do is heat up your leftovers for lunch!
You can even buy/use food storage containers or a lunch box and pre-portion your lunches ahead of time to make it even easier.
If you have kids, let them help with meal prep – You can pack your lunch boxes together!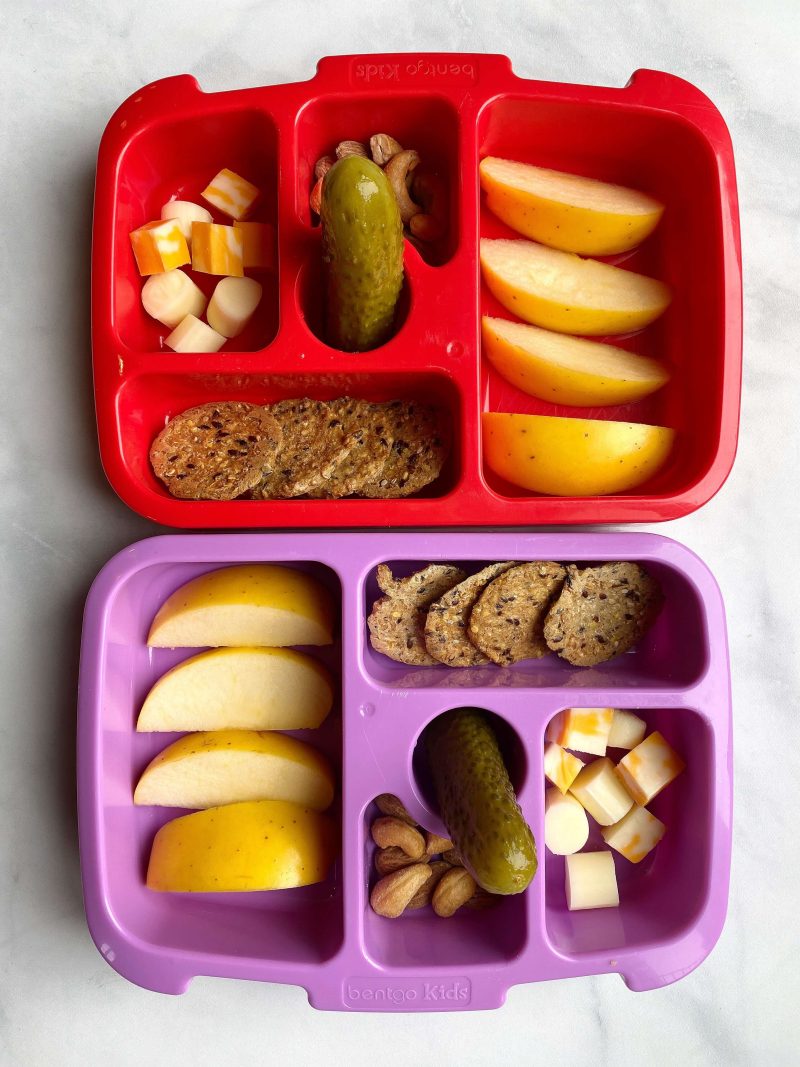 Even if you work or stay at home, having a prepared meal in your refrigerator can make lunchtime less stressful.
Below, you'll find a few ideas for meal-prep meals:
Fajita Bowls Meal Prep
2 servings
Ingredients
2 cups cooked brown rice
1 cup black beans, canned or cooked from dried
1 bell pepper, any color, sliced into strips
1 small, yellow or white onion, sliced into thin strips
2 tablespoons olive or avocado oil
1-2 tablespoons (or more, to preference) taco seasoning
Salt and pepper, to taste
Optional garnishes: cheese, salsa, sour cream/Greek yogurt, cilantro, hot sauce, tortilla chips
Step 1:
Preheat oven to 425 degrees.
In a small bowl, combine oil and seasonings.
Step 2:
Cut bell peppers and onions into strips and place in bowl with oil and seasonings.
Toss until evenly coated.
Step 3:
Spread coated peppers and onions onto a parchment-lined baking sheet.
Sprinkle with salt and pepper.
Place in oven to cook for about 15-20 minutes, turning as needed.
Step 4:
While the veggies are roasting in the oven, warm the rice and beans and put 1 cup of cooked rice, plus 1 cup black beans, in each lunch container (glass containers work well for reheating).
Step 5:
Once the veggies are ready, add half to each container on top of the rice and beans.
Garnish with your choice of additional toppings such as cheese, salsa, sour cream/Greek yogurt, cilantro or hot sauce.
Keep cold until ready to eat lunch and then enjoy with corn chips or tortillas.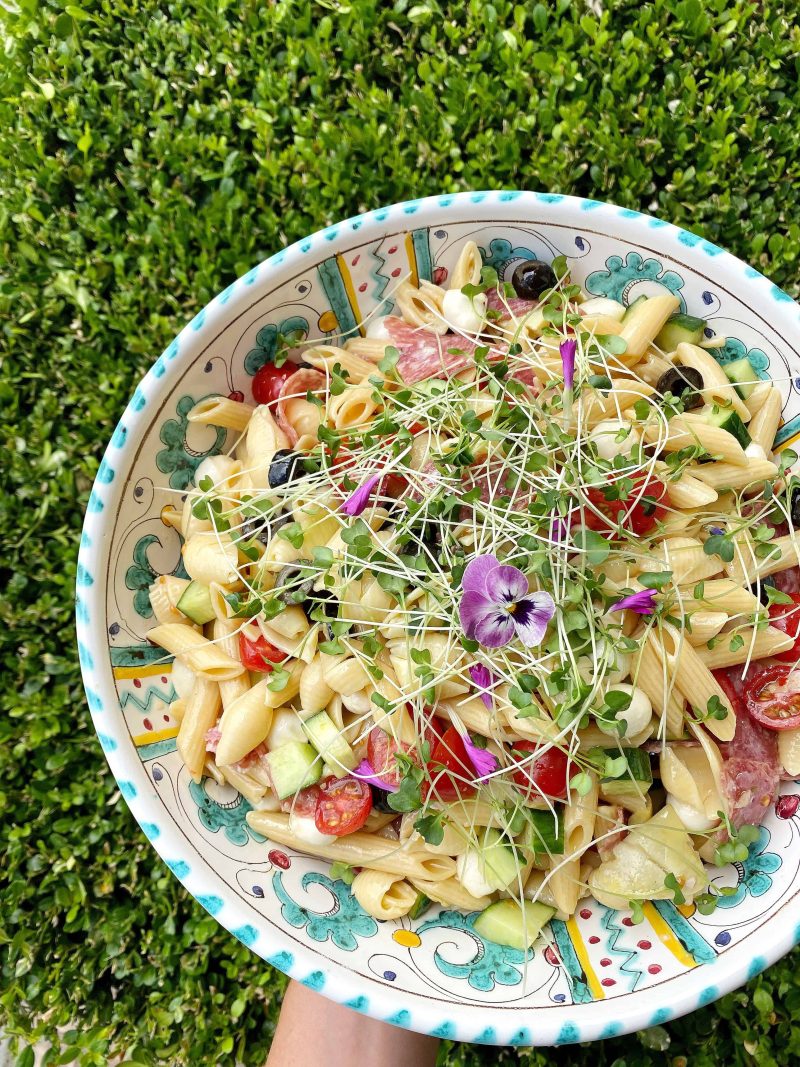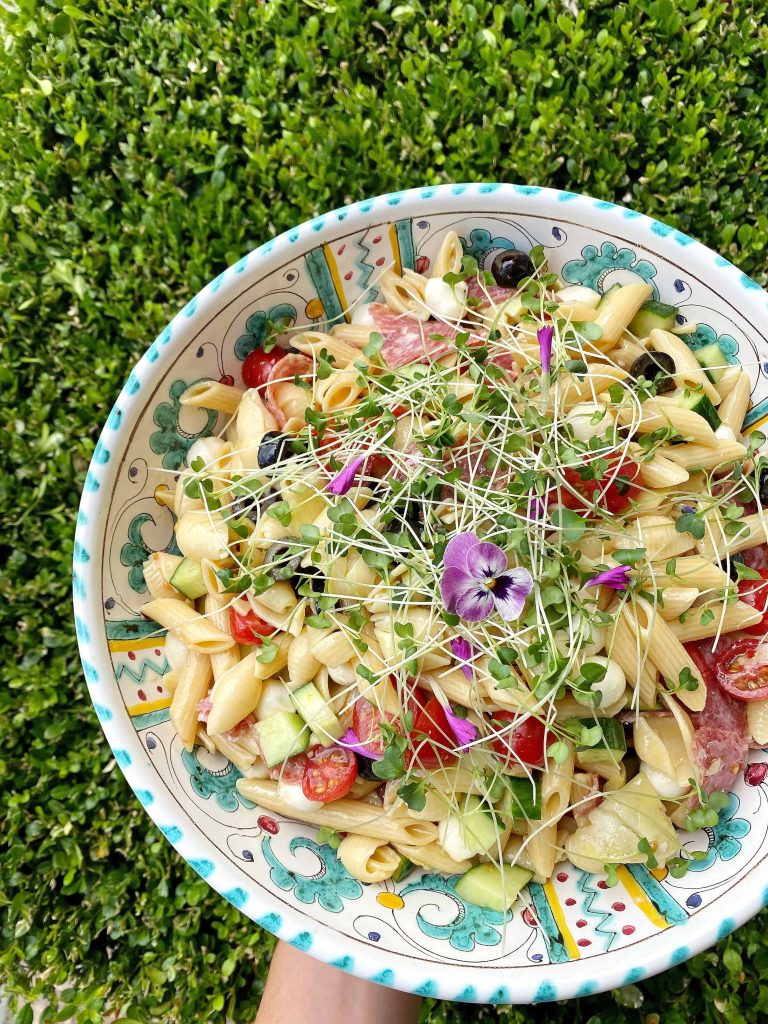 Garlic Chicken Veggie Pasta
2 servings
Ingredients
½ box chickpea pasta (like Banza pasta)
½ pound cooked chicken thighs or breasts, chopped or diced
1 cup cherry tomatoes, cut into halves
½ cup chopped cucumber
2 ounces crumbled feta cheese
4 tablespoons olive oil
2 tablespoons balsamic vinegar
¼ cup finely chopped fresh basil
Salt and pepper, to taste
Step 1:
Prepare the pasta as directed.
Step 2:
While pasta is cooking, add the chicken, tomatoes, cucumber, feta, olive oil and vinegar into a large bowl.
Step 3:
Once the pasta is al dente, quickly rinse and drain, then add to the large mixing bowl with remaining ingredients. Taste and season with salt and pepper.
Step 4:
Toss together and garnish with the chopped basil. Portion into two lunch containers.
Kid Charcuterie Board
Build your own charcuterie board using a mix of the following pantry/fridge staples that hold up well in a lunch box:
Fridge Ingredients
Cheese sticks or slices, cut or rolled up
Deli meat or charcuterie
Pickled vegetables
Shelled edamame
Cut cucumbers, baby carrots, snap peas
Berries, orange sections, grapes
Pantry Ingredients
Nuts (or avoid for school)
Dried fruit
Applesauce or fruit pouches
Cooked pasta
Canned chickpeas
Canned olives
Crackers
Pretzels
Chocolate or mini marshmallows (for a little treat!)
Step 1:
Simply combine any mix of the above ingredients and fill up a kid's bento box or reusable containers.
This is a fun and more sophisticated Lunchables-style lunch option that adults may enjoy too!
Banana Sushi
1 serving
Ingredients
Whole wheat tortillas (1 for each serving)
2 tablespoons peanut butter or sunflower seed butter (for nut free school lunches)
1 small-to-medium sized banana
Other options: Mini chocolate chips, cinnamon, ground flax, shredded coconut, dried cranberries or raisins
Step 1:
Spread peanut butter onto one side of a tortilla, covering every part of the circle.
Step 2:
Place peeled banana directly down the middle of the tortilla, on top of the peanut butter.
Step 3:
Sprinkle with your choice of remaining optional ingredients, then tightly roll the tortilla around the banana.
Try to close the roll shut by sealing the tortilla with peanut butter.
Step 4:
Cut the roll into about eight, equal portions and enjoy right away!
Even when you're busy, it's important to make time for yourself and prepare meals or snacks ahead of time for lunch-time success.
If you tend to be on the go, keep pre-packed snacks like pretzels, popcorn, nuts, trail mix and anything else you enjoy in your car or bag so you don't go too long without eating.
Get those cars, purses and lunch boxes packed with nutritious and delicious ingredients to help you have a nutritious day!
Monika Jacobson
After growing up in the Inland Northwest, Monika Jacobson earned her Bachelor's degree in Human Nutrition and Dietetics at Washington State University. She moved to the west side and worked as a Registered Dietitian Nutritionist in a myriad of settings–from luxury health clubs, to coaching athletes with sports nutrition, to home health clinical nutrition and various start-ups in Seattle-focused scientific wellness and genetics. After moving to Spokane with her family, she created Eat Move Thrive-Spokane because she wanted to transform people's lives by teaching them how to make healthy food taste good. At Eat Move Thrive-Spokane, Monika teaches adult and kid cooking classes (online and in-person) and coaches clients one-on-one with their wellness goals centered on nutrition. She discusses how stress, sleep, hormones, and overall mental health affect the decisions we make about food.