Top 10 Best Burgers in Spokane | Kendall Yards | South Hill
By erin peterson
It's National Burger Day, and you probably have the same question as we do – where can I find the BEST burger in the Spokane and Spokane Valley area? Well, we took on the arduous task of trying every single one of them so that we could deliver to you a list that is sure to sizzle. Now I can't fit into my swimsuit, but I don't care. It's all for science.
Reviewing the Best Burgers in Spokane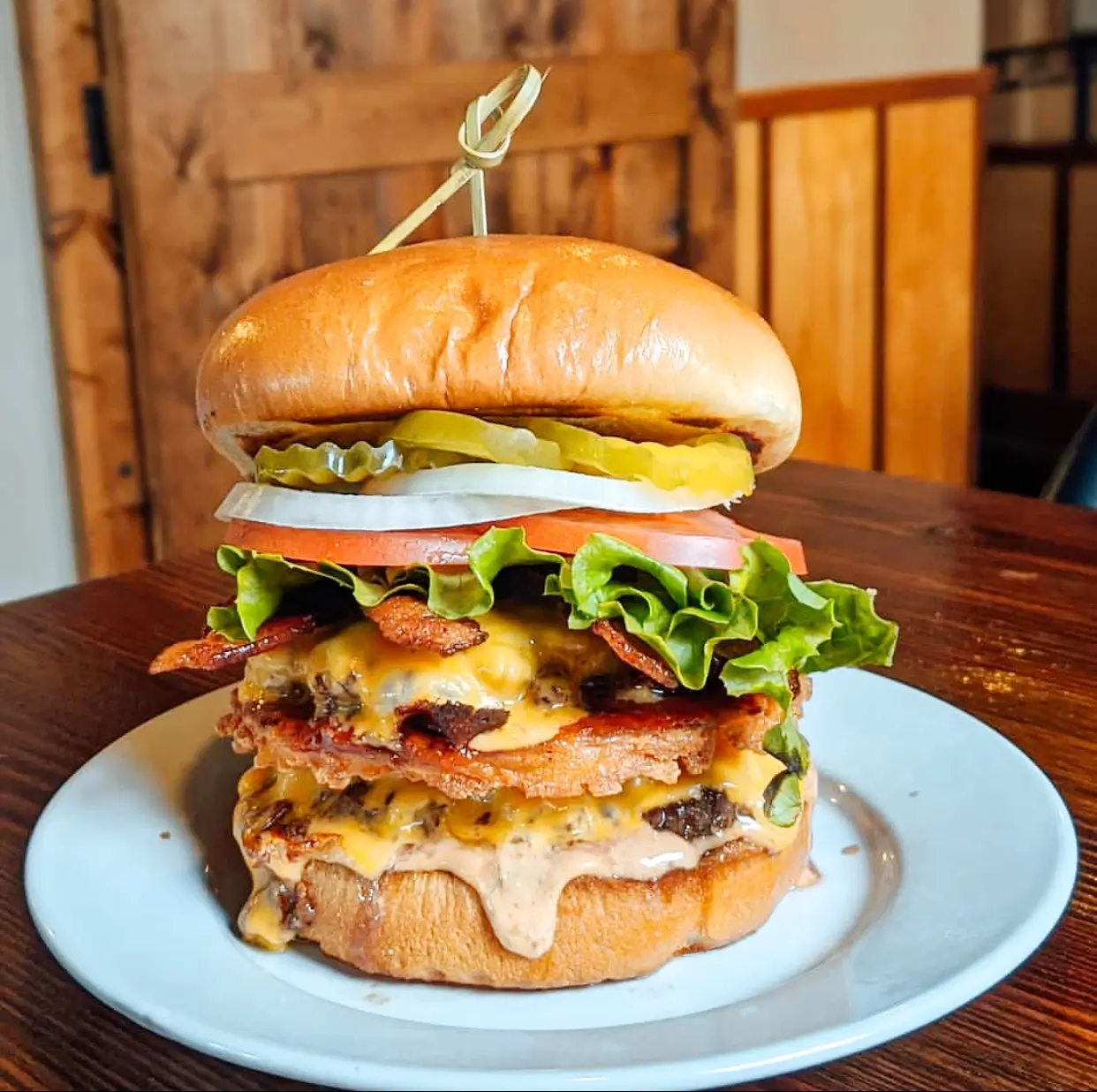 The anatomy of the perfect burger is different for everyone. Some people want it medium-rare, some hate pickles, others are bun-focused.
Not this burger lover. I am looking for a balance of lots of different criteria. First, I prefer a house-made bun whenever possible, but if the interior components are really, really good, I'll overlook it.
Next, I'm thinking about the patty. Is it well seasoned? Is it juicy and not overcooked? Did they use fresh beef instead of frozen? Any special blends of beef or even adding pork?
My last priority is what they used for the added toppings, though it is really important that they are fresh and properly prepared. Nothing makes me rage quite like having the part where the stem attaches to the slice of tomato on my burger. Not a fun thing to eat.
Also, is the lettuce crispy, green, and fresh? Did they make any special components like the cheese, a house-made pickle, or sauce? Every detail counts when it comes to one of America's most beloved foods.
If you go to any of these spots, please do me a favor and tell them I sent you. You'll probably get a knowing wink in return – as you've become a Spokane burger insider.
These are in no particular order, and any Guild Award winners are denoted with an asterisk. I've included prices here that are accurate the day of publication, but they're subject to change at the restaurant's discretion. Click on the picture of each burger to learn more about where to get these beauties yourself.
Start your appetites! Time for the burgers:
TT's Old Iron Brewery
TT's Old Iron Brewery – This place was highly anticipated when it opened, and now its hit it's stride. This is one of the collection of restaurants by repeat James Beard-nominated chef and prolific restauranteur Chad White, and it shows. His eye for innovation and heart for great food is evident in every detail – from the premium ingredients he chooses to use in his products to the convenient online ordering. The reason this one is on the list, though, is because of it's unbeatable flavor.
The catch? It's only available on Thursdays. The burgers rotate weekly, and each one is absolutely phenomenal. This week's is the Burger Thursday is almost here! This week's special will be the Pimento Cheese Burger. It is a fan favorite, and I literally plan my week around when it happens to be on the menu. The burgers are unbelievably juicy with a smoky finish, and the toppings are always imaginative. Take a little trip out to SoVal and get this in your belly immediately. I wish this place was franchised nation-wide.
Hogwash Burger
*Hogwash Whiskey Den – $16 – A Guild Award winner that we keep going back for. These guys are consistently on our best burger list for a number of reasons. One – they have a fried cheddar burger on their secret menu that will blow your ever-loving mind. Ask about it. The gooey house-made American cheese is fried to perfection so that when you cut it and pull it apart, it creates this oozy awe-inspiring melted effect that will even make the most dedicated vegan drool. The smash burger is also a great go-to any day of the week.
The buns are made from scratch in a giant mixer by the highly trained culinary team. Bonus points for a wickedly cool vibe in the basement of the super trendy Washington Cracker Building.
Durkin's
*Durkin's – A Guild award winner, and for good reason. The beef is fresh as can be, and it's always juicy AF. With a pretty pair of 4 oz ground chuck patties, house-made American cheese and a funky delish dill mayo and some of my favorite pickles in town, this one is worth adding an egg or bacon to. Plus, they're open until 1am so you can get the burger you crave well into the wee hours.
Random thought – I haven't tried adding their handcrafted fried bologna to it, but it may be worth asking about. This place was named after one of the most entertaining characters in Spokane history, too, so while you wait for your burger, give him a Google search. You won't regret reading about his antics, and learning that this spot is in the namesake bar's same location.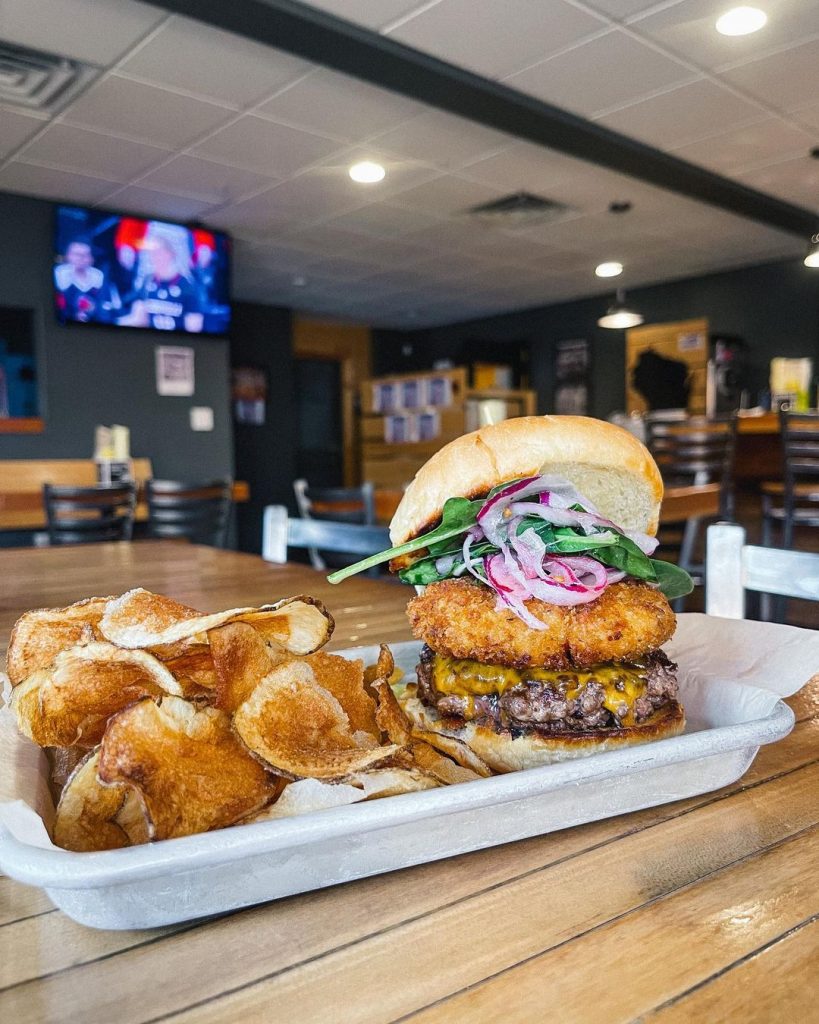 Wisconsinburger
*Wisconsinburger – This casual spot is beloved, and an 8 time winner from the Inlander. Need I say more? This beloved local treasure features burgers like this one with a house-ground Angus patty topped with cheddar cheese, a deep fried disc of mac and cheese, and topped with spinach and red onions tossed in their house-made mustard vinaigrette. Their rotating menu features tons of wild combinations, and yet this Return of the MAC! burger stays on there by popular demand.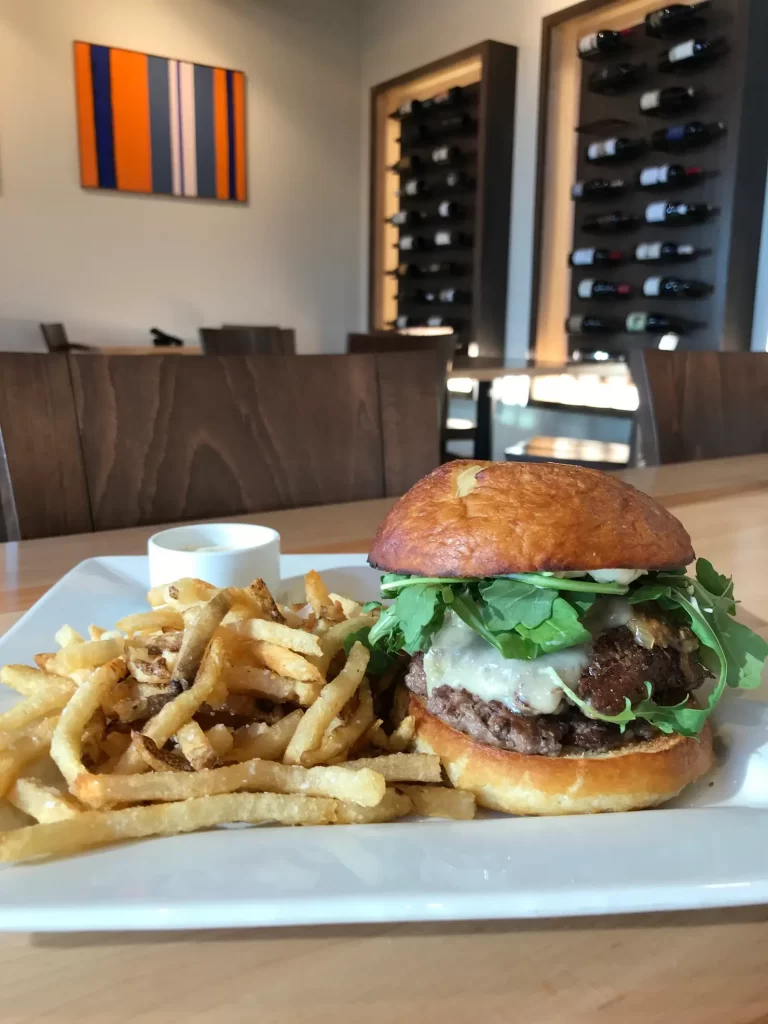 Inspired by a worldwide chain restaurant, it has everything you'd want in a familiar burger turned up a few notches. House-made EVERYTHING and a fantastic balance of components make this a good one for anybody who is a classic burger lover.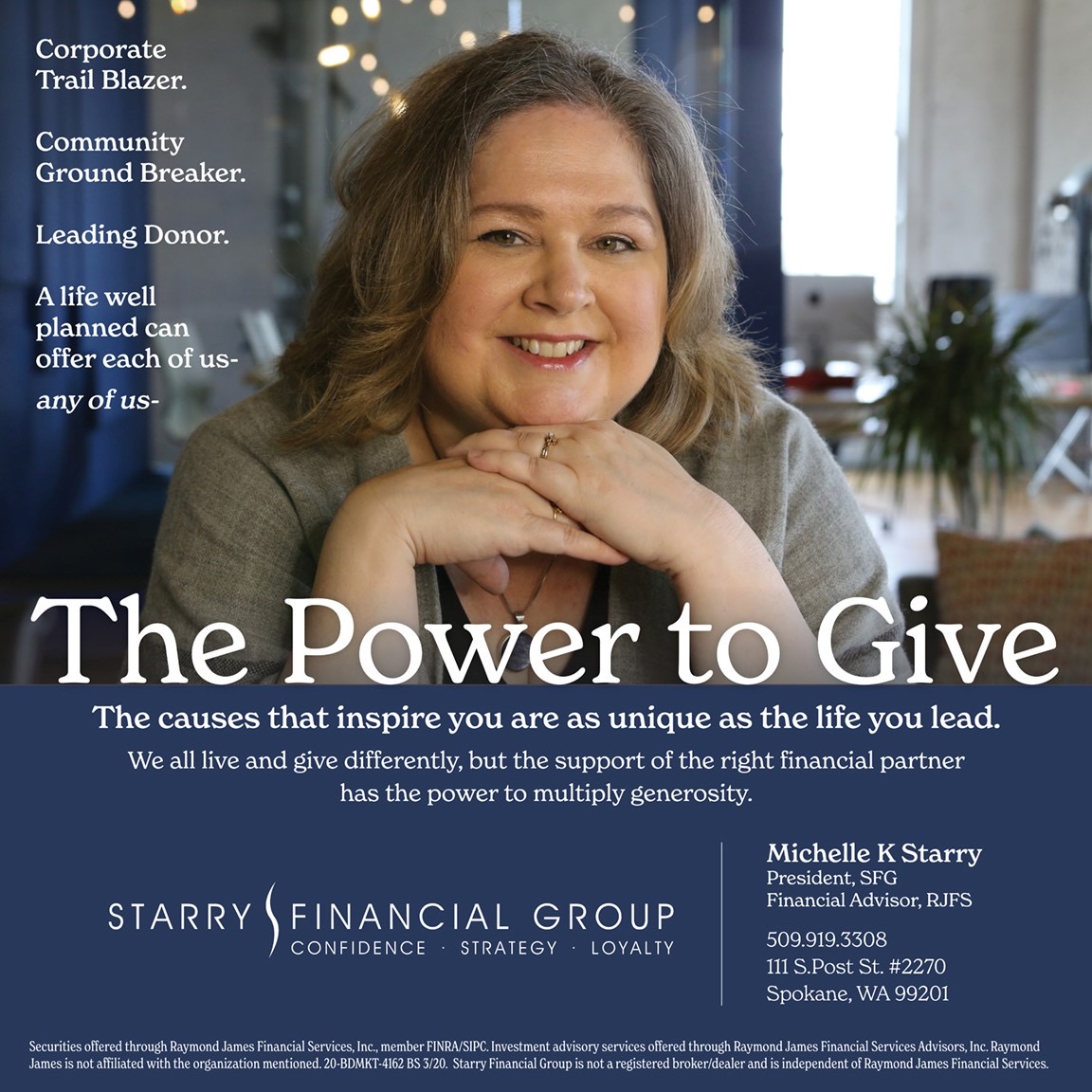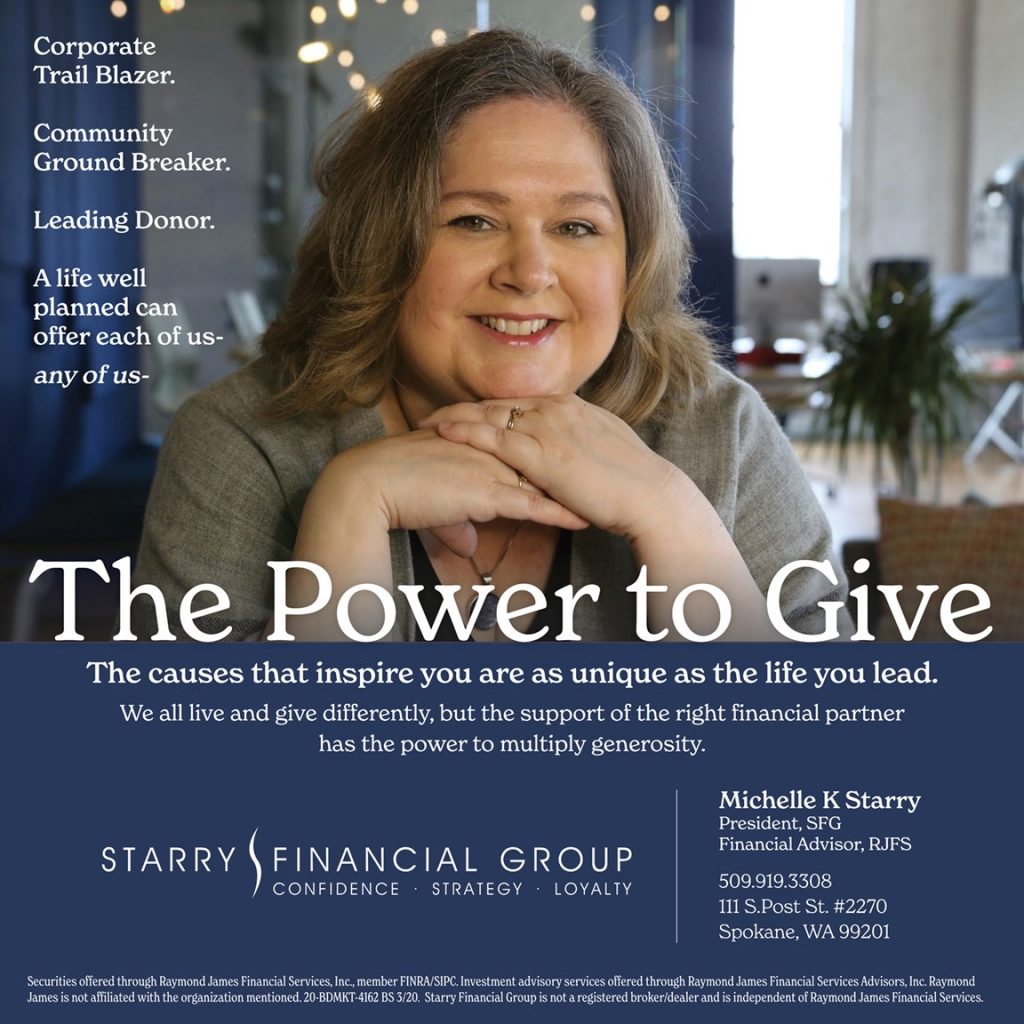 Park Lodge
*Park Lodge – This is the mac daddy of all Spokane burgers. It's expensive, and it's so. Worth. It. The sheer size of the patty will have even your carnivore uncle cheering on the chef. It is a behemoth.
The chef here has worked for Wolfgang Puck in LA, a two Michelin starred establishment in France and has settled down to raise his family back home in Spokane. This is a burger for refined palates and casual diners to admire in unison.
It's got a green peppercorn aioli (that I could eat on almost anything), onion bacon jam, gruyere, arugula, and a pretzel bun that really sets it apart. Don't let the price scare you. You're in for a whole experience! It's one of the city's best restaurants tucked away at the west end of Kendall Yards, and the views alone are worth a trip here.
Heritage Bar and Kitchen
Heritage Bar and Kitchen – If you haven't been here yet, fix that immediately. This little hangout near Railroad Alley is a must-try if you're a true burger lover. Their Heritage Smash Burger has fresh beef cooked to order on a brioche bun and super crisp toppings piled to perfection show you just how seriously they take the humble burger.
Ambiance is killer, too. The bar is designed to look like the Monroe Street Bridge, and if you love Spokane, this place definitely has that hometown feeling – you'll notice subtle nods to our city throughout, including the menu with drinks named after beloved TV anchors. It has the added benefit of being close to Whistle Punk Brewing so you can get one of the best brews in town with each bite.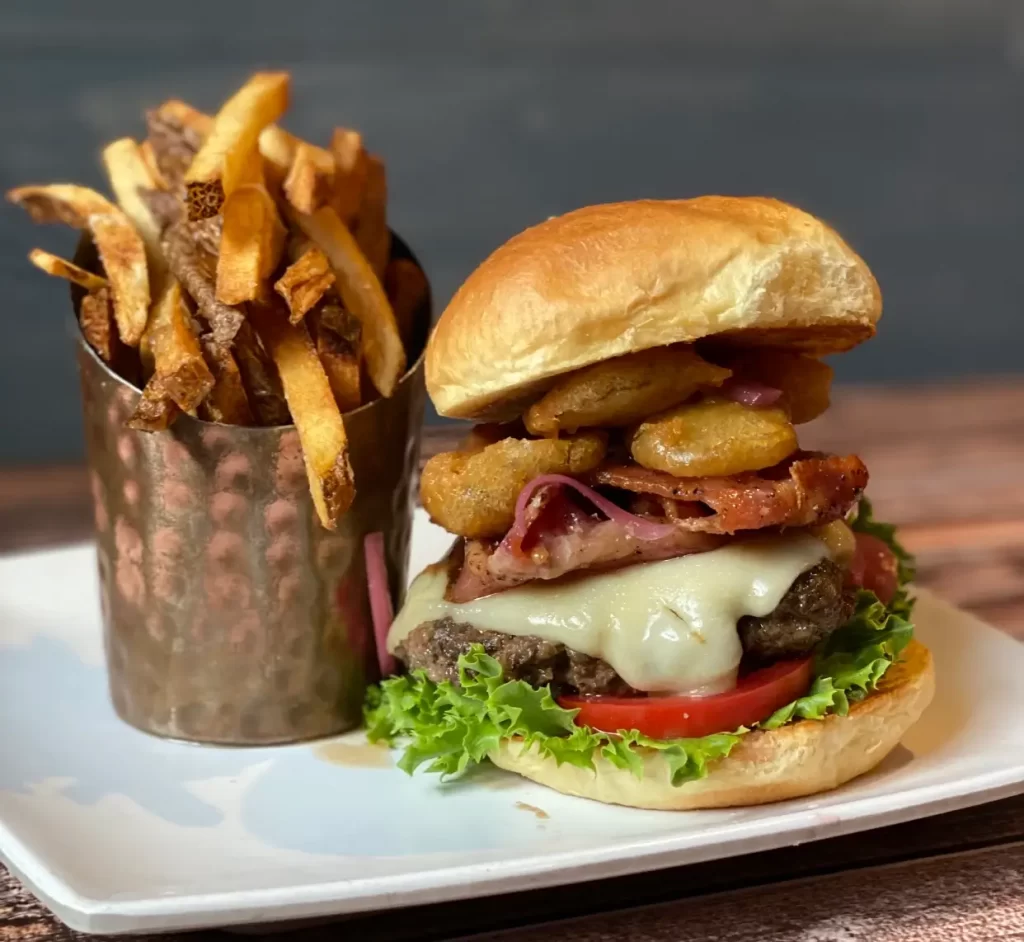 Prohibition Gastropub
*Prohibition Gastropub – Chef Michael Wiley purchased this beloved spot during the pandemic, and has put his passion for feeding the masses to good use in creating some pretty perfect burgers.
Piled high with crisp, fresh toppings, I recommend that you add bacon-wrapped jalapenos to your burger, or on the side. These things are wildly addictive. They have fresh beef, buns from a local bakery, imaginative toppings and a funky, cozy speakeasy vibe.
The service will be top-notch and you will definitely leave full with hearty portion sizes. If you are the kind of person who dreams of exceptional burgers on the regular, you'll want to come here every week. The parking is super easy and convenient for concerts, too, as it's closer to the Arena than most downtown restaurants.
One of the best parts of the Wiley's experience is the unbelievable amount of care and attention given to each guest to feel as if they were a treasured friend. You'll come in for a burger and leave with new buddies. I love that about Spokane, but especially about this gregarious and professional team.
Hay J's Bistro
*Hay J's Bistro – This one is my husband's favorite burger in Spokane, and I can see why. They have their own custom ground beef mix, tomato, grilled onion (a must for me), aged white cheddar, lettuce, bacon, and thousand island dressing.
One of the best parts about getting a burger or any meal for that matter here is that it's in a gas station strip mall, but it feels like a fancy restaurant once you enter the doors. Double bonus – they have their own butcher shop next door where you can pick up all kinds of gourmet goodies to take home and make yourself for dinner, or grab pre-made items for lunch the next day.
Wooden City
*Wooden City– An unsung hero of masterful burger preparation, Jon Paul Green and his team have a winner on their hands with their Tavern burger. It's got two signature patties topped with house-made pickles, shredded iceberg, grilled onion and double cheese. I cannot in good faith forget to tell you to order the blistered hungarian peppers, too. I was once brought dinner by these fine folks when I was sick, and they insisted on including the peppers in my care package. I've been hooked ever since.
D'Lish's
D-Lish's – $4.32 – If you're in a hurry and need to stay in the car on your daily commute, this should be your #1 burger stop. It's a cherished favorite amongst hardcore Spokanites and has been on top of every best burger list in the area – especially for the value. They're cooked fresh to order and have hand-cut fries every single day.
For less than $5 you can get a double and get it just the way you want it. It's a messy beast, but worth every sloppy bite while in your car – just ask for extra napkins. While you're at it, pick up some of their house seasoning with that extra money you saved and try to recreate the magic at home.
Whether it's National Burger Day or not, Spokane has an amazing variety of options when it comes to burgers. If you're looking for some of the best burgers in Spokane, make sure to bookmark this page!
Erin Peterson, Editor-In-Chief
Erin Peterson grew up in Post Falls, Idaho and became a professionally certified educator – earning the Provost's Award for academic achievement and community service from Lewis-Clark State College. Now she is an award-winning local influencer, podcaster and digital strategy educator with a passion for equity and inclusion. Erin has been published and featured in a wide variety of local publications including the Spokesman Review, The Inlander, and has served as an editor at Spokane Coeur d'Alene Living magazine. If you want to learn more about how she is making an impact right here in the Northwest, give her a follow on Instagram at @trending.northwest or Trending Northwest on Facebook.