Indulge in Ultimate Relaxation: The 6 Best Luxury Spas in the Inland Northwest
We all know that true wellness and self-care practices are not limited to massages, facials, and cozy robes; they require a shift in mindset, a training of the brain, moderation of emotions, confronting difficult topics, acknowledging areas of weakness, loving oneself, and the all-important work of rest. That is not to say that the massages and facials and cozy robes can't be a vital part of your self-care routine. There is nothing quite like carving out a little time solo or with friends to pause, invest in your long-term health, and be pampered.
Here in the Inland Northwest, we have plenty of beautiful facilities to choose from, and I've visited and reviewed the best luxury spas in the Northwest. Someone had to take on this rough work, and I did it just for you all. Below are my reviews of and interviews with the six best luxury spas in our area. I've included them alphabetically as each brings a unique approach to luxury and wellness.
Unleash Your Inner Glow: Discover the Best Luxury Spas in the Northwest for True Wellness and Self-Care
Cambium Spa at Schweitzer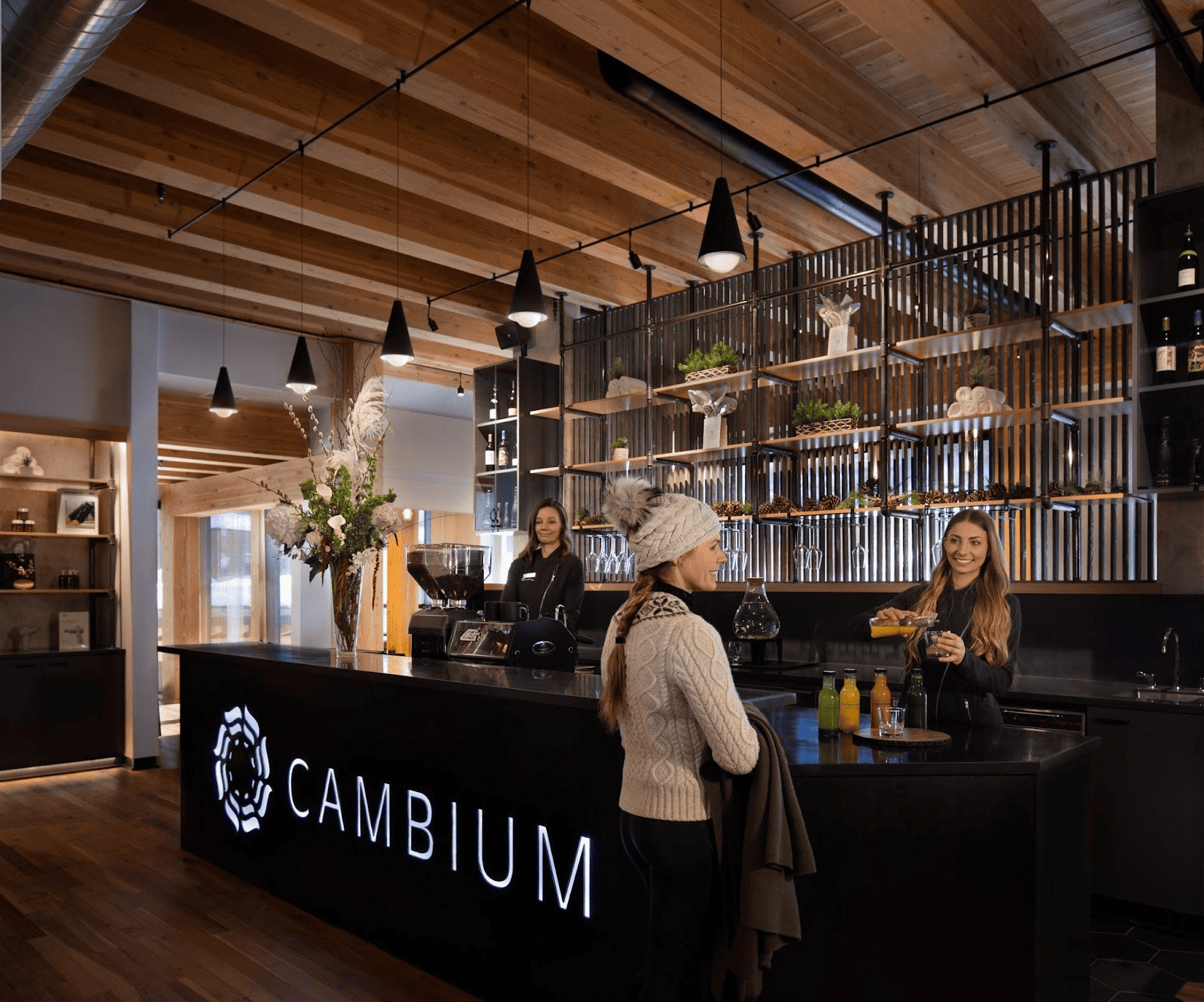 The Cambium Spa may be part of the Schweitzer Ski Resort, but it stands on its own as a reason to make the drive up the winding mountain road from Sandpoint, Idaho. Since the doors opened in February of this year, Spa Manager Sabrina Wright and her team of wellness experts have been filling a void in the spa and wellness industries and re-shaping how we all think of the spa experience. Instead of merely pampering visitors, the Cambium team aims to enhance long-term health and well-being, support athletic performance and recovery, and impart self-care skills to be used consistently at home. I believe I speak for all of the lizards (non-skier/snowboarders who choose to stay warm indoors all winter) in Northern Idaho when I say that we now have a reason to visit Schweitzer all year long.
I started my experience with a goblet of water with fresh-squeezed lime in the sound lounger. As I gazed out the window at the mountains, I felt the sound frequencies and healing vibrations relax my mind and body. After about 20 minutes, my massage therapist ushered me to a treatment room with an equally breathtaking view for the Signature Forest Air Massage. The next 90 minutes were a luxurious blur of native forest essential oils and hot stones. Unlike typical hot stone massages, this one employed Himalayan salt crystals to detoxify while relaxing and easing my tense muscles. I finished up my morning of wellness and pampering with time in the Halo IR Sauna, which combines infrared sauna with dry salt therapy. Needless to say, I left feeling renewed, slept better than ever that night, and am already planning my next visit. Cambium is certainly one of the best luxury spas in the Northwest!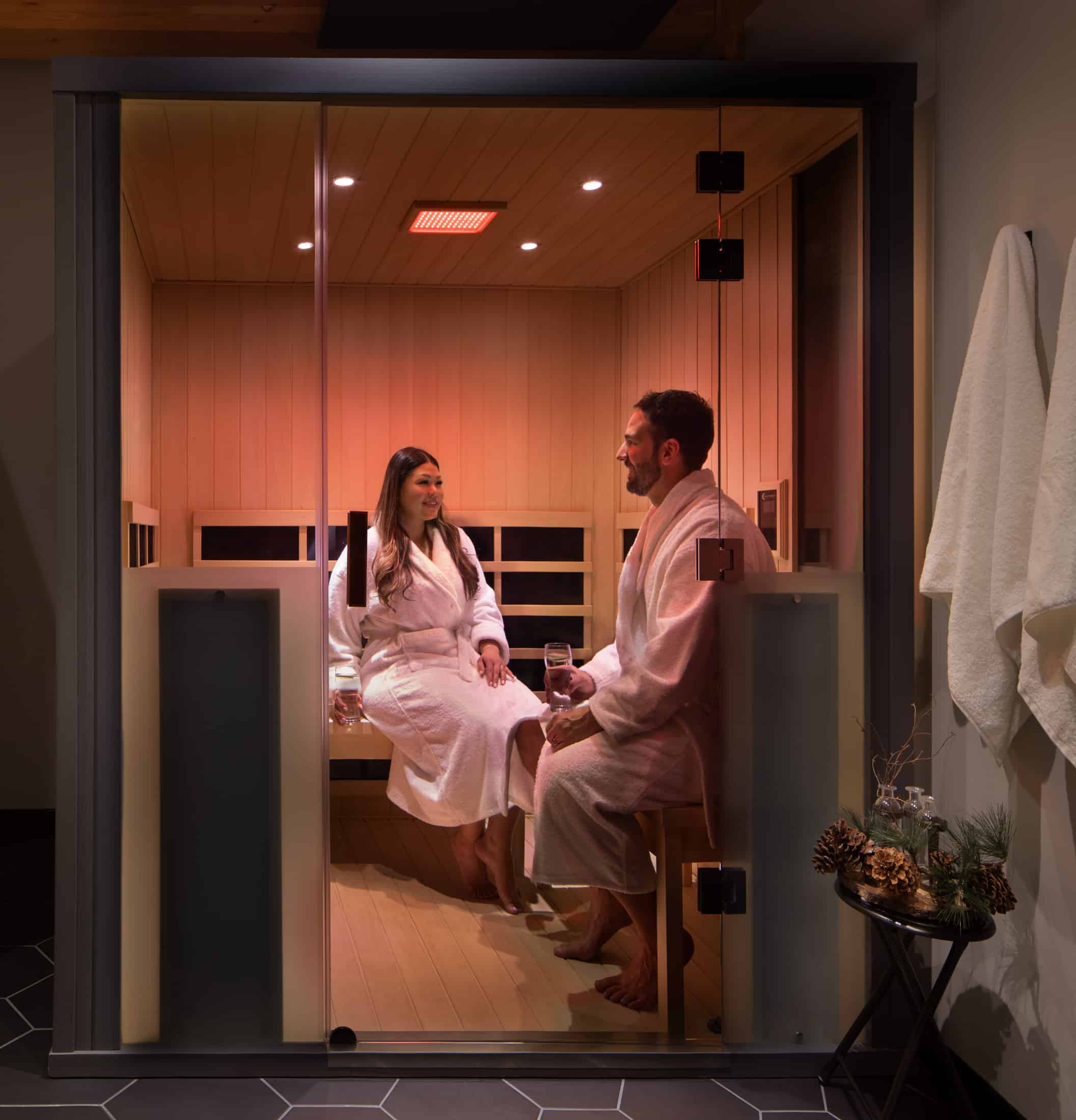 Cambium According to Cambium
What is your most popular service?
Sole & Sound Session (Reflexology & Sound Lounge) | 60 minutes $155
Reflexology is the application of pressure to specific points and areas on the feet. This healing technique is based on the principle that there are energy zones that run throughout the body and reflex areas in the feet that correspond to all the major organs, glands and body parts. Coupled with a Sound Lounge Session, this treatment provides a stimulating escape that helps calm the nervous system and stimulate mind and body.
Also popular is the Cambium Signature Forest Air Massage
60 minute $180 | 90 minutes $275
This relaxing and refreshing massage blends native forest essential oils bringing you the health benefits of forest air while releasing deep stress and nervous tension, stimulating your immune system. The experience is complete with a Himalayan salt stone massage. Himalayan salt crystals are anit-micobial (anti-fungal and anti-bacterial). Thus, when the crystals contact the skin (wet or dry), a detoxification effect is achieved.
What sets your spa apart from the other spas in the area?
I believe that what most people don't know about Cambium Spa is that we are now OPEN and our concept is different from traditional spa!
When you feel better, you do better! A simple, long-proven principle that is the foundation of Schweitzer's distinctive new Cambium Spa. Taking an approach that's decidedly different from that of a typical spa, Cambium offers very practical, highly effective therapies and treatments targeted to elevate your body's capabilities and capacity for recreational and athletic adventures on and off the mountain. When you're stronger, more resilient and relieved of aches and soreness, you can perform at an optimum level whether you're bombing down a mountain or taking a leisurely stroll along a scenic trail, or living everyday life.
Cambium Spa is a gathering place that offers unique recovery services and spa treatments in a vibrant, communal atmosphere. Whether it's for an immersive wellness experience, an express treatment, or a day of relaxation Cambium is designed to meet the needs of every guest or resident in the community. By definition, Cambium is a layer within the root and stem of some plants that encourages new growth. By design, Cambium Spa offers unique services and wellness treatments that encourage restoration, nourishment, and growth. Our menu of wellness services is focused on helping you Rev Up, Reboot and Tune In to mind, body, and spirit. Featuring organic amenities, therapeutic massage, bodywork, and infrared therapies, Cambium leverages state-of-the-art techniques and world-class therapists to create a holistic approach to maximizing your time at Schweitzer.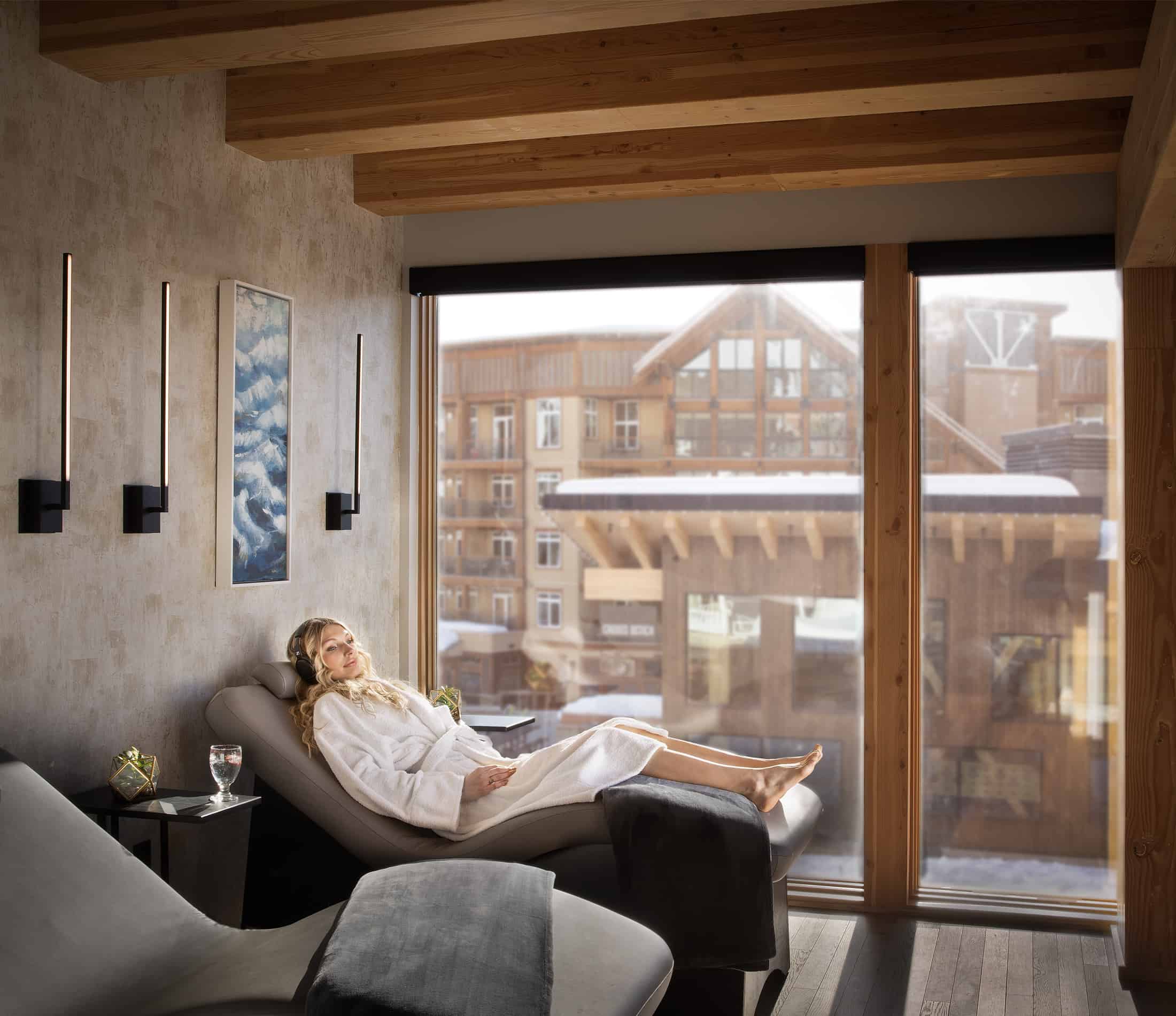 Anything new coming?
In late Summer we will have a children's program of classes around self-care, mindfulness and reflexology! Also, we are creating year-round excursions on the mountain to take in all the recreation possible and to enjoy mountain living at its finest. We will bring yoga classes, MELT Method classes, and breathing exercises in the Fall/Winter.
The Coeur d'Alene Resort Spa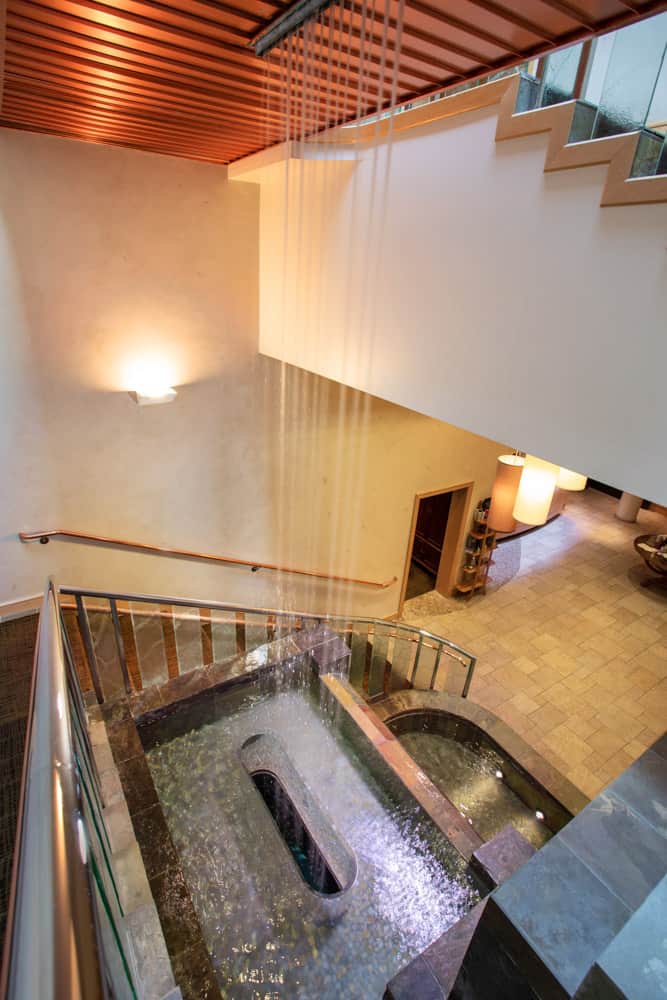 The lake and mountain views at the Coeur d'Alene Resort Spa alone are enough to keep me coming back, but the staff at this iconic institution does not rest on its laurels. "Above and beyond" are the words that continually come to mind when I think back on my recent visit. If you're looking for the definition of the best luxury spas in the Northwest, you'll find it here.
I was lucky enough to be treated to an entire morning of pampering, and I cannot wait to return! I arrived a bit early and spent a little time in the infrared sauna (which is just pleasantly warm and helps to melt away any tension before your planned services). I then met a girlfriend and caught up over some refreshing spa water in the meditation room before being ushered to the first of my three treatments.
I started with a mineral soak, which I hadn't experienced before but will now be adding onto every single visit. The dim lights, gently flowing water, and minerals finished the job that the sauna started and left me feeling softer and lighter and ready to dive into treatment.
I was then ushered to a second room for the Rain Fusion Treatment, a treatment that hasn't been offered in years. It is basically a massage on steroids and leaves you feeling like a completely new person. I was able to choose the aromatherapy used throughout the massage and chose grapefruit (if you know me, I will choose grapefruit ALWAYS). The treatment started with a full body scrub. I then experienced the most relaxing waterfall massage. The combination of the waterfall during the massage put me at ease and seemed to allow my usually tight muscles to relax more than usual. We ended the 75 minute massage with the most heavenly scalp massage.
My final treatment of the morning was the Natural Elements Shower. I was able to choose the settings based on my height, goals and comfort level. I then felt the water relax and relieve any tension that might have been left in my body. As I sit to write about this a day later, my skin and hair are the softest they have ever been.
A lunch overlooking the lake is the perfect way to end a morning of pampering, and the menu offered at the Coeur d'Alene resort will please even the pickiest of eaters (I know because I am easily in the top 5).
The Coeur d'Alene Spa According to the Coeur d'Alene Spa
What is your most popular service?
We have two services that are tied as the most popular: our Swedish Massage and our Pedicure. These are both Guest favorites, and understandably so…they make our spa-goers walk away feeling relaxed, rejuvenated and refreshed.
What sets your spa apart from the other spas in the area?
The lake views, of course! Spa Guests can enjoy beautiful views of Lake Coeur d'Alene at every turn. Not only that, but we boast an incredible facility with over 35,000 square feet of spa space as well as 100+ Spa Team Members. We have the following features within our spa:
• 14 massage rooms
• 3 aesthetic rooms
• 1 hydrotherapy room
• 1 Vichy shower room
• 5 pedicure stations (3 side-by-side, 2 private)
• 3 manicure stations
• 1 lash & wax room
• 4 hair stations
• 1 private barber room
• 1 spray tan room
• 2 infrared saunas
• 1 indoor pool
• 2 indoor jacuzzis
• 1 fitness center
• 3 quiet rooms (1 unisex)
What is something our readers probably don't know about your spa?
One of the most incredible things about our Spa is the amenities that are included with all services – including the following:
• Complimentary access to our Indoor Pool and Jacuzzis
• Courtesy access to our state-of-the art Fitness Center
• Experience the beauty of our lakeside Meditation Room
• Female-only & male-only locker rooms (with showers) and private quiet rooms
• Luxurious Infrared Dry Sauna
• Complimentary Valet Parking
Anything new coming?
We have two fun new things happening here at the Spa:
1) RAIN FUSION TREATMENT: Back by popular demand, we are very excited to announce that our Rain Fusion Treatment is being added back to our menu! This incredible 75 minute service features a waterfall massage and full body exfoliating scrub. Our therapists utilize Turkish Bath Salts for the scrub along with Yuzu Solid Body Oil for the massage. This service is perfect for those who can tend to have a hard time unplugging – the consistent sound of the "rain" from the shower is beyond relaxing and truly puts the mind at ease.
2) LIVE WELL RETREATS: We are excited to elevate our Overnight Live Well Retreats for the remainder of 2023 – and for the following years to come, as well! The Coeur d'Alene Resort is esteemed for its diversity of extraordinary vacation experiences, including our 'Live Well' Spa Wellness Retreats. Experience the ideal balance of relaxation and self-paced adventure: our retreats are contoured for every aspect of your well-being, uniquely designed to enhance your physical, emotional, and spiritual health. Every retreat includes an Overnight Resort Stay, Spa Service(s) as well as a rotating experience. Our 2023 line-up is the best yet, featuring new, unique and incredible adventures – including, but not limited to: Immersive Beehive Tours, Ice Baths, Beachfront Yoga, and so much more. We expect these retreats to sell out – so we encourage our Guests to book ahead if they can at cdaresortspa.com
The Historic Davenport Hotel Spa & Salon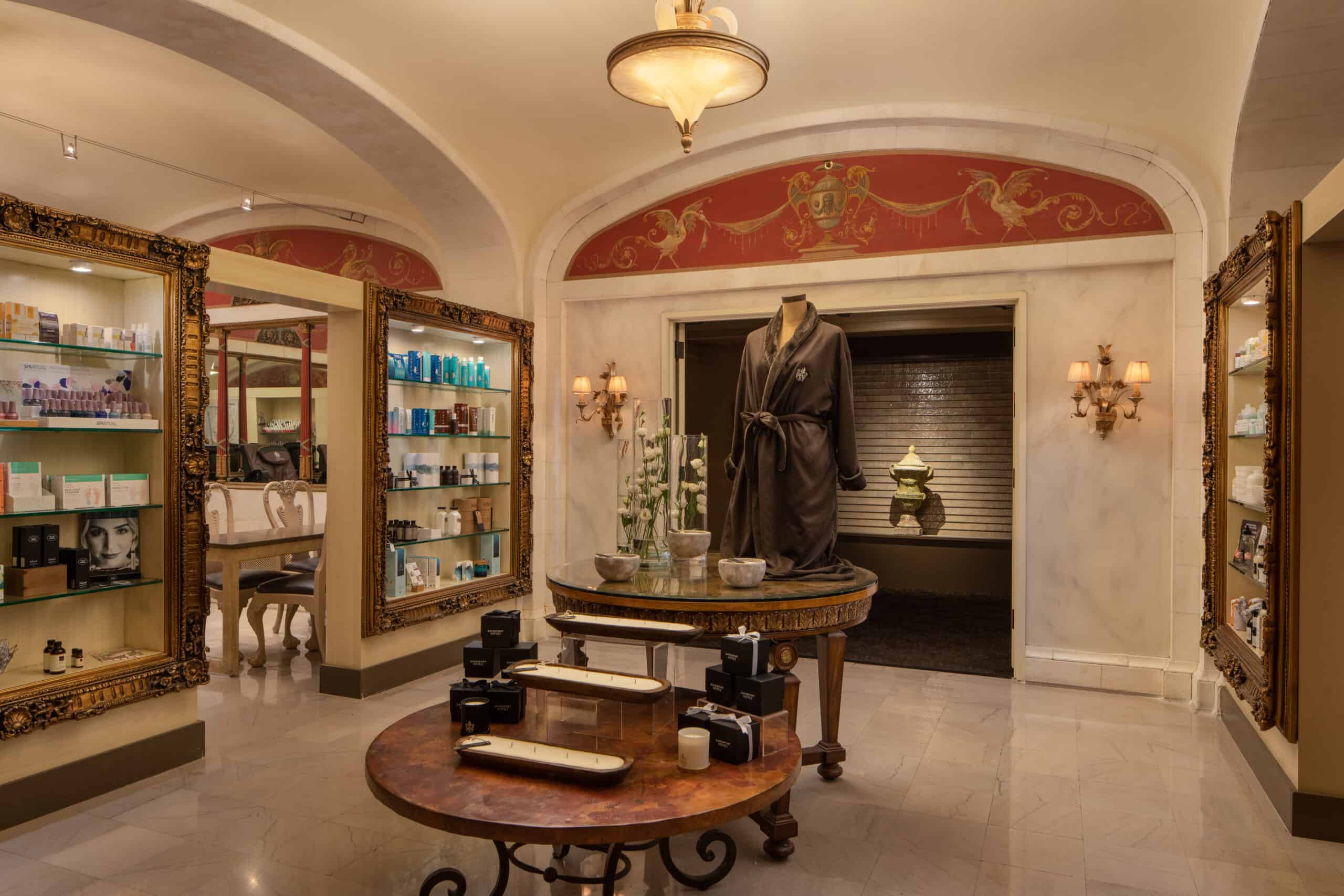 Nestled below the Historic Davenport Hotel, the Davenport Spa brings old world luxury to the heart of downtown Spokane. Throughout my entire experience, the Davenport facilities, services, and staff made it clear that they deserve their Forbes Four-Star Spa status. I was greeted by a friendly desk attendant who immediately knew my name and listed off the services I would enjoy that day. As I was ushered down a deliciously dim hallway, lit only by elegant sconces, I felt my to-do list fading, my racing thoughts slowing, and any concerns shrinking. After changing into a perfectly fluffy robe and slides, I settled into an equally fluffy armchair with a cup of tea near a fireplace. Beyond the typical spa offerings of infused water, coffee, tea, and champagne, there were even individual packs of trail mix to much on! During each service, my robe was place into a warmer so that I experienced that out-of-the-dryer coziness when I slipped it back on to move to my next stop. In each room, there was a card with my name, welcoming me. Everything from the luxurious atmosphere to the kind staff and the well-thought-out details added up to an experience as close to perfection as I have experienced in this lifetime.
The Davenport offers curated treatments for each season, and the current offerings are centered on the Honey Magnolia theme (yes. It's as delicious as it sounds!) I had the privilege of experiencing the Honey Magnolia Facial and Massage, both featuring Farmhouse Fresh products. If you've followed my other articles, you know that I'm on a healing journey and am extremely careful about what I put in and on my body, and I am extremely sensitive to any fragrance. I felt more than comfortable with the products, had no adverse reactions, and even bought the berry toner Jacqueline, the talented esthetician, suggested. I left feeling like the most satisfied noodle.
The Davenport According to the Davenport
What is your most popular service?
Our 60-Minute Signature Massage is our most popular service, it's customized to the guests needs and includes their choice of three different therapeutic essential oil blends to provide deeper healing and relaxation.
What sets your spa apart from the other spas in the area?
We try to make our treatments as customizable as possible to meet our clients' needs and expectations. We consider our spa treatments to be an experience, not just a service, so our guests leave feeling relaxed, renewed, and truly cared for which is so essential for our overall well-being.
What is something our readers probably don't know about your spa?
We are very selective of products used in treatments, we not only partner with vendors that are known, luxury brands, we are also looking for partners with a commitment to sustainability. We are particularly proud of our partnership with Voya based out of Ireland. All of their products contain some form of seaweed which is deeply detoxifying and nourishing from the skin and they hand-harvest the seaweed off the Northern Coast of Ireland where commercial fishing is prohibited to ensure they're products are as free from toxins as possible. We offer three different renewing body treatments, one luxurious facial, and one relaxing pedicure utilizing Voya's luxurious and efficacious products.
Anything new coming?
With the addition of a 2nd HydraFacial device, we're excited to start offering side-by-side HydraFacials in our couples treatment room. This will be such a fun treatment for friends, mother-daughter, or couples to enjoy together and leave with fresh, glowing skin. We're also excited to enhance our food and beverage offerings soon with local favorite Revival Tea available in our lounge, housemade hemp-protein cocoa bites, and collagen iced tea to refresh your skin from within.
The Highlands Day Spa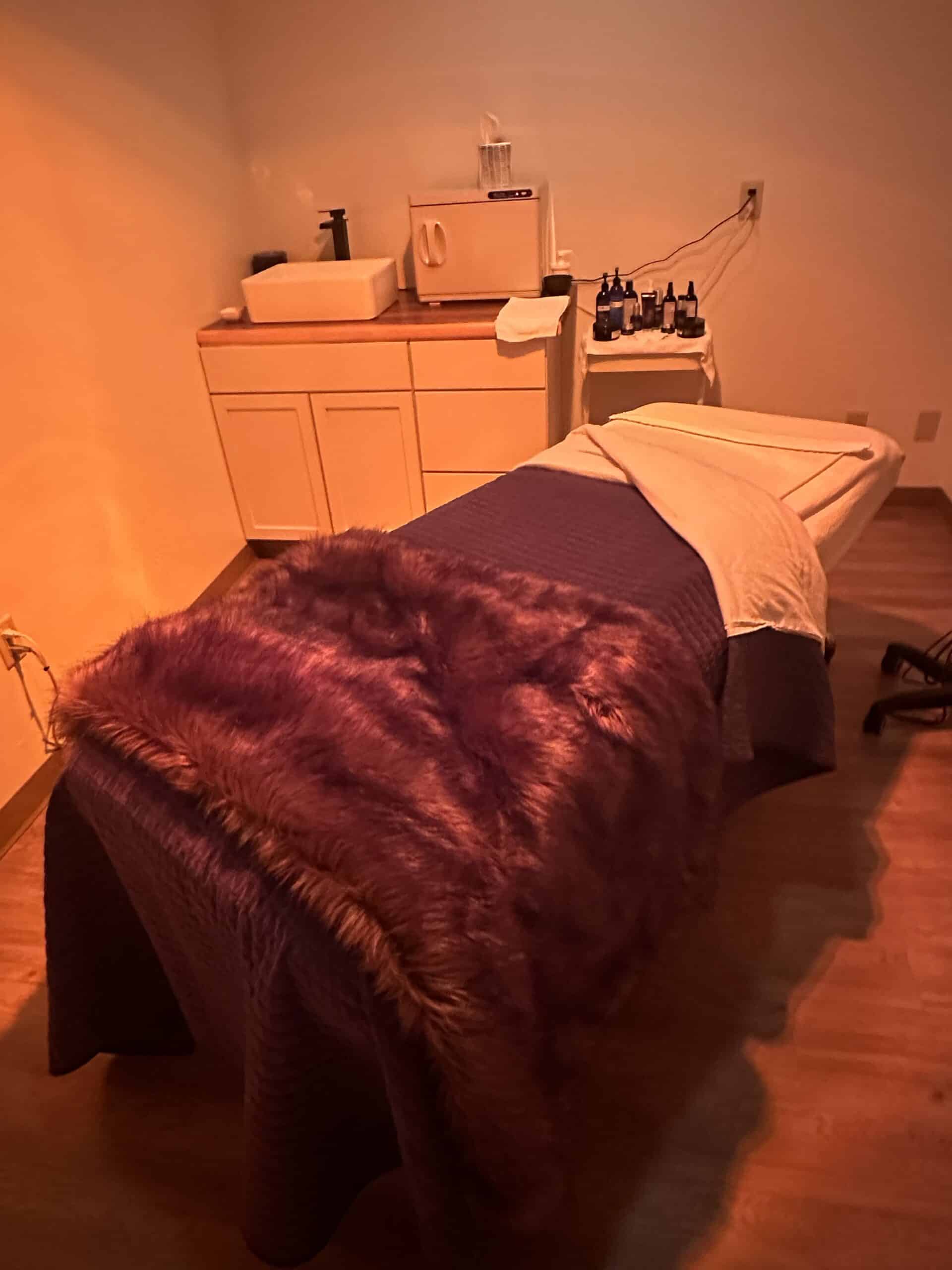 I had the pleasure of visiting the Highlands Day Spa's new downtown Coeur d'Alene location, and it maintains the down-to-earth, community-oriented mentality of the Highlands original location in Post Falls, Idaho with a fresh, modern atmosphere. This new location fills a unique need in our growing town, and I'm so thankful. The Highlands team is quirky and relateable, and with each high-quality service I experienced, I made a new friend and enjoyed plenty of funny anecdotes. I spent 5 hours being positively spoiled and barely scratched the surface of the offerings at the Highlands. It is truly a one-stop-shop, providing everything from massage, body scrubs, mud masks, and facials to pedicures and hair services.
My afternoon began with a facial that left me glowing for days. I then spent several hours being scrubbed, wrapped in mud, and massaged. I can't recommend this service enough for those with dry skin like me! Almost a week later, my skin still feels like an infant's. I rounded out my experience with the most thorough pedicure I've ever experienced. I opted to upgrade to gel polish, and the talented technician worked her magic and gave a heavenly foot rub. Needless to say, I left so relaxed and so soft all over that I wondered if I was safe to drive. If you're looking for excellence in service at the right price and a convenient location downtown Coeur d'Alene, the Highlands Day Spa will quickly become your go-to spot!
La Rive Spa at the Northern Quest
La Rive Spa means "riverbank" and pays homage to the Kalispel tribe's reverence for water's healing powers. The entire experience at La Rive stays true to its name. From the moment I passed the ethereal chandelier and descended the winding staircase to the spa floor covered in river rock, I felt grounded and taken care of. It feels worlds away from the bustling Northern Quest Resort and Casino.
After I changed into a properly fluffy robe and slides (if you haven't noticed yet, the robe is a highlight of every spa experience for me), I sank into the couch version of a robe and sipped some cucumber infused water until Elizabeth, my new favorite massage therapist, came to usher me to the most beautiful treatment room I've experience yet. I was solo, but this room, complete with an oversized hot tub and fireplace, is the ideal setting for couples massages. Elizabeth found just the right amount of pressure for my Goldilocks-like sensibility, and the La Rive Signature Massage lived up to the hype. I then spent time in one of the zero gravity chairs in the Himalayan Salt Room before floating home on a high of pure relaxation. I can't wait to return and drag Blake along for a couple's massage and to enjoy the pool!
La Rive According to La Rive
What is your most popular service?
The 60min signature massage is our most popular service.
What sets your spa apart from the other spas in the area?
The Kalispel Hospitality displayed by our team members as well as our amazing service providers. As well as our Himalayan Salt Room, Dry Sauna, Pool & Hot Tub.
What is something our readers probably don't know about your spa?
Our spa was decorated to be reminiscent of the colors and shapes found on the Kalispel reservation.
Anything new coming?
Our June special is the Radiant Glow Lumination Facial.
Spa Ssakwa'q'n at Coeur d'Alene Casino Resort + Hotel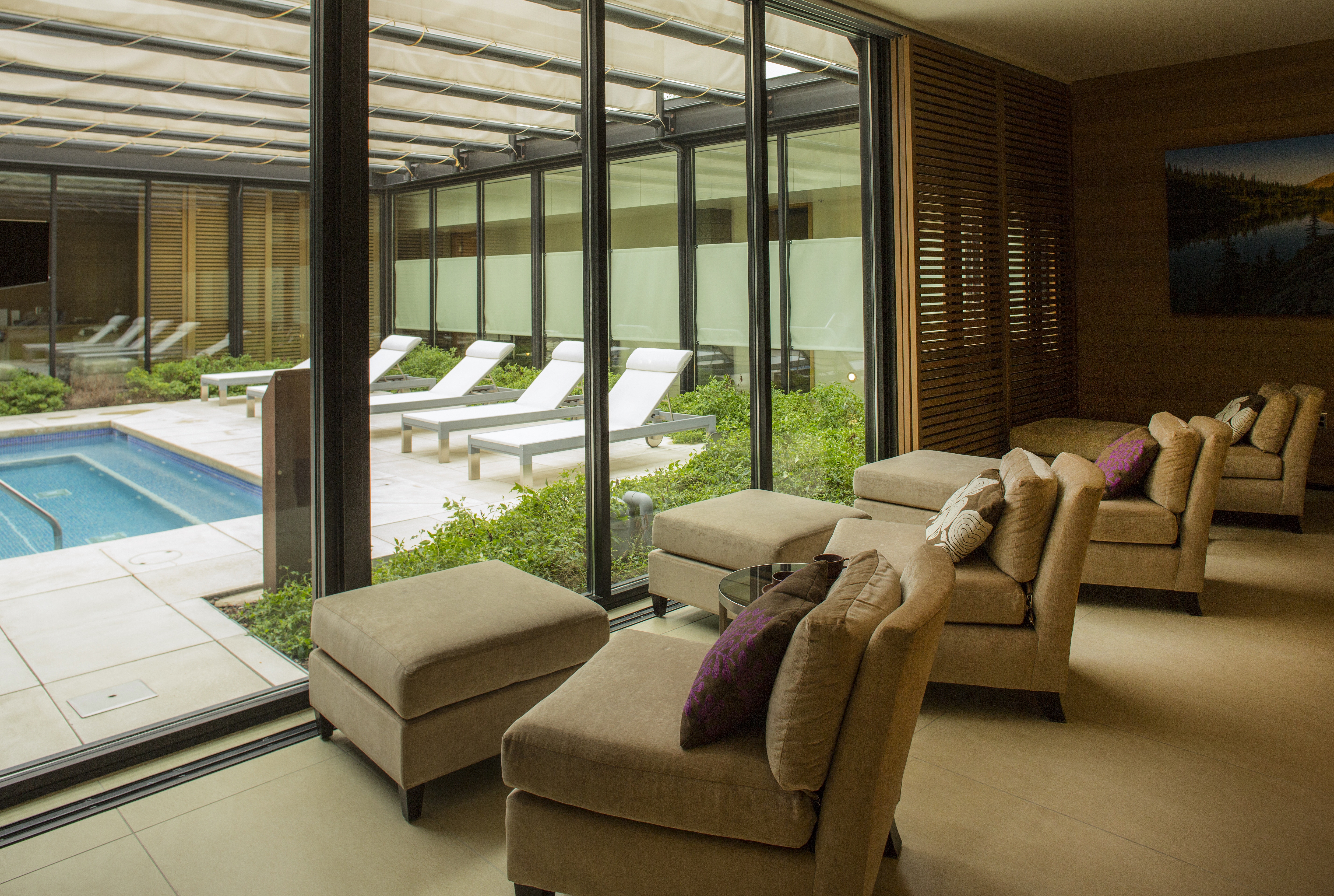 Less than half an hour from both Spokane and Coeur d'Alene, Spa Ssakwa'q'n only feels like a different world. If you're looking for one of the best luxury spas in the Northwest, take the drive to Cda Casino Resort + Hotel! I expected luxury and found it. I expected pampering and found it. I was not expecting a down-to-earth, passionate, truly joyful staff that left me feeling not only relaxed but actually valued.
I made the beautiful drive recently and was treated to the C-esta Facial, which emphasizes antioxidants, and utilizes anti-aging products. I chose to add on a hydrating service and am so glad I did! I could FEEL my skin drinking it up and felt absolutely dewey for days. The esthetician who performed the facial was friendly, incredibly knowledgeable, and oozed the joy that cannot be faked and only comes from someone who is clearly fulfilled and happy to do what she does. She effortlessly assessed my skin and customized my facial on the spot, making suggestions and giving detailed explanations for each product used. She was proud to state that the resort CEO, Laura Penney, takes amazing care of her employees. Perhaps this is the secret sauce. If you're looking for pampering without pretense, luxury catered to you, and the positive outlook from employees that must trickle down from the influence of a strong female leader, Spa Ssakwa'q'n is for you.
Spa Ssakwa'q'n According to Spa Ssakwa'q'n
What is your most popular service and why?
That would be our Ssakwa'q'n Massage, a traditional full body massage designed to promote relaxation, improve circulation and relieve tension. It basically generates an elevated sense of well-being. Our professional therapists incorporate a variety of techniques to address specific needs. The journey begins with your choice of aromatherapy – relaxation, chill, meditation, inspire and reboot. The ultimate goal with all of our treatments is to allow our guests to personalize each service to meet all of their needs.
What sets your spa apart from the other spas in the area?
At 15,000 square feet, we are one of the largest spas in the Inland Northwest and that means there is plenty of space for our guests to spread out, relax and unwind in idyllic settings – both indoors and outdoors.
The center of our spa is a large outdoor hot tub. From the hottest of days to the coldest you are always able to enjoy being outside in nature and bring a bit of the outdoors inside, before and after receiving treatments, while sipping on one of our specialty cocktails, like the Sweet Blue Crush, or a beer or wine.
Another unique aspect is our Vichy shower, which uses massage jets to stimulate circulation and detoxification in the body, and our Mountain Rain Shower provides a body treatment that literally melts your stress away.
What is something our readers probably don't know about your spa?
We have been open for 12 years now, and for most services we offer add ons–such as CBD massage oil, cupping, warming stone or oat leg mask for massages–to enhance and personalize your results for massage, facial, and nail treatments.
The spa is also very popular with men, especially for pedicures and massages, which is no surprise since our award-winning Circling Raven Golf Club is just steps away from the spa.
Anything new coming?
A very popular feature at Spa Ssakwa'q'n is our value-laden monthly specials that highlight different services and offerings. This enables and encourages our guests to come in and try something new at a special rate.
For example, in June we are offering $25 off the Reverse PRO-YOUTH Facial, a 90-minute treatment designed to unlock the natural aging mechanisms of the skin and will leave you with a beautiful, healthy summer glow. In July, anyone who purchases a facial will receive a take home facial mask, and if they purchase any add on during their facial, they'll receive an additional take home facial mask.
I hope this guide to the best luxury spas in the Northwest inspires you to incorporate a little more luxury into your life and helps to take some of the guesswork out of scheduling your next visit to one of the many beautiful luxury spas in the area. After extensively experiencing all of them, I can honestly say that there is no choice that will leave you disappointed!
xoxo Your Favorite Late Bloomer
Bailey Bowerman
Bailey is a self-proclaimed recovering attorney and late bloomer. She loves words, rest, and hyping entrepreneurs and creatives. She lives in Idaho with her husband and is decidedly and unapologetically NOT outdoorsy.