5 Cocktail Lounges with Innovative Drinks in Downtown Spokane
The cocktail scene in Spokane is booming, and it can be hard to keep up. Trust me, however, this is a really good problem to have. There are several great spots for craft cocktails with incredibly talented bartenders, and the list just keeps on growing.
Follow along as I highlight five of my very favorite cocktail lounges in the downtown Spokane area. If you're looking for some of the best cocktail bars in Spokane, you'll want to bookmark this list!
Read more of Trending Northwest's September 2022 Issue articles below!
Top 5 Best Cocktail Bars in Spokane, WA
Emma Rue's
Rejoice! Spokane now has late night cocktails AND desserts all in one place. Emma Rue's is a spot that opens early and closes late. Is this why Emma Rue's is one of the best cocktail bars in Spokane? I would say so!
You can come here to enjoy a mimosa and/or coffee starting at 8 a.m. every day of the week, and Tuesday through Saturday, they're open until midnight.
Happy hour runs from 3 p.m. to 6 p.m. daily, and you'll find deals like a $7 Cosmo or, my personal favorite, their Rum Old Fashioned. For this classic cocktail, rum is used instead of bourbon, which provides a lighter spirit profile that is delightful to sip.
The owners have truly put a ton of thought into the ambience of their space; it's chic, inviting and cozy all at the same time. Truly, their cushy swivel chairs (conveniently located alongside their floor-to-ceiling windows and are perfect for people-watching) are pieces I'd want to put into my own home.
Inland Pacific Kitchen (IPK)
Perfect for date night, Inland Pacific Kitchen is not only cooking up delicious food but also shaking up fancy (and pretty!) cocktails. Whether you prefer something more spirit-forward or fruit-forward (pictured are one of each), IPK has great options! How cute is the little clothespin holding the sage leaf? It's all in the details at this contemporary cocktail lounge.
Since Inland Pacific Kitchen is located within the Washington Cracker Building, there's a free, small parking lot and also plenty of metered parking along the side streets.
Come check them out for yourself, Wednesday through Saturday from 4 p.m. to 9 p.m. and on Sundays from 10 a.m. to 2 p.m. Happy hour runs from 4 p.m. to 5:30 p.m., and they add new things to the happy hour menu weekly so there's always something new to try!
Sapphire Lounge
Located below the Ruby Hotel, Sapphire Lounge is one of several locations managed by Ruby Hospitality. The staff here are like one big family and it's evident the bartenders love what they do.
We tried several cocktails during our visit; each with its own unique flavor profile. Pictured are the 1st Ave Old Fashioned, Huckleberry Mai Tai Moment and The Greatest Trend. Dare I say the Greatest Trend is the greatest drink in all of downtown right now? Made with Mezcal, lime, Amaro, agave and egg white, the drink is slightly smoky from the Mezcal, equal parts sweet and tart, and absolutely delicious overall.
If you're here for a girls' night or just unwinding solo after a long day of work, no need to worry about walking back to your car in the dark. Employees at Sapphire Lounge genuinely care about your safety and are happy to escort patrons to their car. You can use metered parking along the street or if you're dining at their sister restaurant, the Steam Plant, before or after, feel free to use their parking lot.
If dining at the Steam Plant, not only will your parking fee be taken off your restaurant bill, but you will also get a deal on your drink at Sapphire Lounge! Hours are from 4 p.m. to 10 p.m. Tuesday through Thursday and until 12 a.m. on Fridays and Saturdays. Happy hour runs Tuesday through Saturday from 4 p.m. to 6 p.m. and again on Saturdays from 10 p.m. to 12 a.m. Double happy hour for the win!
The Greatest Trend
Want to make your own delicious cocktails? Check out this recipe for a classic, yet modern, negroni.
Hogwash
Whether you're looking to cozy up in a booth or spread across a table with friends, Hogwash is your spot. Located on the basement level of the Washington Cracker Co., parking is typically a breeze via metered street parking along West Pacific Ave, South Bernard St, or in the shared parking lot.
One of the many things I enjoy about ordering a drink here is, even if nothing on their cocktail list quite strikes your fancy, just let them know what you like; the bartenders are happy to whip something up.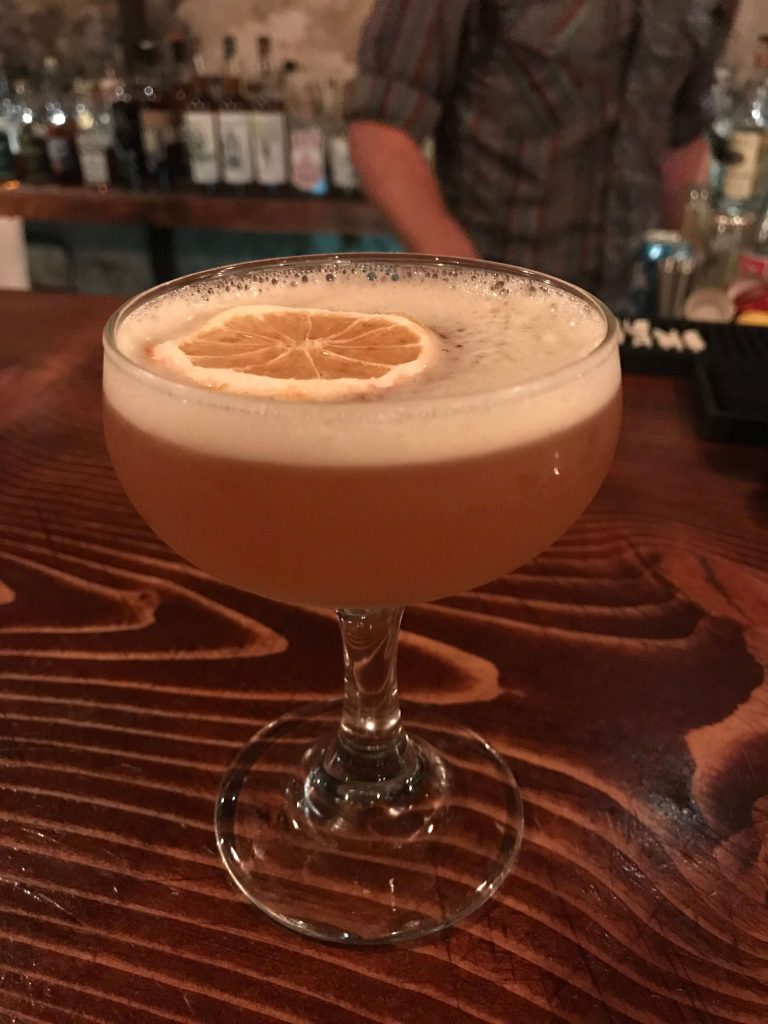 Speaking of the cocktail list, it's quite a fun read. You'll find names like Hagrid's Hippogriff, For All Intents and Porpoises, and Beets, Bears, Battlestar Galactica. My very favorite drink at Hogwash is a classic Penicillin– blended scotch, honey, lemon, ginger and Islay single malt. Try it!
Do not miss their elevated food options whether you're just feeling snacky or want a full on meal, and also keep an eye out for their fresh sheets! They share a kitchen space with Inland Pacific Kitchen, so you know it's going to be good. Stop by anytime from 4pm to 10:30pm Monday through Saturday and Sunday from 10am to 2pm. Enjoy daily happy hour (with the exception of Sundays) from 4-5:30pm.
Cease and Desist Book Club
Looking for an intimate night cap? With a speakeasy vibe, Cease and Desist Book Club provides booths where you can get nice and cozy in their ambient, dimly lit space (…if you can find it*). The bartenders are well-educated on spirits and the craft of mixing cocktails. Their drink menu reads like a beautiful book of creative cocktails.
If bourbon is your liquor of choice, you're in for a treat. There are always several house-infused bourbons to choose from: Flavors like fig, banana and chile. I love ordering an Infused Bourbon Neat to ensure you're really tasting its unique flavor. The bourbons are also thoroughly enjoyed as part of a classic Old Fashioned (pictured).
Cease and Desist is open Tuesday through Saturday from 4 p.m. until 2 a.m. as well as Sundays and Mondays from 6 p.m. until 12 a.m. There are several paid parking lots and also metered street parking available within the vicinity.
*Cease and Desist is only accessible if you know which bookcase leads to their door!
As you can see, our area's options for fun and tasty cocktails are nearly endless. I recommend keeping an eye on each business' social media pages, as all mentioned in this article are good at keeping patrons up to date. Whether you're in search of a morning mimosa, an after-work happy hour, or an evening nightcap, at these cocktail bars in Spokane, you're covered!
Which spot on the craft cocktail scene are you looking forward to trying next?
Carlie L.
Originally from central Pennsylvania, Carlie moved across the country in 2016 to obtain a Master's in Biology from Washington State University. She grew a deep love for the Pacific Northwest and began to call Spokane her new home in 2018.
Carlie especially loves the local community and how supportive everyone is of one another. She is a self-proclaimed lover of ALL animals, owning two rescue dogs and two guinea pigs. In her spare time, Carlie loves to travel. Locally, she enjoys sipping on creative cocktails and keeping up with the ever-expanding beer scene. Follow along at @spokane_drinks on Instagram.