Where to Stay in La Push, Washington
As the creator of UniquePNW, I search high and low for super special places to stay in our corner of the world. I think the Pacific Northwest is such a fascinating and diverse area! We have it all: forests, mountains, oceans, deserts, valleys, etc. We have a plethora of important cultures that make our areas unique as well.
My mission is to find distinctive places for people to enjoy in our amazing area and to dive deeper into the culture and history our area brings. With this in mind, I want to share some really awesome places in the La Push, Wash., area for you to enjoy!
If you're looking for incredible places to stay in La Push, Washington, you'll definitely want to bookmark this list. Twilight fans – this is for you, too!
Wondering how to get to La Push, Washington? La Push is only 1 and a half hours from Port Angeles, WA, roughly an hour and a half from Neah Bay, and 2.5 hours from Port Townsend. La Push is to the west of Olympic National Park.
Places to Stay in La Push, Washington
The La Push Area
La Push: a lush, green, jungle-like oasis that puts the evergreen in The Evergreen State. It's home to gorgeous ocean shores, ancient trees, dense foliage and…werewolves?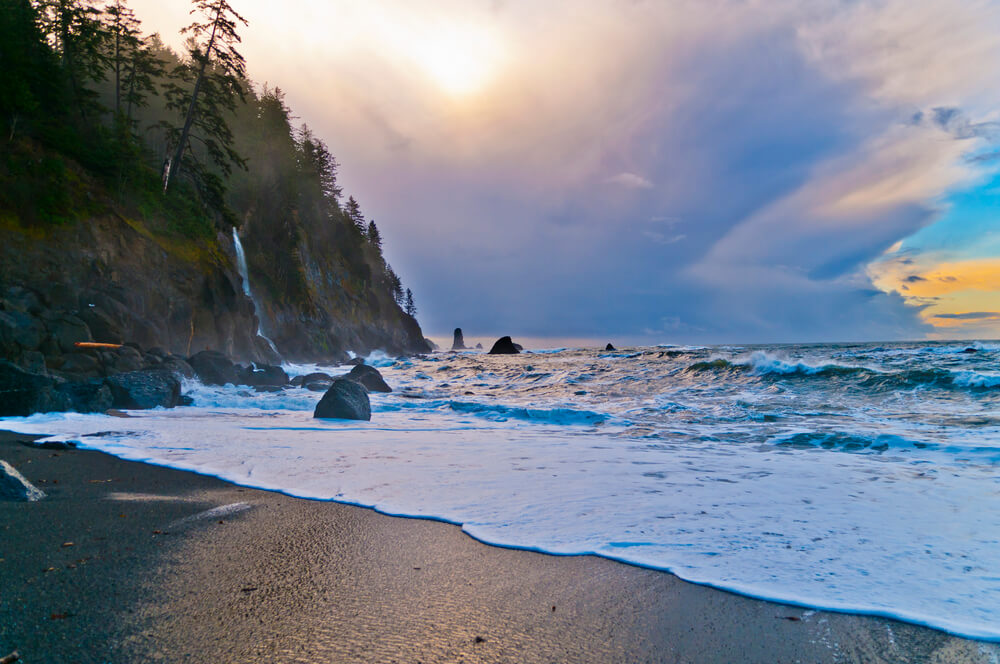 Not only is La Push home to some of the most untamed, and downright stunning, beaches in Washington state, but it's also home to Jacob Black: The overprotective and overly handsome werewolf sidekick to Bella Swan of the "Twilight" series.
If this is right up your alley, do I have the place for you!
In addition to being a Twilight-lovers haven, La Push is also located on the Olympic National Park's Pacific Ocean coastline, giving it incredible views and a mist like you won't believe.
La Push has a variety of places to stay, too, from vacation rentals to rustic cabins, places with full kitchen options down to rustic propane fireplaces and so much more. It's a good place for a family vacation, and is especially beautiful if you want to visit the Olympic Mountains or Hoh Rainforest.
Quileute Oceanside Resort
While Jacob is (unfortunately) a fictional character who is part of the Quileute Tribe, La Push is home to the very real members of the very real Quileute Tribe.
The tribe has been kind enough to share their land and create a beautiful resort, right on the ocean! The Quileute Oceanside Resort has it all from campsites, ocean-view motels and luxury cabins with some of the most stunning views I have ever seen!
This resort is unique in its plethora of accommodations. It's rare that you can find three different types of cabins, two types of motels, and a few different RV parks in one place! It's amazing to have an RV campground along with a variety of lodging options, making the Quileute Oceanside Resort a perfect place for those who want to be close to the Pacific Coast but still have plenty of options.
I truly love that they have accommodations for every budget, family, and experience. If you want to be steps away from the Pacific Ocean, then this is where you want to be!
Hideaway 205 at Three Rivers
Due to La Push being on tribal land, the Quileute Oceanside Resort is one of the only places you can stay that is actually in La Push, Wash.
That being said, there are still plenty of places right around La Push that call for just a short drive to this incredible destination. If you're looking for a secluded place surrounded by wildlife, greenery, and you love a wonderful glamping experience, then Hideaway 205 at Three Rivers is perfect for you!
Located in Forks, Wash., this Airbnb trailer is a 10-minute drive from La Push. This cozy 18-foot RV has a bathroom, comfy bed, kitchen, and a TV with a DVD player (it wouldn't actually be located in Forks if it didn't have a copy of "Twilight" on DVD…and we couldn't say we actually stayed there if we didn't watch it…).
Don't want to stay inside? Take the 20-ish minute drive over to Rialto Beach, a public beach adjacent to Mora Campground. This beautiful spot offers an ocean beach and coastal forest, making it a dreamy location and a great place to bring a picnic!
While Forks is, of course, one of the best places to celebrate Twilight, it's also known for its rain. We're talking over nine feet of rain a year! The owners of this RV didn't just scoff at this when they put together their home on wheels. Covering the RV is a sturdy, metal canopy to keep everything dry. This canopy allows you to still sit outside and enjoy the fresh air, even in the rain. It's also covered in string lights, which creates a cozy ambiance.
Miller Tree Inn Bed and Breakfast
If you're looking for more of a luxurious stay, Miller Tree Inn Bed & Breakfast may be just the spot!
Located just over 20 minutes from La Push, this B&B has eight spacious rooms that span across three floors. Almost all of their guest rooms have an electric fireplace and a jetted tub. I think we all can agree the best type of tub is the one with jets, so everyone wins here!
While this B&B boasts modern amenities, it is over 100 years old! The unique style of this bed and breakfast began its life as a farmhouse and started welcoming visitors in the 80s.
Also, this exquisite home is lovingly referred to as the Cullen's residence from "Twilight" (I'm sorry…it's Forks, Wash! I can't not talk about "Twilight"!). Once you stay here, you'll realize why this is an ideal place to live out your Twilight dreams… or even just bring the book to read during the rainy days!
In the book, the Miller Tree Inn matches the description of the "Cullen's House" to a T…maybe she stayed here when writing her best-selling series? One can dream.
Being in Forks, Miller Tree Inn also offers access to nearby restaurants, friendly staff, and of course – free breakfast! The B&B offered comfortable beds, which you may need, because the nearby trailhead isn't a short walk, but it is a nice option if you want to get out nearby the town!
Finally, if you're planning a trip to the Sol Duc Hot Springs, the Miller Tree Inn is a good location to stay as it is closer to Sol Duc than other options.
Manitou Lodge
Manitou Lodge is less than 10 miles away from La Push, and it is a stunner! You can elect to stay directly in their lodge, or you can choose for more privacy by staying in one of the two cottage rooms.
If you would prefer to bring your personal tent or trailer, they also have their own campground! If you stay in the lodge, you can choose from five unique rooms. My favorite room in their lodge is the Sacagawea suite. I love that it has its own fireplace and nods to the incredible Sacagawea, who helped shape our area.
If you're looking to get away from the hustle and bustle of the main lodge, you can spend your evenings in the Eagle Cottage Room or the Owl Cottage Room. Both have their own private deck to sit outside and listen to the surrounding wildlife. It doesn't get much more peaceful than that!
Pacific Inn

Photo credit: Pacific inn Motel
Last, but certainly not least, on my list is the Pacific Inn Motel. This one is in the center of Forks, Wash., and is a little over 15 miles from La Push, Wash.
The Pacific Inn is great for clean accommodations on a budget. They have your standard King and Queen rooms, a suite with a kitchen if you're needing more space, and (drumroll please)…a "Twilight" themed room!
The themed room sports two Queen beds, is painted red, has ornate bedspreads, and is decked out with "Twilight" movie posters. If you're team Edward, then this may be just the spot for you. I won't even judge you because you'll be staying in style and that's something all "Twilight" lovers can agree on.
With five great options, La Push, WA is definitely a place you should add to your travel list! La Push and the surrounding areas are absolutely breathtaking and well worth your time.
Jenn and Tyler Wakeman
We're Jenn and Tyler from Washington State! Since getting married 8 years ago, we have found a love for traveling to unique places across the Pacific Northwest. While sharing some of our adventures on our personal social media pages, we found that our friends and family really got a kick out of the places we stayed at! Because of that, we decided to create a platform for others to see the unique and awesome places we have in our corner of the world! We'd love for you to follow us on Instagram at UniquePNW!