Best Vegan Bakeries With Delightful Desserts in Seattle
Wondering where to find some vegan desserts in Seattle? The city has plenty of vegan bakeries that serve delicious, plant-based goodies. Choose from rich and flavorful cakes, soft and chewy vegan cookies, and pillowy donuts to satisfy your sweet cravings!
You'll find a dessert for any occasion at new, up-and-coming shops and beloved bakeries that have been serving plant-based treats for years.
Even if you aren't vegan, I recommend giving these spots a try. You just might discover your new favorite sweet is animal by-product free.
Seattle is a vegan-friendly city with modern, innovative, and tasty vegan options. Whether you live in Seattle and are looking for a new place to check out, or you're making a weekend visit to Seattle, you won't want to miss this list of delicious bakeries! Here are the bakeries you should visit to find the best vegan desserts in Seattle.
Bakeries with Best Vegan Desserts in Seattle
Dough Joy: Fun and Funky Vegan Donut Shop
Me and my fav donut at Dough Joy!
Dough Joy really emphasizes the joy part in their name. Everything about this donut shop is delightful. The unabashed pops of pink in their cafes, the upbeat and friendly baristas, and their drool-worthy donuts will make you leave the shop feeling more joyful than when you came.
They've got cafes in both West Seattle and Capitol Hill that are open every Thursday through Sunday at 8 am. I suggest you arrive early since these donuts go fast! Every week they announce several creative new flavors in addition to their permanent menu.
The Vanilla Biscoffee is a crowd-pleaser. It's sweet and creamy with a pleasant chewiness from the cookie topping. And, trust me on this, the Everything But the Bagel Donut (a frosted donut with everything bagel seasoning on top and a dollop of cream cheese in the center) sounds strange, but is one of the most unexpected delights I tried there.
Even their coffees come with a sweet treat. Order a latte, and you'll get a little donut hole to enjoy with it.
It's just a fact: Dough Joy serves some of the best Seattle vegan donuts. You definitely wanna go here.
Oh, and one final thing about Dough Joy that my fellow houseplant enthusiasts should know? The donut shop doubles as a plant store. Grab a donut, buy a plant, and leave happy.
Flying Apron: Beloved Seattle Gluten-Free and Vegan Bakery
Flying Apron is one of the more well-known Seattle vegan bakeries on this list. In addition to serving plant-based goodies, their food is also gluten-free. This makes it a great choice for a wider range of people with dietary restrictions or preferences.
Their West Seattle cafe is open Wednesday through Sunday from 9 am-5 pm. They serve a huge selection of treats including muffins, cookies, scones, donuts, brownies, and vegan cupcakes. Planning an afternoon visit? Try something from their savory menu so you can get your lunch and a sweet to follow. There are plenty of vegan dessert options here!
If you're overwhelmed by choice, give their cinnamon roll a try. This is the dessert they're most well-known for, and it's obvious why: rich and fluffy bread with a drippy cream "chez" frosting makes this a delight.
Another option is the made-to-order beignets they sell on Thursdays. You can get them topped with cinnamon or powdered sugar and served with a variety of dipping sauces. If you've never tried vegan or gluten-free beignets, this is a must!
The Flying Apron cafe is sleek and industrial, with rotating pieces from local artists (available for purchase) on the walls. It's the perfect place to work or meet up with friends. If you want the widest selection of a variety of vegan desserts, Flying Apron is the correct choice.
Lazy Cow Bakery: Sweet, Simple, Delicious Vegan Pastries
The Fremont neighborhood is lucky to have Lazy Cow Bakery. What's better than a buttery croissant for a morning or afternoon pick-me-up? A vegan croissant that tastes just as buttery and delightful.
Lazy Cow Bakery is a new vegan bakery with delicious treats that started out of founder Lara de la Rosa's basement in 2020. Their brick-and-mortar location opened a year later, meaning their croissants, cakes, and other pastries are available to all of us now.
Choose from churro, chocolate, and almond croissants, but don't pass up on some of their other goods. They serve a mean tiramisu and their cakes are their specialty. They're a great option for vegan birthday cake, too! However, the banana cream tart caught my eye on a visit and I couldn't say no.
With a subtly sweet, granola-esque crust and a well-balanced banana filling, I can honestly say I've found my go-to treat whenever I'm in the neighborhood.
The cafe is simple and clean with a minimalist aesthetic that lets their pretty baked goods shine. Linger for a while with a coffee to compliment your pastry, or wash everything down with a glass of their house-made horchata.
Lazy Cow Bakery also doubles as the community gathering place, La Casa Del Xoloitzcuintle. Casa del Xolo is a mutual aid organization that helps support and aid the surrounding community. By supporting Lazy Cow Bakery, you're helping them support the community, so getting their treats is an (incredibly sweet) win-win overall.
Mighty O Donuts: Classic Seattle Vegan Donuts
Mighty O is a veteran of the Seattle vegan treats scene. They started serving vegan donuts to the Seattle community over twenty years ago, and the rest is delicious history. If you're a cake donut fan, this is the place to go.
Their range of cake donuts, from the "naked" to the frosted are super yummy. Whenever I go, I make sure to snag one of my three go-to flavors. You can't go wrong with the french toast, raspberry riot, or the cocoloco.
Can't decide? Take a half dozen of the flavors you're interested in to get a little taste of everything. You won't regret it (but beware, you may chomp them all down in one sitting).
In addition to being vegan, they're transparent about their ingredients and sourcing. Since they make their donuts with consistently high-quality, organic ingredients, this ensures that they have consistently high-quality donuts.
You'll find Mighty O Cafes in a variety of neighborhoods including Greenlake, Capitol Hill, and downtown Seattle. The cafes are family-friendly and welcoming (their Greenlake location even has little space with books and toys for kids).
Check out the open, airy space and stay a while. Or, if you're in a hurry, just grab a bag of their Mini O's and take 'em to go.
Askatu Bakery: Cozy, Allergen-Free Bakery with Vegan Desserts
Askatu Bakery is a godsend for people with food allergies. This sweet Belltown bakery opened in 2019 and is committed to serving baked goods without any of the top 8 allergens.
The bakery started out of the founder's desire to provide treats for people with severe allergies like her own children. She turned to her Asian roots to find ingredients that weren't typically used in Western cooking. This helped her find solutions for making sweet treats without common allergen ingredients.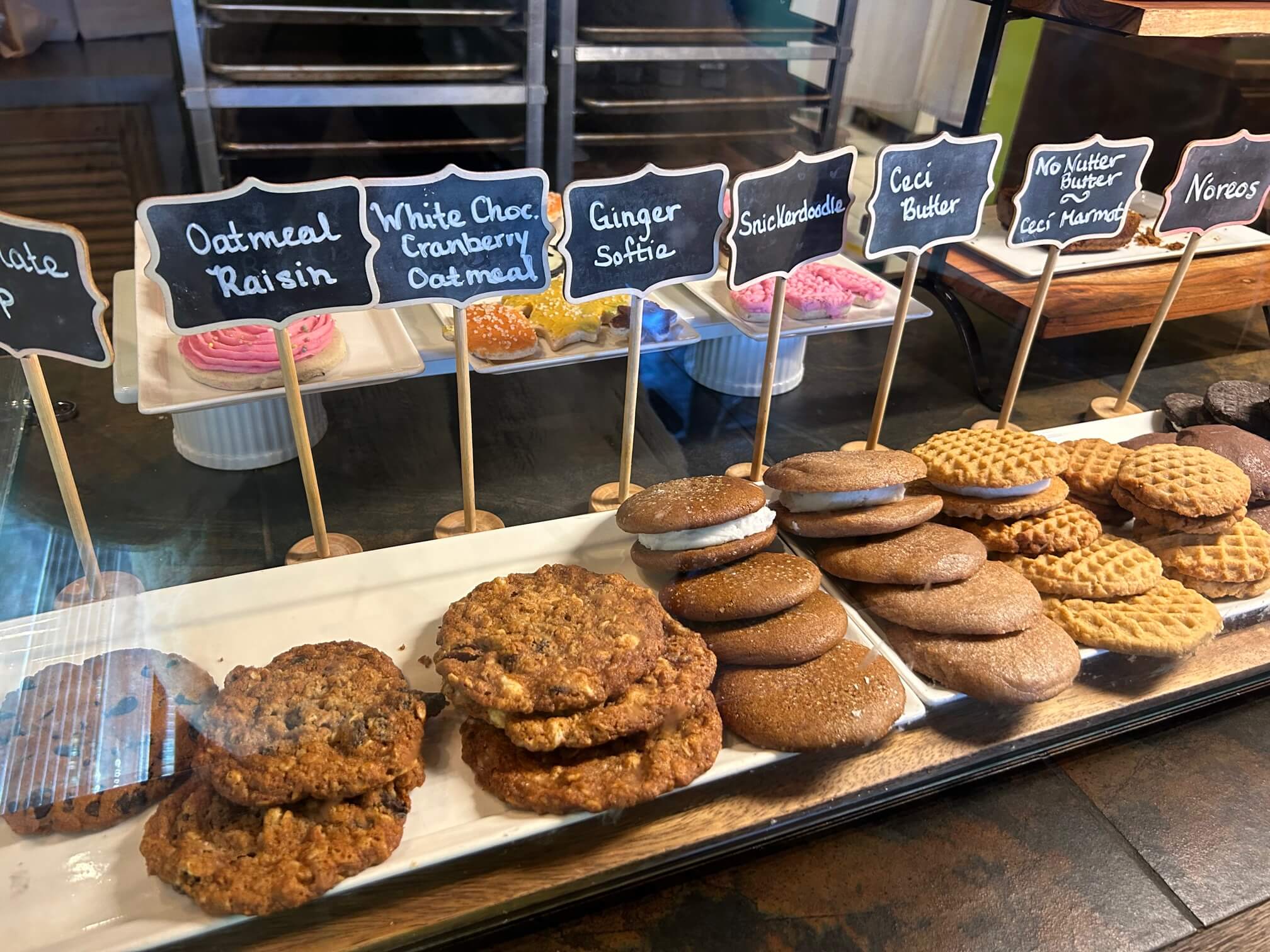 Sorghum, millet, mung bean starch, and sweet potato flour are among some of the substitutes used in the desserts at Askatu. This means the treats are much more inventive, have unique flavors, and are typically vegan-friendly.
Walking into the cozy little shop, you'll be tempted by all sorts of vegan desserts. Tea cookies, quick breads, truffles, and hand pies are among some of the offerings.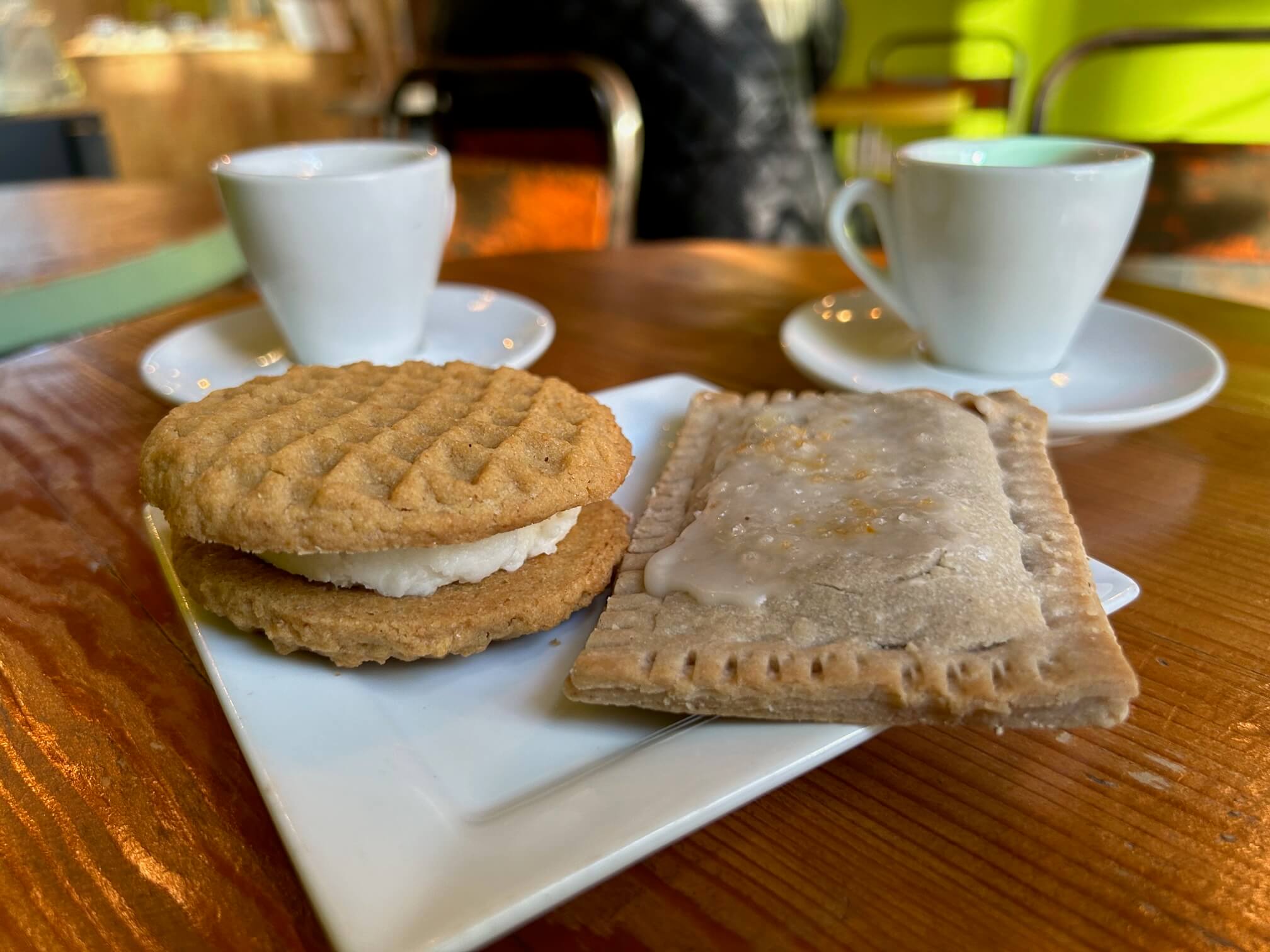 Grab the Ceci Butter Whoopie Pie if you want a delightful treat. A sweet and airy cream filling is sandwiched between two deceptively nutty and crumbly cookies. The texture and flavor were unlike any whoopie pie I've ever had, and my husband declared it one of his favorite desserts ever. As a bonus, the espresso we had along with the dessert was downright perfect.
Askatu is open at 10 am every Tuesday through Saturday. Stop by their cozy bakery early so you'll have the widest selection to choose from!
Keep in mind that they are not exclusively vegan and have some non-vegan savory sandwiches. However, as long as you're just there for the desserts, you can count on getting something both plant-based and delicious.
Cinnamon Works: Popular Bakery with Vegan Options
If you've ever visited Pike Place Market, you've probably smelled Cinnamon Works before seeing it. Follow your nose to find this bakery in Post Alley.
Cinnamon Works is the oldest bakery on this list. They opened in 1983, and have been creating scratch-made treats for the Seattle community ever since. Luckily, they have vegan and gluten-free options so those with dietary restrictions can enjoy the goods too.
So what should you get? They serve cookies, quick breads, muffins, and rolls. Of their vegan selection, the most appealing choice is easily their giant cookies. They're a little on the pricey side, but they're also about the size of your head, so you get more bang for your buck. Snickerdoodle or chocolate chip are the best choices.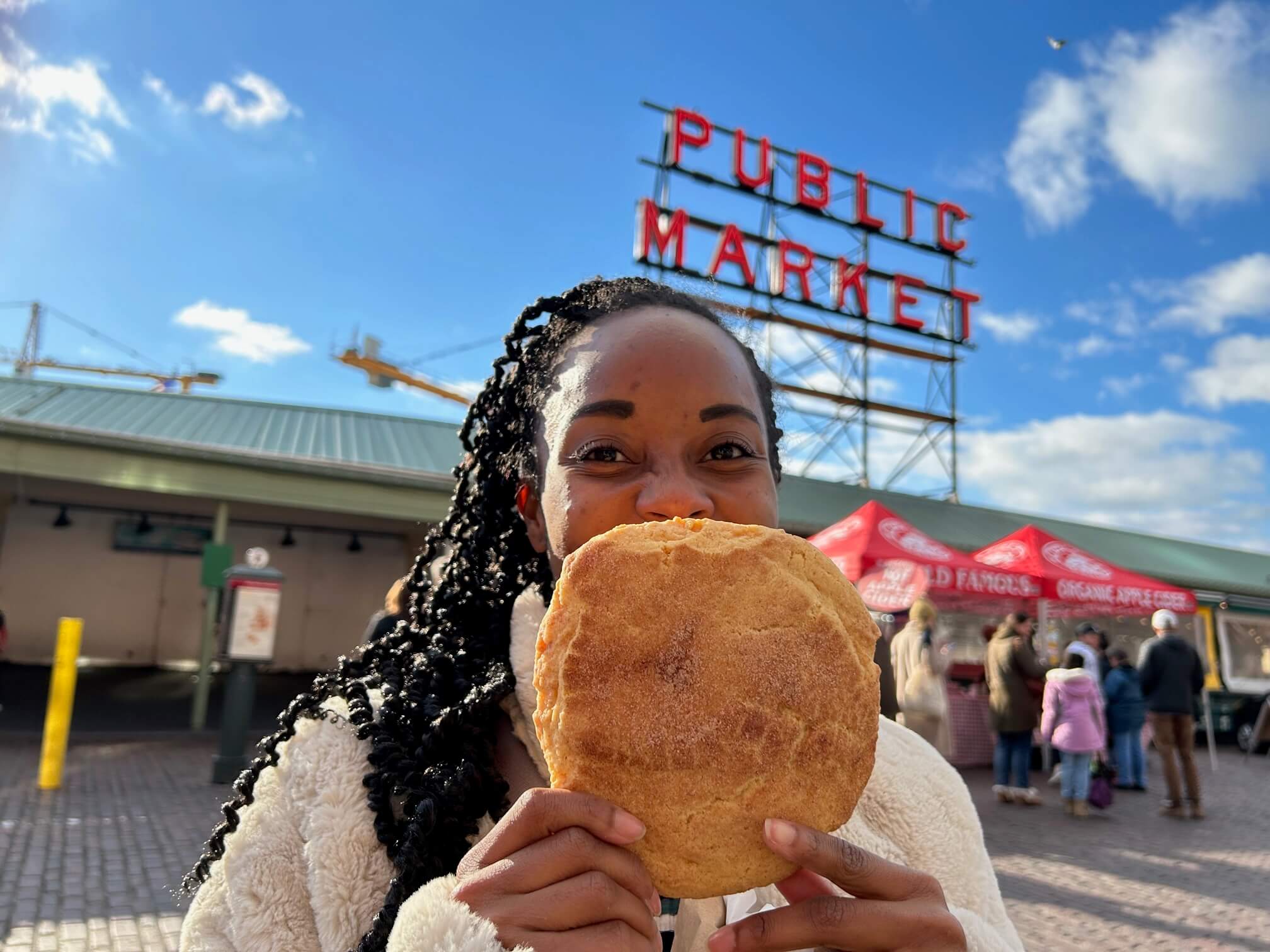 If you want something different, try the cinnamon swirl or cinnamon roll with maple syrup frosting. Both are delicious, but you need to get there early to enjoy them since this Pike Place Market bakery sells out of things fast.
Cinnamon Works is a takeaway counter rather than a sit-down cafe. It's a great place to grab a Seattle vegan dessert and then continue to explore the vibrant market. You can get some of the said vegan desserts every Thursday and Friday from 9 am-4 pm, and Saturday and Sunday from 9 am-5 pm.
Honorable Mentions
If you want more options, give a few of these spots a try. Some don't have a huge selection of vegan desserts, but what they do have is excellent.
Plum Bistro: Plum Bistro is an amazing vegan restaurant in Seattle. Their dessert menu includes mango cheesecake, carrot cake, and loaded vanilla soft serve ice cream.
Flora Bakehouse: An offshoot of the popular Cafe Flora, the Bakehouse stocks vegan treats like coconut cake, brownies, muffins, and cinnamon rolls.
Hot Cakes: Enjoy a decadent gooey brownie lava cake at this haven for chocolate lovers.
Nuflours Bakery: This bakery's focus is on gluten-free pastries. They have some vegan options like select cookies and other rotating treats.
And there you have it! If you were looking for an awesome Seattle vegan bakery for yummy desserts, you now have 6 to choose from. Enjoy your sweets, and let me know in a comment what's at the top of your list.
Chelsea Booker
Chelsea is a Seattle-based freelance writer with an adventurous spirit and a passion for all travel, whether it takes her across the globe or down the street. She enjoys writing about her trips, whipping up articles on health, wellness, and personal development, and working on her novel. When she's not traveling or writing, she's reading any fantasy book she can get her hands on, tending to her rapidly expanding houseplant collection, and honing her strategy skills so she can always beat her husband at board games.