Taste the World in Spokane: A Culinary Journey Through Diverse and Delicious Restaurants
Spokane is a melting pot of cultures, with many delicious and unique restaurants to explore. If you're looking for unique cultural foods in Spokane, don't despair! While Spokane might not have the delightful variety of bigger cities like Seattle, it's no slouch!
I'll highlight some of the best diverse restaurants in Spokane, from Indian to Korean to Native American and more. Food is a great way to learn about different cultures and connect with people from all walks of life. When you visit a diverse restaurant, you are not only trying new food, but you are also supporting local businesses and entrepreneurs.
So what are you waiting for? Step out of your comfort zone and try something new!
Here's a handy list of the top cultural foods in Spokane and associated restaurants, with my specific recommendations and more info below:
Karma (Indian)
I Love Tofu (Korean)
Indigenous Eats (Native American)
Yummy Snamy (European/Slavic)
Chan's Noodle House (Chinese)
La Michoacana (Mexican)
Feast World (Rotating)
Chicken N' More (Southern)
Sushi House (Asian)
Aloha Island Grill (Hawaiian)
Cultural Foods in Spokane: Exploring Delicious Diversity in the Heart of the City
Karma
Indian
2606 North Monroe Street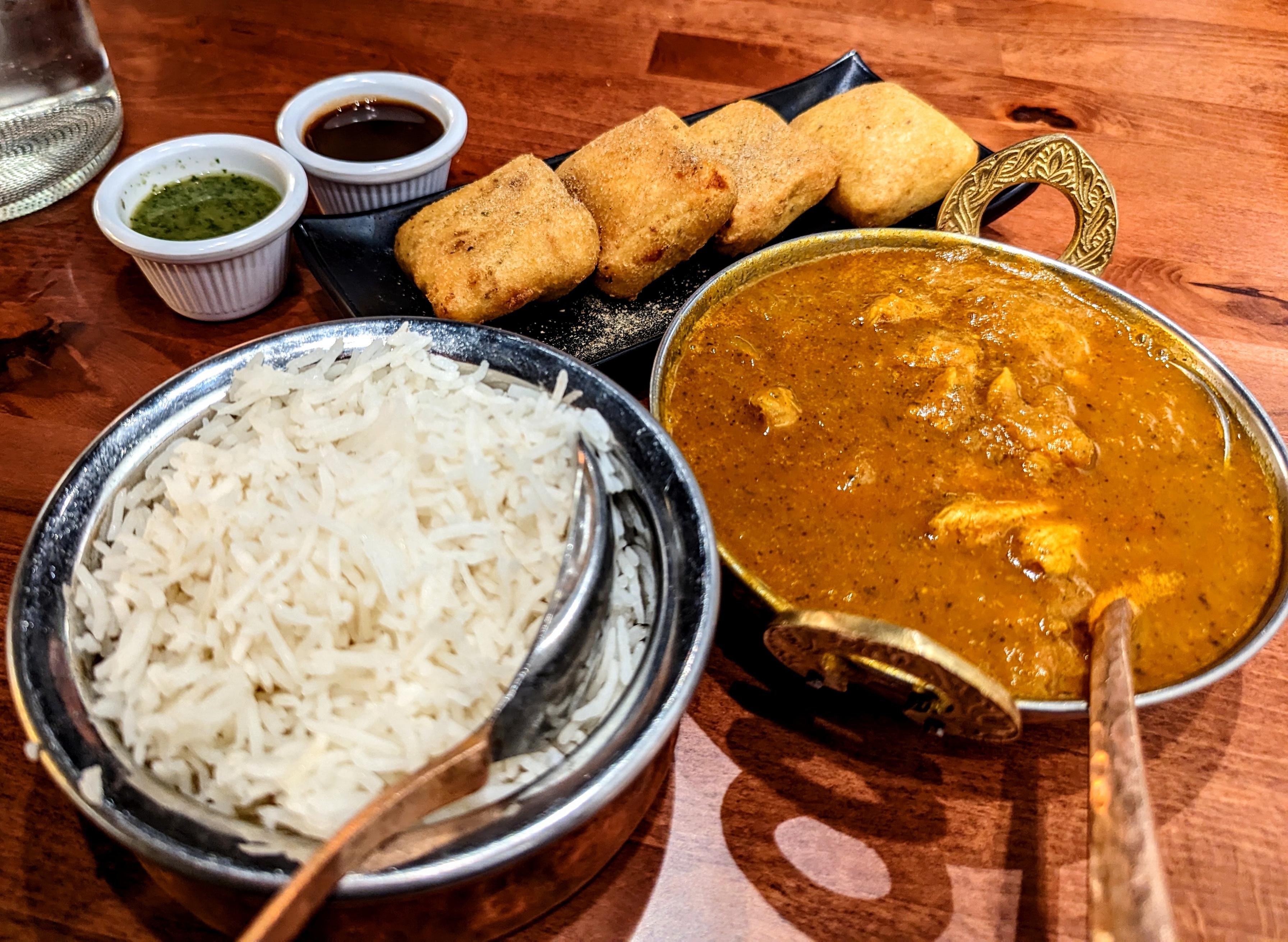 Nestled in the Monroe Street neighborhood, Karma is a newer restaurant but already deserves to be on our list of the best cultural foods in Spokane. I heard they make their own garlic and cheese naan in a tandoor oven, and I knew I needed to go check it out!
The environment was the most fun, with unique lighting, gorgeous decor, and cultural music; it almost takes you out of Spokane. I decided to go to Chicken Tikka Masala and Paneer Pakora, which was out of this world! I had yet to find a good authentic curry, but this is it.
The menu at Karma is so interesting and substantial, it'll keep you coming back again and again because there's always something new to try each visit you make.
I Love Tofu
Korean
5204 North Division Street
If anyone knows me personally, I am SO obsessed with Hot Pot. In my free time, I love to watch videos of travel in Japan and Singapore, and I love watching people eat at these entertaining and unique Hot Pot restaurants. I got word that a restaurant in town had it, so my search began.
I was excited to discover I Love Tofu and share it with the world. I ordered the personal one-person hotpot, but I Love Tofu also has several options for their Hot Pot with different flavors and amounts of food depending on the number of people. This was just a glimpse of possibilities! I can't wait to gather friends and return for an even better Hot Pot experience!
This was a unique experience, and one that really demonstrates how far cultural foods in Spokane have come. I'm happy I could finally be a part of it. If you're looking for some traditional Hot Pot, or traditional Korean food in general, try I Love Tofu!
Indigenous Eats
Native American
829 East Boone Avenue, Suite E
Many people have yet to hear of this amazing little hole-in-the-wall tucked away in the Gonzaga district of Spokane. Indigenous Eats is a Native American-owned and locally operated restaurant best known for its amazingly savory frybread and popular huckleberry sauce.
If you've never had frybread before, stop what you're doing right now and run to Indigenous Eats ASAP. They have both savory and sweet options, and their NdN Tacos are top-notch. Their portions are wildly generous, with a massive variety of ingredients and toppings all to fit many different needs and desires.
Indigenous Eats is a great authentic experience and something new and fun Spokane has always needed! I'm so happy to be able to see them thriving and growing in popularity, and to be able to share their love of fry bread.
Yummy Snamy
European, Slavicean
3329 East Sprague Avenue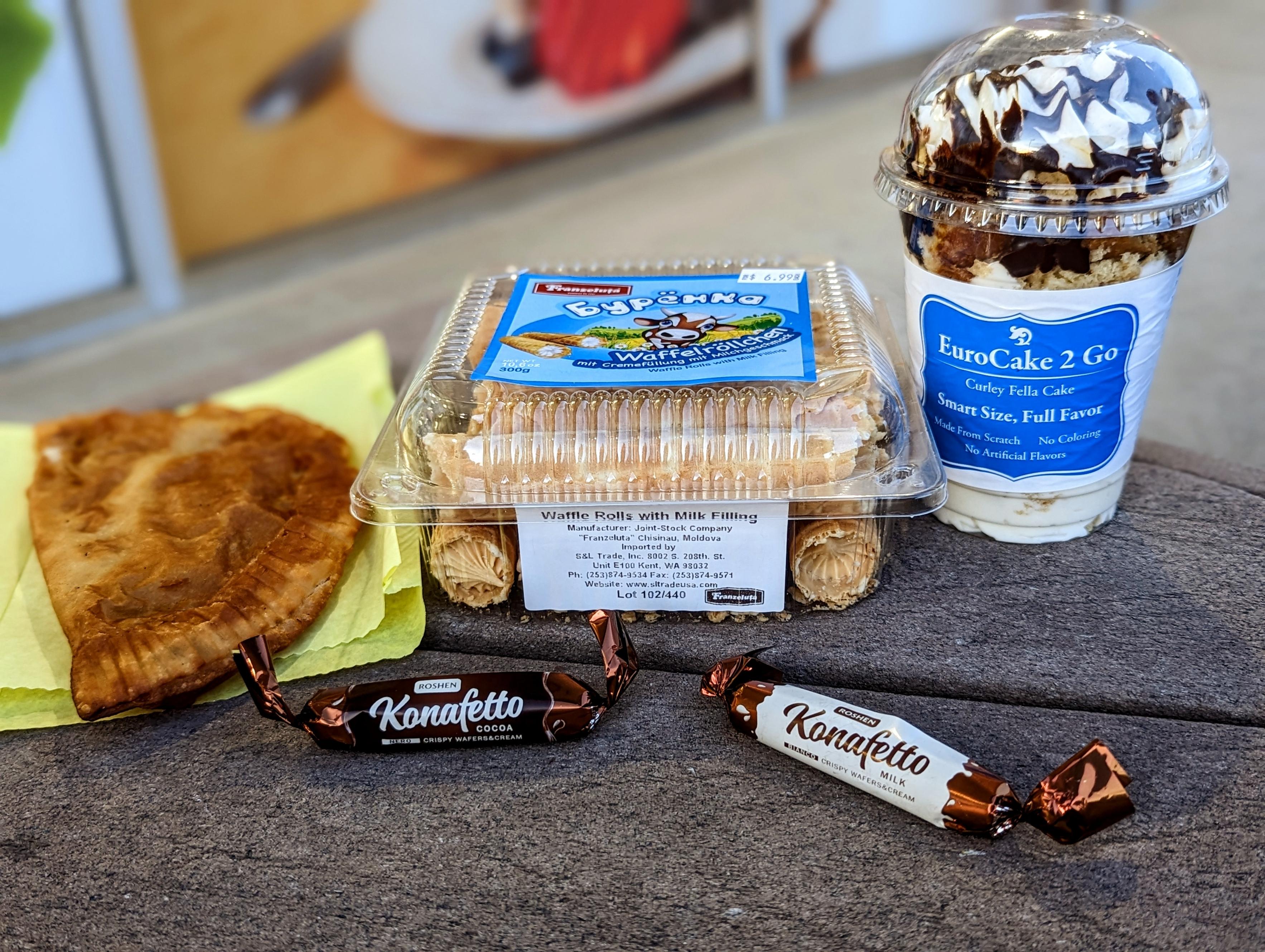 Something about this place is so inviting and incredibly pleasant! Not only is it a deli where you can get all sorts of unique cured fish, meats, and cheeses, but they also have a little cafe called Crepe Shell with a large variety of different crepes and unmatched desserts. This place hits both the sweet and the savory spots you crave, and they also offer coffee, tea, and other flavorful and fun beverages! If you're looking for unique cultural foods in Spokane, you'll definitely want to put Yummy Snamy.
When I tell you they have an incredible assortment of perogies and Pelmeni, a Russian dumpling, I'm not being dramatic. Both frozen and freshly made, these little delicacies are all over the store in an array of different sizes and shapes. The staff was incredibly nice and helpful in explaining the different items and gave me some different options throughout the store.
During a recent visit, I decided to try EuroCake 2Go, which was a European cake in a cup, waffle rolls with a milk-based cream filling, some chocolate wafer candies, and a savory pastry called Chebureki, filled with ground beef and onions. But I promise you, this place has SO much more than just these! Don't sleep on Yummy Snamy, get in there and try some of these creative and interesting foods!
Chan's Noodle House
Asian
621 West Mallon Avenue
I had yet to find homemade, real authentic dumplings anywhere close to Spokane, so that makes this place a golden ticket on our list of the best cultural foods in Spokane. Chan's Noodle House is a small little shop in the basement of Spokane's classic Flour Mill. It may be small, but Chan's is jam-packed FULL of flavors in that quaint space! Each dumpling is handcrafted with love and care; you can tell in the flavors and presentation. And to top it all off, the prices are affordable and worth the money!
Chan's will have you drooling in minutes, from the cucumber salad to the wonton soups, and all the dumplings in between. With various flavors and fried golden brown, or steamed traditional style, these dumplings are a total game changer. But to be honest, every item here is delicious and enjoyable! So next time, skip the bag of frozen Gyoza at the grocery store and swing into Chan's Noodle House.
La Michoacana
Mexican
9907 East Sprague Avenue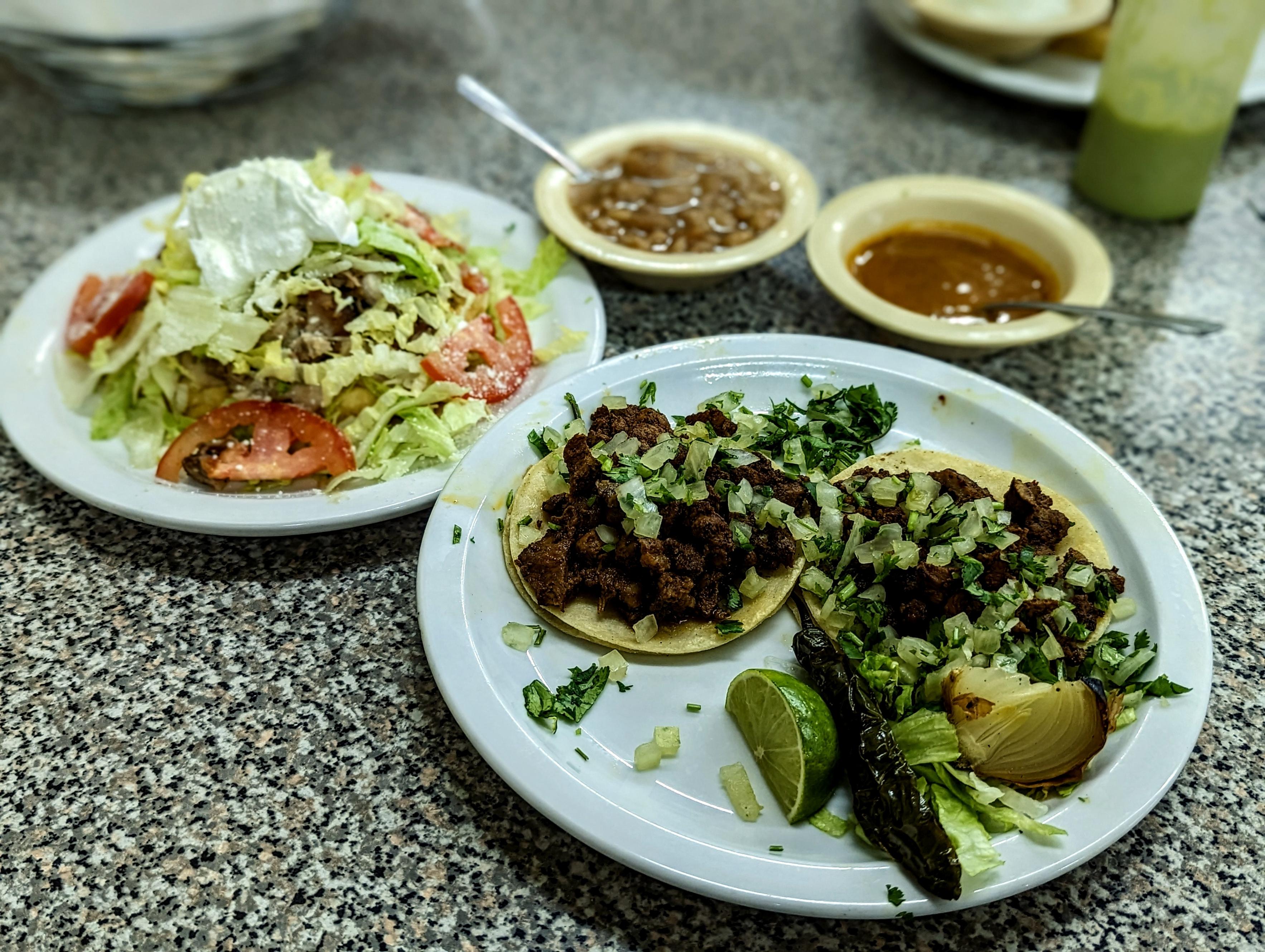 All I can say about my experience at La Michoacana is WOW. I left this place totally speechless, and it was by far one of my favorites. I knew it needed to make it onto this list of the best cultural foods in Spokane.
I had many different friends and locals rave to me about this hidden gem, and I had no idea how right they were! La Michoacana is best known for its signature chicken mole dish, as well as its deliciously massive flavored margaritas.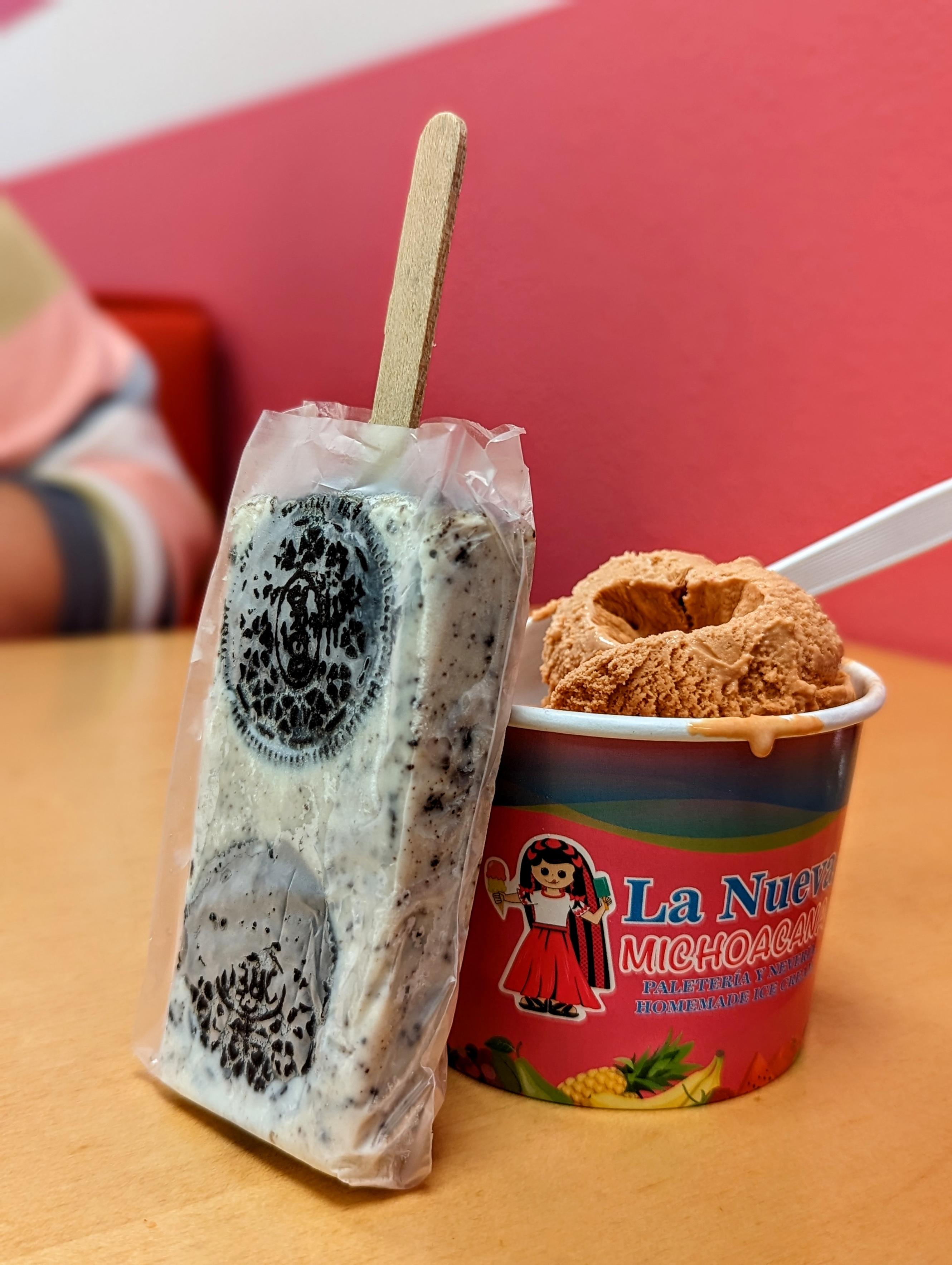 If you go on a Tuesday? Prepare yourselves for the most incredible authentic $2 tacos and cheap margaritas! I had never had tacos like this before, and I was head over heels. They also have stellar Sopes with carnitas and this green sauce made with cilantro and avocado that is to die for.
La Michoacana has such an extensive and fascinating menu; you'll have to come back several times to try everything. I know I will!
And if that doesn't sell you, there's more. On the bounds of the restaurant is a mini market where they sell meats and cheeses, Mexican treats, snacks, cookware, and a bakery section full of fresh baked goods like conchas, churros, galletas, and more!
But wait, there's more! Next door to La Michoacana is their sister shop, La Nueva Michoacana, a dessert shop recognized by its distinctive bright colors of green and hot pink walls, where they make and sell plenty of eccentric cultural desserts. If you're looking for something different in the desert department of your life, check them out. They have incredible Chamoy Chili Mango and custom-ordered ice cream pops!
Feast World Kitchen
Pakistani, Rotating
1321 West 3rd Avenue
This experience was incredibly fun. Not only did I get to eat some pretty delicious food, I also got to meet one of the co-owners, Ross, and talk with him about what kind of place Feast World Kitchen is in Spokane. It was a brief chat, but even in that conversation, I learned about the different cultures they bring through, what it means to dine at Feast World Kitchen, and the love through partnerships they offer with immigrant chef entrepreneurs. Ross was informative, provided amazing customer service throughout our visit, and was so friendly.
I visited during Inlander's Restaurant Week, and it was already chaotic enough, but to still feel seen and personally catered to in the midst was a great feeling. Feast World Kitchen has a rotating menu that changes weekly, because they are always bringing in new chefs to give them a chance to share their culture and foods with Spokane.
I had the Chicken Karahi Curry and Sindhi Biryani, a seasoned and flavorful rice dish served with Raita sauce. This is a traditional Pakistani dish that was completely out of this world. All the flavors blend together so well and the Raita sauce with the chicken and greens were just a wild burst of flavor combinations, and they all tied together so nicely.
I definitely plan on going back to Feast World Kitchen, and not just for the food, but to learn more about our refugees and to support the ideas of this wonderful company!
Chicken N' More
Southern
414 ½ West Sprague Avenue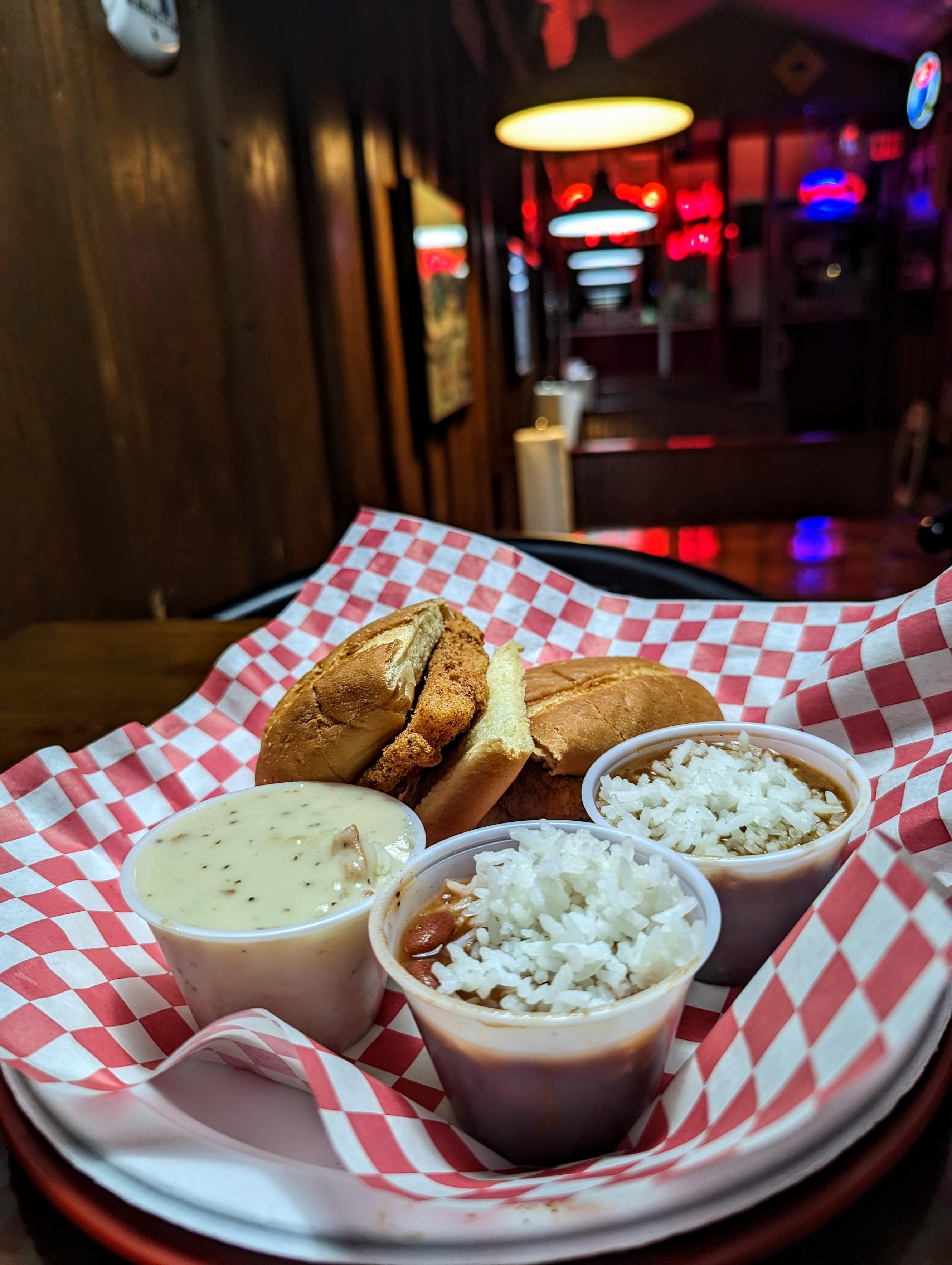 Cajun food in Louisiana is incomparable. There's something so special and unique about food from the South that it makes me jealous I can't live there. I got word around Spokane that the most realistic Louisiana-style cuisine was a small hole-in-the-wall secret spot called Chicken N' More.
Located and sneakily placed in the heart's crevice of downtown Spokane, Chicken N' More holds the title for the best cajun food. When I asked one of the employees what they thought Chicken N' More was most known for, he said, "the catfish sandwich without a doubt."
I decided to give it a go, and that sandwich was one of the best fish sandwiches I've ever had. Order it with the spicy garlic aioli; you won't regret it. The Cajun spices mixed with the perfect crunch to the breading, making this sandwich a winner.
This sandwich hit the spot, and adding the garlic aioli took it to a whole other level. Not to mention, everything else we tried there was fantastic. This is the place to be if you're looking for good gumbo or red beans and rice.
Sushi House
Asian
4903 North Division Street
Yes, it's important to add some good sushi to this list. My favorite thing to order when I go for a visit is Sushi House's Thai Iced Tea. We ordered their signature Popcorn Lobster, a roll containing deep-fried crawfish on top of a California roll and smothered in jalapenos, cilantro, eel sauce, and spicy mayo.
Next, we went with an order of their Spicy Mayo Deep: four pieces of salmon tempura fried with lemon and an assortment of dipping sauces. We also ordered an array of absolutely incredible appetizers. You can taste the crisp freshness in each bite, and you notice the effort that went into making each dish.
Sushi House has three locations around Spokane, all compact but quite a fun experience. Visit one of their locations if you want something different or unique. Whether your trip is for sushi, or looking for some new and surprising authentic Asian cuisines, Sushi House should be next on your adventure!
Aloha Island Grill
Hawaiian
1724 North Monroe Street
It's no surprise Aloha Island Grill would make it on my list. Being one of the only two places in Spokane that sells authentic Hawaiian food, Aloha Island is unmatched. This place was a huge part of my childhood, and I have so many memories of them.
Aloha Island Grill is best known for their creamy mac salad and the obvious choice: teriyaki chicken over rice. It's something about that sauce they use that is so perplexing; you literally will not find a replica anywhere else around here.
I'm going to let you in on a little secret if you haven't tried them yet, the Lava Bites (with a little side of Sweet Chili) and the Spam Musubi are both unbelievable items on this menu as well! Really there hasn't been anything I haven't liked, but these staple items are the real deal here. Go check out Aloha Island Grill and experience a nice little slice of Hawaii.
Take a break from your usual food routine and dive into the world of flavors waiting for you in Spokane. It's time to step out of your comfort zone, try something new, and embark on a tasty adventure that will introduce you to cultures and people from all walks of life. Trust me, you won't regret it. Get ready to tantalize your senses and satisfy your cravings in Spokane's melting pot of culinary delights!
Shaye Hubbard
Shaye is wrapping up her last year of college at SFCC with a degree in Digital Marketing, and is excited to start a new career in the world of social media. She has a passion for any and all artistic avenues and her goal is always to bring connection and creativity to the community, whether that be through food, art or journalism. Shaye is a full-time mom to her three kids, which is an adventure. In her free time, she enjoys a multitude of hobbies from cooking, to painting and loves adding new projects to her list.